Sarà ufficialmente presentata al Salone di Los Angeles, ma la start-up Rivian ha deciso di fare intravedere la sua nuova pick-up a trazione elettrica.
Intravedere perché le foto che ha reso pubbliche parlano poco… a dire la verità si intravede soltanto che è una pick-up, mentre l'immaginazione ci suggerisce che sia elettrica perché loro dichiarano questo.
Tutto verrà svelato al salone dell'auto di Los Angeles verso la fine di questo mese.
Tuttavia questa settimana, la società ha allestito un sito multimediale completo dove ha dato spazio per le immagini dei veicoli in arrivo e ha pubblicato un video teaser che dà un'idea di come potrebbe essere il suo "truck".
Parallelamente al debutto del pick-up R1T da quattro porte a Los Angeles, Rivian mostrerà anche un SUV full-size, da tre file, con capienza per sette passeggeri chiamato R1S, basato sulla stessa piattaforma.
Nel mese di maggio, la società aveva rilasciato alcuni numeri come obiettivo, ovvero una potenza di 800 cavalli e autonomia di fino a 450 miglia con una carica (724 km), mentre si dice che il modello topo of the line dovrebbe essere in listino al prezzo di 90mila dollari.
Con un pacco batterie più piccolo da 80 kWh, i veicoli avranno 200 miglia di autonomia (321 km), con un motore di potenza più bassa il cui prezzo iniziale sarebbe di 50mila dollari.
La compagnia afferma che sarà in grado di guadare 3,5 piedi di acqua (oltre 1 metro) e di salire su una pendenza di 45 gradi.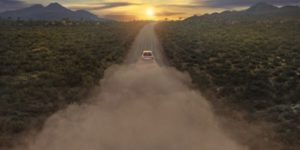 Rivian ha comprato e iniziato ad attrezzare una ex fabbrica Mitsubishi in Illinois per costruire le macchine e ha sede nel Michigan, ma ha anche centri di ingegneria nel nord e nel sud della California.
A maggio ha anche detto che costruirà i propri pacchi batteria per i truck (con le celle acquistate da un fornitore) e venderà anche batterie stazionarie per abitazioni e aziende.
Rivian non è l'unica azienda a sviluppare un pick-up elettrico.
Bollinger Motors sta anche lavorando su pickup e SUV più grandi e pesanti, ma il tempo di vedere i primi prototipi è incerto.
Mentre Rivian non ha annunciato quando i suoi modelli entreranno in produzione, la logistica più semplice di preparazione del suo sito di produzione potrebbe renderlo il primo a trazione elettrica nel mercato degli Stati Uniti. La tempistica potrebbe essere annunciata durante la presentazione al Salone di Los Angeles.