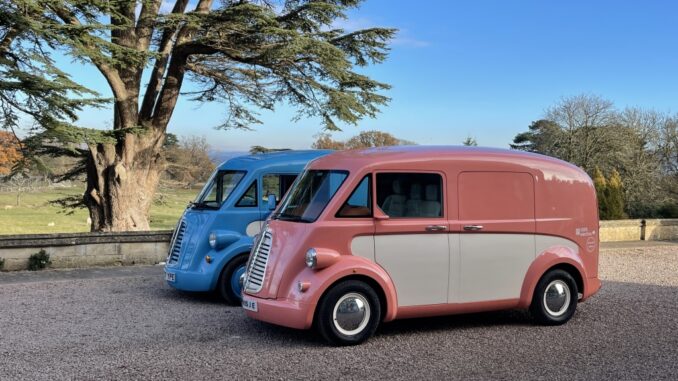 With the target to accelerate production of its British designed and manufactured JE van, Morris Commercial completed a new funding round.
This resources will allow to accelerate the final engineering, certification and production of the company's all-new, all-electric, Morris JE van.
Capital for Colleagues (C4C), a listed investment vehicle focused on opportunities in the Employee Owned Business ('EOB') sector, led the current funding round and has invested alongside substantial investment from C4C co-investor Bill Ainscough and TJ Morris Limited. Morris Commercial's current shareholders have also made sizable further investments.
Based in the UK Midlands, not far from the original Oxford heartland of the spiritual predecessor, Morris Commercial set its mission to revive the historic and iconic Morris Commercial marque, but fully engineered for the 21st century. The JE van, which takes its fundamental design cues from one of the most loved commercial vehicles ever produced in Britain, incorporates innovative state-of-the-art technologies, with a zero emission, pure electric drivetrain, combining to make the vehicle carbon-neutral over its entire life cycle.
The company unveiled its first concept prototype Morris JE Nov 2019, showcasing a fully battery electric van for the 21st century with the style, charm and charisma of the famous 1950's van upon which it is based. The vehicle immediately received worldwide acclaim, and to prove the practicality and functionality of the JE, a fully road-worthy Morris JE prototype has already travelled across UK and Ireland and has appeared in a number of TV programmes such as the BBC Travel Show, Guy Martin and German state-owned station, Deutsche Welle.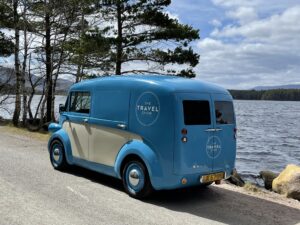 Substantial funding and resources have already been invested to bring the Morris JE from an incredible concept to production reality. The vehicle is now close to production readiness, with the completion of various prototype and development vehicles featuring the ultralight recycled carbon fibre monocoque body and lightweight aluminium chassis. The production prototype made its debut at industry-leading LCV show in September 2022. Boasting class leading performance and range, the JE has an unparalleled combination of a 1 ton payload and 6.5 m3 carrying capacity at a 2.5 ton GVW, and a driving range of up to 250 miles. This remarkable vehicle is also packed with safety, technology and comfort features such as side and rear vision cameras, infotainment system and a beautifully crafted interior.
With the new funding round, the Morris JE will now be subject to further R&D, engineering validation, certification, and productionisation. It marks a significant step forward for Morris Commercial and will enable the company to recruit further talent and expertise, and to strengthen its partnerships with core suppliers. With the establishment of the company's production facilities, the delivery of the new vehicle is set to begin in early 2024.
The company is delighted that the CEO of Capital for Colleagues, Alistair Currie will be joining the board of Morris Commercial as a non-executive director. In addition to leading the investment, C4C will also be responsible for establishing an Employee Ownership Trust to which shares with considerable value have been gifted by both the current shareholders and incoming investors.
Dr Qu Li, the CEO of Morris Commercial said:
We are truly grateful that new investors share our vision and beliefs and their confidence in Morris confirms the strength of our business model and our sustainability goals. With this new investment, we will be able to accelerate product development and take Morris JE to market. I am very excited about the future for Morris Commercial and look forward to delivering our iconic van to our many thousands of pre-registered customers around the globe with the support of our new investment partners.
Alistair Currie, the CEO of Capital for Colleagues commented:
We are delighted to have successfully led this significant investment round for Morris Commercial, alongside existing stakeholders in Capital for Colleagues. Our combined investment will enable Morris Commercial to bring this incredible and unique vehicle to market, completing its mission to revive the historic Morris Commercial brand with state of the art, zero emission, technology, wrapped in a stunning, classic design.
Source: Morris Commercial