The world's most advanced electric taxis are now being sold for the first time by Endeavour Automotive in West London, and also invested in a new workshop to support taxi servicing.
Endeavour Automotive is one of the largest Volvo Car dealer groups in the UK that now announced that it will also be operating an electric taxi franchise. Endeavour Automotive have operated a number of Volvo dealerships in and around London since 2014 and from the start of August will also be selling LEVC's TX from Chiswick
With the TX, LEVC has completely redesigned the taxi with the customer in mind, it offers passengers a premium experience in an electrically driven vehicle. On-board wi-fi, phone and laptop charging are all included, effectively making the new taxi a mobile office for passengers. In addition, the more spacious and comfortable space includes six seats and class-leading wheelchair accessibility.
Endeavour Automotive decided to become a franchise holder after seeing the popularity of the new taxi with passengers and drivers, as well as the level of support from both national and city government for the electric taxi project. The team have invested to increase the capacity of their workshop to support the arrival of a new brand.
More importantly, for West London drivers, the firm is also building a number of taxi dedicated fast charge points to give cabbies greater access to charging in West London. These will supplement the 52 dedicated rapid chargers which are set aside for taxi use in London. These chargepoints can be found on street and in 5 Q-parks across London, including China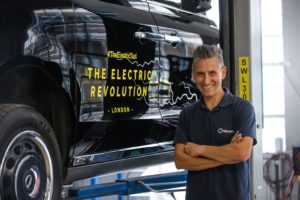 Town, Harley Street, Pimlico, Oxford Street and Knightsbridge.
Adrian Wallington, Managing Director Endeavour Automotive said:
The extension of the Ultra-Low Emission Zone and arrival of electric taxis are measures that will significantly improve air quality in West London, and alongside a significant increase in demand for more environmentally friendly passenger vehicles in the capital, we're delighted to be part of this taxi revolution, especially as the new TX can offer savings of up to £100 per week in fuel for the average London taxi driver.
Chris Gubbey, CEO of LEVC said:
Our purpose-built, passenger focused taxi, has been designed with the intention of getting more people in the back of cabs – offering the safest, cleanest, quietest and smoothest taxi ride yet. We are delighted to have had the support of the team at Endeavour to deliver this vision for the taxi trade in London.