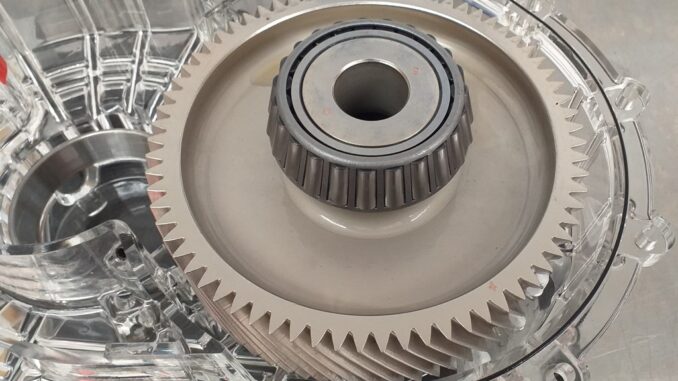 The British company Drive System Design (DSD) has developed a power-dense Electric Drive Unit (EDU) design for a global Tier 1 supplier.
The powertrain will be used in a range of medium to heavy-duty commercial vehicle applications, such as city buses and delivery vans, when it reaches the market in 2024.
The EDU comprises an integrated electric motor and gearbox reducer with a remote-mounted inverter. This architecture improves packaging and takes advantage of a shared cooling system. This complex arrangement required extensive system-level analysis to understand and optimise how the components interact with each other.
The trend towards highly integrated electric drive units requires a specialised set of expertise in both electric machines and transmissions – said James Major, Chief Engineer at Drive System Design. Few Tier 1 suppliers have experience of both. Collaborating with the customer to understand how these individual components interact at a system level is critical to creating an efficient and refined drive unit solution.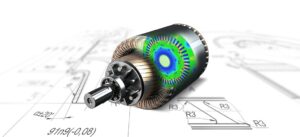 The permanent magnet machine utilises a 6-phase arrangement with a high machine speed to achieve its market-leading power density. Although this necessitates a wider motor, it results in a smaller package overall for the given power requirement when compared to a 3-phase design. The torque and power outputs are 1,800Nm and 350kW respectively at a speed of 7,000RPM. This is achieved from a package weighing less than 170Kg, which is significantly lighter than comparable off-the-shelf solutions currently available.
The customer's requirement was to have the design production-ready within the next two years – said Major. As a result, to get to market quickly we needed to achieve outstanding performance with current manufacturing methods and materials. We went from initial concept to a fully analysis validated design released to prototype production in just five months.
The thermal capability is normally the limiting factor of an electric machine, particularly for such a power-dense solution. A thorough thermal analysis of the complete system and material selection was key to achieving the necessary performance and durability targets set by the customer. The lubrication system provides essential cooling and has been optimised to manage oil flow and reduce losses to improve efficiency. DSD paired 3D particle-based simulation with a clear case prototype transmission and experimental 3D printed gears to analyse, develop and validate the lubrication system concurrent to the design release.
James Major, Chief Engineer at Drive System Design

Using 3D printed gears in place of machined components reduced the production lead time from 12 weeks to just two – said Major. Importantly, it also enabled us to improve the design while it was still model-based before committing to expensive prototypes. The simulation and analysis methods used throughout the project were critical to delivering the product quickly. Our simulation results correlated up to 2% to performance attribute testing.
DSD evaluated thousands of architecture concepts using its ePOP (Electrified Powertrain Optimisation Process) tool and conducted a thorough design analysis to optimise efficiency, NVH and thermal management. The company has since procured and built several prototype systems that have finished initial performance testing at its development and test centre. The EDU is now undergoing final test and validation by the customer.
DSD's capability in electric machines and transmission design, as well as system level analysis, meant the system was designed by one team under one roof – concludes Major. We combined different toolchains and processes to build a more complete picture of the design's capability across a range of attributes. A lean analysis approach was critical to developing the design in a compressed time frame. With DSD's experience and understanding of the muti-physics in effect, we are able to flex the fidelity of simulation models to suit the maturity of design – reducing time during initial design concepts but resulting in an accurate final model.
Source: Drive System Design