Primo plug-in Hybrid di Kia mostra efficienza avanzata e vanta perfezionamenti tecnologici
• I progressi nel sistema ibrido di Kia e gli aumenti di energia elettrica si uniscono per una maggiore autonomia e miglior dinamica di guida
• Nel pacchetto la nuova tecnologia della Optima PHEV che arriva con una nuova suite di ECO telematics e di aggiornamenti infotainment, tra cui Android Auto 1 e Apple CarPlay
Fonte: Kia Motors America
Chicago, Illinois. USA. 11 febbraio, 2016. Kia Motors America (KMA) ha presentato la nuova Optima Ibrida Plug-in (PHEV) 2017 al Chicago Auto Show. Prima PHEV di Kia che si è aggiunta alle altre due della crescente gamma di veicoli eco-compatibili a basso consumo di carburante, tra cui la nuova Niro Hybrid Utility Vehicle (HUV) 2017 e le nuove Optima Hybrid (HEV) 2017, tutti e tre che vengono istituite nel quadro sub-brand ecologico Kia Motors EcoDynamics. Una serie di nuove tecnologie e caratteristiche della Kia Optima PHEV, tra cui un motore ibrido più potente, un sistema telematico più intelligente e più robusto, miglioramenti nel design esterno e una maggiore raffinatezza degli interni; si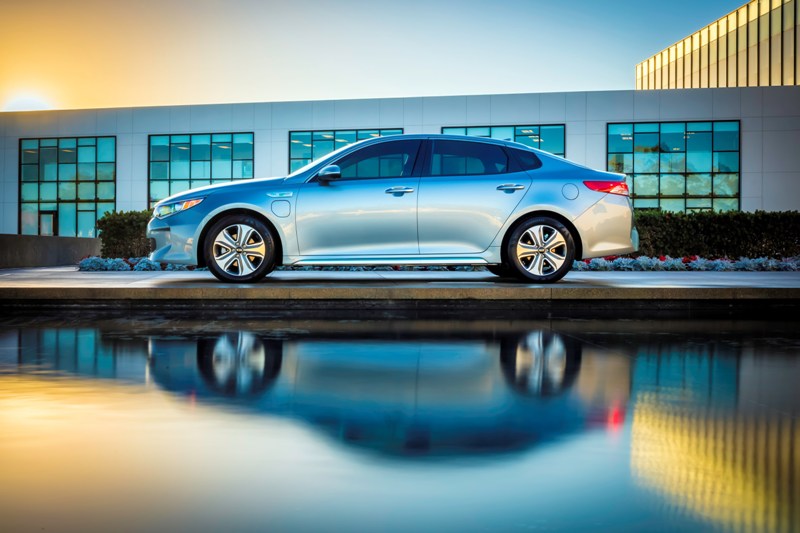 combinano per offrire un'esperienza superiore di trazione ibrida.
"Come parte della nostra coraggiosa iniziativa per aumentare l'efficienza del carburante del 25 per cento in tutta la gamma Kia entro il 2020, un'ibrida plug-in è fondamentale per la nostra offerta. L'Optima HEV aggiunge l'efficienza ibrida allo stile stand out e la dinamica della nostra nuovissima Optima, ed il PHEV fa un altro balzo verso il futuro con un'autonomia in modo elettrico che è tra le migliori del segmento", ha detto Orth Hedrick, vicepresidente, pianificazione dei prodotti, Kia Motors America. "Tutti e tre i veicoli in fase di introduzione qui al Chicago Auto Show sono emblematici dell'impegno Kia per la sostenibilità e la nostra filosofia che non si dovrebbe accettare compromessi quando si effettua una scelta verde".
La nuova Optima Plug-in Hybrid 2017 è realizzata con molti degli stessi componenti di lusso di sua sorella alimentata a carburanti convenzionali, insieme a numerosi tocchi esclusivi Hybrid, tra cui un quadro strumenti distintivo, elementi di design esterno unici e cerchi in lega appositamente progettati. L'Optima Plug-in Hybrid, disponibile in una cornice EX, sarà costruita a Hwasung, nella Corea del Sud, e si prevede di andare in vendita nel quarto trimestre di quest'anno. I prezzi saranno annunciati vicino alla data di vendita.
Tecnologia ibrida ad alta efficienza
La nuova Optima PHEV 2017 è stata progettata con una duplice attenzione all'efficienza ed alla dinamica di guida. Utilizzando il motore Kia GDI altamente efficiente da 2,0 litri "Nu" a quattro cilindri (Gasoline Direct Injection), abbinato ad un cambio automatico a sei velocità, la potenza massima di 154 CV @ 6000 giri al minuto è leader nella categoria. L'energia elettrica è prodotta da un motore da 50 kW montato nella trasmissione, che è il 42 per cento più potente rispetto la precedente ibrida Optima per consentire una maggiore capacità completamente elettrica. Questo sistema ibrido prevede una transizione rapida e senza soluzione di continuità dal modo EV a quello benzina per modalità ibrida. L'efficienza complessiva del motore è anche migliorata con l'introduzione di una pompa elettrica ad olio di alta tensione, che sostituisce la combinazione della pompa meccanica dell'olio e la pompa elettrica a bassa tensione della precedente Hybrid Optima.
Raffreddamento della trasmissione da aria naturale ad acqua
Questi miglioramenti di ingegneria producono un miglioramento dell'efficienza del motore previsto di oltre il 20 per cento.
Con una stima di 600 miglia di autonomia di guida complessiva (965 km), il sistema di batterie di nuova generazione dell'Optima PHEV presenta un pacco batterie agli ioni di litio polimeri di 9,8 kWh, che produce circa il 60 per cento in più di energia rispetto alla batteria che equipaggiava l'uscente sistema ibrido di Optima, e si stima di raggiungere 27 miglia in modalità full EV (43 km), ponendo la Optima PHEV tra i leader del segmento per autonomia in modo elettrico. Per aumentare la capacità di carico disponibile nel bagagliaio, la nuova batteria è nascosta dietro il sedile e le gomme posteriore, dando all'Optima PHEV una delle più grandi aree di carico tra tutti i PHEV di medie dimensioni. Questo cambiamento riflessivo fornisce anche lo spazio necessario per poter offrire i sedili posteriori divisi e ribaltabili 60/40, che aumenta in modo significativo l'utilità del veicolo. Ulteriori alimentazione al sistema di batterie è generata dal miglioramento del Braking System rigenerativo del veicolo, che massimizza la coppia rigenerativa attraverso il controllo cooperativo raffinato tra l'unità di controllo ibrido e l'unità di azionamento del freno, con un conseguente aumento del 10 percento dell'energia rigenerativa. L'Optima PHEV è dotata di una sola presa di ricarica situata nel parafango anteriore lato guida. Una carica completa può essere effettuata in meno di tre ore tramite un caricabatteria 240V (livello 2), e meno di nove ore attraverso un caricabatteria 120V (Livello 1).
La nuova Optima PHEV offre al suo conducente la possibilità di scegliere il modo elettrico o ibrido tramite il pulsante di selezione del sistema. In esclusiva per la variante PHEV della nuova Optima, il sistema include una modalità completamente elettrica (EV), che è adatta alla guida urbana a corto raggio, la modalità ibrida (HEV) per la guida in autostrada, ed il Charging Mode, che aumenta l'energia in direzione alla batteria durante la marcia a velocità più elevate. L'energia prodotta quando si è in modalità di carica può quindi essere utilizzata in modalità EV, estendendo la carica di energia elettrica completa senza fermarsi a ricaricare.
I nuovi Eco-DAS3 (driver Assistance System) presenta la prima applicazione di guida in inerzia
Questa caratteristica si propone di massimizzare il risparmio di carburante essenzialmente insegnando al conducente quando usare il freno tramite un'icona sul cruscotto che lampeggia per quattro secondi ed un avviso sonoro.
Forma aerodinamica e funzione
Anche se la nuova PHEV vanta lo stesso stile audace della ridisegnata Optima, offre caratteristiche distintive di design e degli elementi esterni che la differenziano dai modelli alimentati a gas della gamma Optima, ma anche permettono di ottenere il coefficiente di resistenza più basso del segmento, legato a quelli della Tesla Model S a 0,24 Cd. Caratterizzata da una griglia attiva, che si apre e si chiude automaticamente a velocità alte e basse, il PHEV migliora l'aerodinamica ottimizzando la presa di raffreddamento del motore. Numerose altre differenze stilistiche includono un profilo anteriore specifico per il modello, un paraurti posteriore smussato, un diffusore posteriore progettato per ottimizzare il flusso d'aria, il terminale di scarico ed un design di ruote aerodinamiche in lega. Queste sono integrate da illuminazione moderna a LED, davanzale ai lati cromati e badging 'Eco Plug-In'. Simile alla versione alimentata a benzina, l'interasse dell'Optima PHEV è stato allungato di 0,4 pollici (ora 110 pollici) rispetto alla generazione precedente Optima e la lunghezza complessiva è aumentata di 0,4 pollici a 191,1 pollici.
Tecnologia intelligente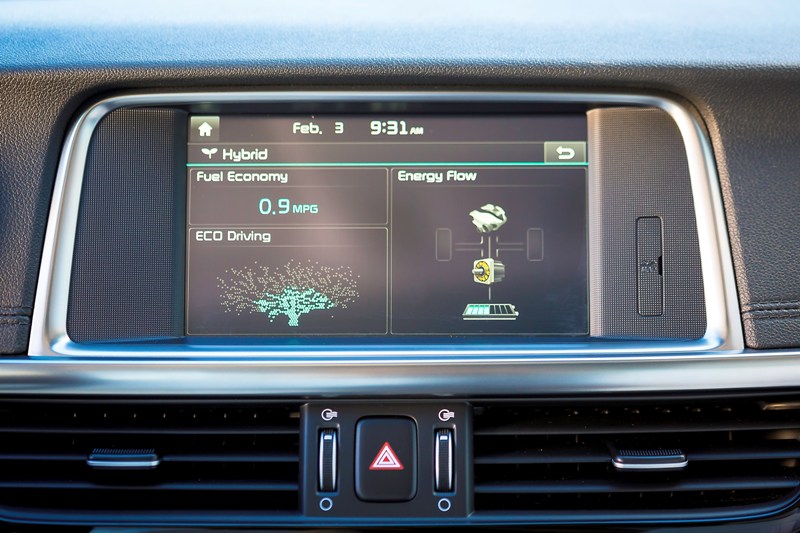 La nuova Optima Plug-In Hybrid fa uso intelligente della tecnologia per fornire una serie di sistemi di assistenza alla guida e caratteristiche di convenienza. Come l'HEV, la PHEV offre Autonomous Emergency Braking (AEB) 4, che, in condizioni adeguate, porterà il veicolo ad un arresto completo potendo potenzialmente evitare una collisione o ridurre i danni. Altri sistemi di assistenza alla guida chiave includono Blind Spot Detection (BSD), Advanced Smart Cruise Control (ASCC), il Lane Departure Warning System (LDWS) e Warning System Front Collision (FCWS) 4.
L'Optima Hybrid plug-in è dotata del più ricco set di telematica UVO che qualsiasi veicolo Kia abbia mai prodotto. Con più di 30 caratteristiche, il PHEV comprende la tecnologia telematica dei veicoli di punta di Kia, la berlina di lusso K900 e la Soul EV, e aggiunge Android Auto e Apple CarPlay. UVO EV Services include connettività wireless LTE che consente la comunicazione diretta al veicolo per le caratteristiche come la partenza/arresto a distanza, il precondizionamento a distanza della temperatura della cabina ed il blocco remoto/sblocco tramite il APP5 UVO. Incluso nel APP c'è una suite completa delle funzioni Auto Zone, che comprende gli avvisi superamento limite di velocità e le impostazioni Geofence, così come la ricerca locale alimentata da Google6, che permette agli utenti di cercare facilmente per POI (punti di interesse).
Caratteristiche EV esclusive per la comodità di ricarica includono la capacità di individuare stazioni di ricarica, la possibilità di controllare lo stato di carica del veicolo, così come la programmazione della carica. L'aggiunta della connettività a mani libere è Google con il riconoscimento vocale di ricerca locale, che può cercare i POI che utilizzano la tecnologia di riconoscimento vocale. Inoltre, all'interno del Kia App Store, le applicazioni possono essere scaricate utilizzando funzionalità Wi-Fi del PHEV.
Disponibile a costo zero per i primi tre anni di proprietà senza abbonamento necessario, UVO EV Services utilizza una soluzione di connettività integrata alimentata dalla rete Verizon7 e lo smartphone app UVO per fornire ai proprietari di Optima plug-in ibrida di un'innovativa esperienza di connettività a bordo del veicolo in tempo reale.
I driver sono trattati per un'eccezionale esperienza audio con la Harman/Kardon QuantumLogic Premium Surround Sound Audio System8, che comprende 10 altoparlanti, 9 tecnologia e un aggiornato amplificatore digitale 630 watt Clari-Fi. Introdotto nella Sorento 2016, Clari-Fi è una tecnologia di restauro musica brevettata che ricostruisce i segnali audio che si perdono nel processo di compressione digitale.
In English
All new 2017 Kia Optima Plug-in Hybrid makes global debut at Chicago Auto Show
Kia's First Plug-in Hybrid Showcases Advanced Efficiency and Boasts Technological Refinements
Advancements in Kia's hybrid system and increases in electric power combine for increased range and improved driving dynamics
Packed with new technology, the Optima PHEV arrives with a new suite of ECO telematics and infotainment upgrades, including Android Auto1 and Apple CarPlay
Source: Kia Motors America
Chicago, Illinois. USA. February 11, 2016. Kia Motors America (KMA) today unveiled the all-new 2017 Optima Plug-in Hybrid (PHEV) at the Chicago Auto Show. Kia's first PHEV joined two other fuel-efficient additions to the brand's growing line-up of eco-friendly vehicles, including the all-new 2017 Niro Hybrid Utility Vehicle (HUV) and all-new 2017 Optima Hybrid (HEV), all three of which are being introduced under the Kia Motors EcoDynamics environmentally friendly sub-brand.  A host of new technologies and features in the Kia Optima PHEV, including a more powerful hybrid engine, a smarter and more robust telematics system, exterior design enhancements, and greater interior refinement, all combine to deliver a superior hybrid drive experience.
"As part of our bold initiative to increase fuel efficiency by 25 percent across the entire Kia model line-up by 2020, a plug-in hybrid was a critical addition to our offering. The Optima HEV adds hybrid efficiency to the standout styling and vehicle dynamics of our all-new Optima, and the PHEV takes things one step further with all-electric range that is among the best in the segment," said Orth Hedrick, vice president, product planning, Kia Motors America. "All three of the vehicles being introduced here at the Chicago Auto Show are emblematic of Kia's commitment to sustainability and our philosophy that you shouldn't have to accept compromises when making a green choice."
The all-new 2017 Optima Plug-in Hybrid is crafted with many of the same luxurious appointments of its gas-powered sibling, along with numerous Hybrid-exclusive touches, including a distinctive instrument cluster and unique exterior design elements and specially designed alloy wheels.  The Optima Plug-in Hybrid, available in one trim, EX, will be built at Hwasung, South Korea, and is expected to go on sale in the fourth quarter of this year.  Pricing will be announced closer to the on-sale date.
High-efficiency Hybrid Technology
The all-new 2017 Optima PHEV was engineered with a dual focus on efficiency and driving dynamics.  Utilizing Kia's highly efficient 2.0-liter "Nu" four-cylinder GDI (Gasoline Direct Injection) engine, mated to a six-speed automatic transmission, power output is targeted for a class-leading 154 hp @ 6,000 rpm.  Electric power is produced by a transmission-mounted 50 kW motor, which is 42 percent more powerful than in the previous Optima Hybrid to allow for greater all-electric capability.  This hybrid system provides a fast and seamless transition from EV to gasoline to hybrid modes, as well as more refined shift quality.  Overall engine efficiency is also improved by the introduction of a High Voltage Electric Oil Pump, replacing the combination mechanical oil pump and low voltage electric pump found in the outgoing Optima Hybrid. Transmission cooling changes from natural air to water
These engineering enhancements yield an expected engine efficiency improvement of more than 20 percent.
With an estimated 600 miles of total driving range, the Optima PHEV's next-generation battery system features a 9.8 kWh lithium-ion polymer battery pack, which produces roughly 60 percent more energy output than the battery pack found in the outgoing Optima's hybrid system, and is estimated to achieve 27 miles in full EV mode, placing the Optima PHEV among the segment leaders in all-electric range.  To increase available cargo capacity in the trunk, the new battery pack is hidden behind the rear seat and tire well, giving Optima PHEV one of the largest cargo areas among all midsize PHEVs.  This thoughtful change also provides the space needed to offer 60/40 split-folding rear seats, which significantly increases the vehicle's utility.  Additional power to the battery system is generated from the vehicle's improved Regenerative Braking System, which maximizes regenerative torque through refined cooperative control between the hybrid control unit and the brake actuation unit, resulting in a 10 percent increase in regenerative energy.  The Optima PHEV is equipped with a single charging port conveniently located in the driver's side front fender.  A full charge can be achieved in less-than three hours via a 240V (Level 2) charger, and less-than nine hours via a 120V (Level 1) charger.
The all-new Optima PHEV provides its driver with options to reserve electric range via a plug-in hybrid mode select system.  Exclusive to the PHEV variant of the all-new Optima, the system includes an all-Electric Mode (EV), which is suitable for short-range city driving, Hybrid Mode (HEV) for highway driving, and Charging Mode, which increases energy direction to the battery while driving at higher speeds.  The energy produced while in Charging Mode can then be utilized in EV mode, extending the convenience of full electric power without stopping to charge.
All-new Eco-DAS3 (Driver Assistance System) features Kia's first application of Coasting Guide
This feature aims at maximizing fuel economy by essentially coaching the driver on when to coast and brake via an icon in the Instrument Panel that blinks for four-seconds and sounds a one-time audible alert.
Aerodynamic Form and Function
Although the new PHEV boasts the same bold styling as the redesigned Optima, it offers distinctive design features and exterior elements that differentiate it from the gas-powered models in the Optima range, while also achieving the segment's lowest coefficient of drag, tied with the Tesla Model S at 0.24 Cd.  Featuring an active grille, which automatically opens and closes at high and low speeds, the PHEV improve aerodynamics while optimizing engine bay cooling.  Numerous other styling differences include a model-specific front air curtain, a beveled rear bumper, a rear diffuser designed to streamline airflow by shrouding the exhaust tip, and an aerodynamic alloy-wheel design. These are complemented by modern LED lighting, chrome side sill molding, and 'Eco Plug-In' badging. Similar to the gasoline-powered Optima, the PHEV's wheelbase has been lengthened by 0.4 inches (now 110 inches) over the previous generation Optima, and overall length has increased 0.4 inches to 191.1 inches.
Intelligent Technology
The new Optima Plug-In Hybrid makes intelligent use of technology to deliver a host of driver assistance systems and convenience features.  Like the HEV, the PHEV offers Autonomous Emergency Braking (AEB)4, which, under appropriate conditions, will bring the vehicle to a complete stop to potentially avoid a collision or reduce damage.  Other key driver assistance systems include Blind Spot Detection (BSD), Advanced Smart Cruise Control (ASCC), Lane Departure Warning System (LDWS) and Front Collision Warning System (FCWS)4.
The Optima Plug-In Hybrid has the richest set of UVO telematics in any vehicle Kia has ever produced. With more than 30 features, the PHEV encompasses technology from Kia's flagship telematics vehicles, the K900 luxury sedan and Soul EV, and adds Android Auto™ and Apple CarPlay.  UVO EV Services includes LTE wireless connectivity that enables direct communication to the vehicle for features such as remote start/stop, remote preconditioning of cabin temperature, and remote lock/unlock via the UVO app5.  Included in the app is a full suite of My Car Zone features, which includes curfew and speed alerts and Geofence settings, as well as Local Search powered by Google®6, which allows users to easily search for POIs (Points of Interest).
Exclusive EV features for charging convenience include the ability to locate charging stations, an option to check your vehicle's charge status, as well as scheduling charge events.  Adding hands-free connectivity is Google® Voice Recognition Local Search, which can search for POIs utilizing voice recognition technology.  Additionally, within the Kia App Store, apps can be downloaded to the head-unit using the PHEV's Wi-Fi capability.
Available at no cost for the first three years of ownership with no subscription necessary, UVO EV Services utilizes an embedded connectivity solution powered by the Verizon®7 network and the UVO smartphone app to provide Optima Plug-In Hybrid owners with an innovative, real-time, in-vehicle connectivity experience.
Drivers are treated to an outstanding audio experience with the available Harman/Kardon QuantumLogic™ Premium Surround Sound Audio System8, which includes 10 speakers, Clari-Fi™9 technology and an upgraded 630-watt digital amplifier.  Introduced in the 2016 Sorento, Clari-Fi is a patented music restoration technology that rebuilds audio signals that are lost in the digital compression process.
no images were found

.