E' targata Nissan la prima colonnina di ricarica rapida del colosso svedese in Italia installata presso il negozio IKEA di Padova
Sale a 14 il numero dei primi punti di ricarica rapida Nissan installati in Italia, dedicati alla mobilità a zero emissioni
Fonte: Nissan Italia
Padova, Italia. 4 marzo 2015. Cresce l'infrastruttura di ricarica rapida Nissan anche in Italia dedicata alla ricarica dei veicoli elettrici.
Nasce oggi la prima colonnina di ricarica rapida Nissan CHAdeMO della rete commerciale italiana di IKEA presso il centro commerciale di IKEA Padova.
Si tratta della prima sperimentazione di un punto di ricarica rapida presso uno store IKEA in Italia, che permetterà a un numero elevato di clienti del colosso svedese, di poter ricaricare comodamente il proprio veicolo elettrico, mentre sono in fase di acquisto. In meno di mezz'ora il veicolo è completamente ricaricato con le unità CHAdeMO a ricarica rapida, le uniche disponibili a corrente continua presso IKEA.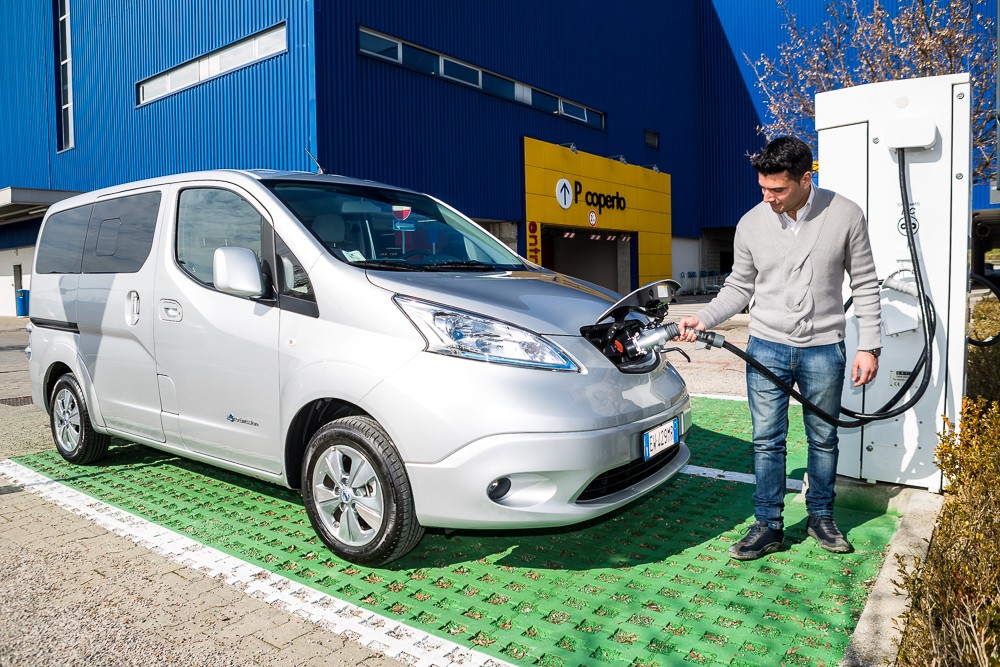 Il nome CHAdeMO è formato dalla contrazione dei termini "CHArge de Move", ovvero "charge for moving" (una carica per muoversi), ma gioca anche con l'interpretazione letterale della frase giapponese che traduce "Ci fermiamo per un tè?", poiché la ricarica è completa nel tempo in cui si sorseggia un tè.
La partnership di Nissan con IKEA nasce dal comune impegno delle due aziende nella sostenibilità ambientale e crea una simbiosi virtuosa tra persone, veicoli e natura. l'iniziativa della prima infrastruttura di ricarica rapida per veicoli elettrici fa parte del programma "People and Planet Positive", con l'obiettivo di sensibilizzare positivamente le persone verso un piasneta sostenibile, che coinvolge ogni aspetto della filiera costruttiva, distributiva e di vendita.
"Siamo orgogliosi di contribuire in modo concreto allo sviluppo della mobilità a zero emissioni, non solo tramite i nostri veicoli 100% elettrici ma anche attraverso le nostre infrastrutture di ricarica rapida", ha dichiarato Alberto Sabatino, Direttore della Business Unit dei Veicoli Elettrici. "Questo è l'esempio di come, oggi, la mobilità elettrica rappresenti un'applicazione reale ed efficiente di mobilità in un habitat ideale come quello dei negozi IKEA, dove i veicoli elettrici possono rappresentare un vero valore aggiunto sia per i clienti privati, con Nissan LEAF, che commerciali, con Nissan eNV200".
Ma la leadership nella mobilità elettrica di Nissan, tra i marchi nominati "Best Global Green Brands", si estende non solo nella progettazione e commercializzazione dei veicoli elettrici, ma abbraccia anche la produzione di batterie agli ioni di litio riciclabili e riutilizzabili, lo sviluppo di un'infrastruttura di ricarica rapida per gli EV, oltre a sistemi di alimentazione bidirezionali tra il veicolo e la casa come il "LEAF to Home", evolvendo il concetto di veicolo da mezzo di trasporto a vettore di energia.
Oltre al punto di ricarica presso il negozio di IKEA, Nissan ha installato in Italia le prime 14 colonnine di ricarica rapida ChadeMO di tecnologia Nissan, dislocate in punti strategici che consentono il massimo vantaggio nell'utilizzo dei veicoli elettrici da parte dei propri clienti.
Una colonnina di ricarica rapida CHAdeMO fornisce 50 kW di corrente continua in alta tensione attraverso un connettore speciale e sicuro, capace di sostenere fino a 100 kW.
no images were found