• Nuova piattaforma SUV compatta progettata esclusivamente per la nuova Kia HUV
• Nuovo design elegante per il progetto di sviluppo Niro
• Trazione Hybrid sviluppata per l'ultimo modello
• Ingegneri segnato un target sotto i 90 g/km di CO2 ed efficienza di consumo
• Produzione per i mercati esteri in programma dalla fine del 2016
• Kia mira a migliorare l'efficienza media di consumo di carburante del 25% rispetto al 2014 entro il 2020
Fonte: Kia Motors UK
Londra, Gran Bretagna. 16 Novembre 2015. Kia ha annunciato oggi i suoi piani per l'introduzione di un nuovissimo veicolo a basse emissioni per la sua crescente gamma di modelli. Niro – etichettato come Hybrid Utility Vehicle (HUV) – rappresenta una nuova concezione della marca automobilistica coreana, e segna lo sviluppo della prima piattaforma dedicata all'auto ecologica di Kia.
Niro manterrà tutta la praticità e il fascino di un SUV compatto, offrendo maggiore risparmio di carburante. Progettato da zero come veicolo ibrido dedicato, il suo attraente stile moderno aiuterà l'auto che spicca in un settore tradizionalmente conservatore.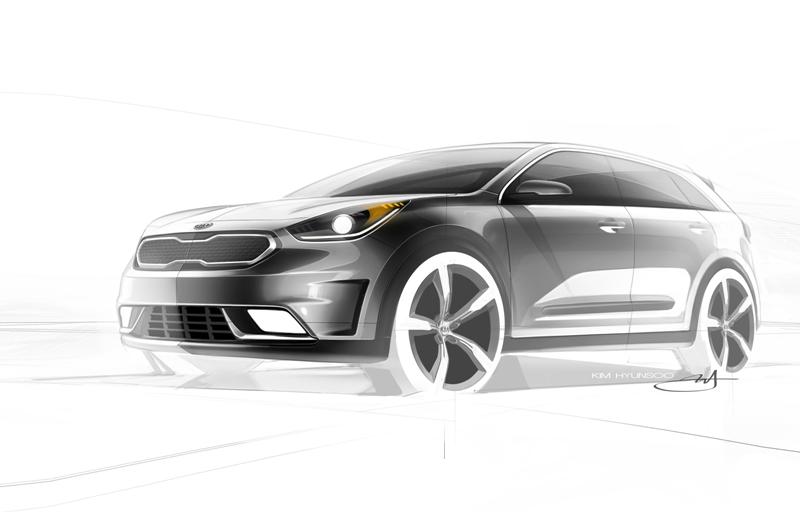 La nuova piattaforma di Niro è stata progettata in modo isolato dai modelli Kia esistenti, ed è progettata per ospitare una serie specifica di tecnologie eco-compatibili e di propulsori di nuova generazione.
Hyoung-Keun Lee, Vice Presidente e Amministratore Delegato, Kia Motors Corporation, ha commentato:
"Il nostro nuovo modello è progettato per offrire agli acquirenti tutto quello che potevano desiderare da un SUV compatto in termini di praticità e stile, fornendo al contempo i costi tipicamente bassi di gestione associati ad un powertrain ibrido dedicato. Incoraggiando i nostri ingegneri di adottare un approccio 'su carta bianca', abbiamo cercato di sviluppare una vettura che si rivolge a una gamma più ampia di consumatori".
Lee ha aggiunto:
"Il mercato dei SUV compatti rimane uno dei segmento più rapida crescita di tutto il mondo, e offrendo un bel stile, aspetto moderno, alta praticità e risparmio di carburante straordinario, il nuovo Niro Hybrid Utility Vehicle di Kia sarà il più attraente e desiderabile della sua classe".
Stile audace per tutti con il nuovo modello ibrido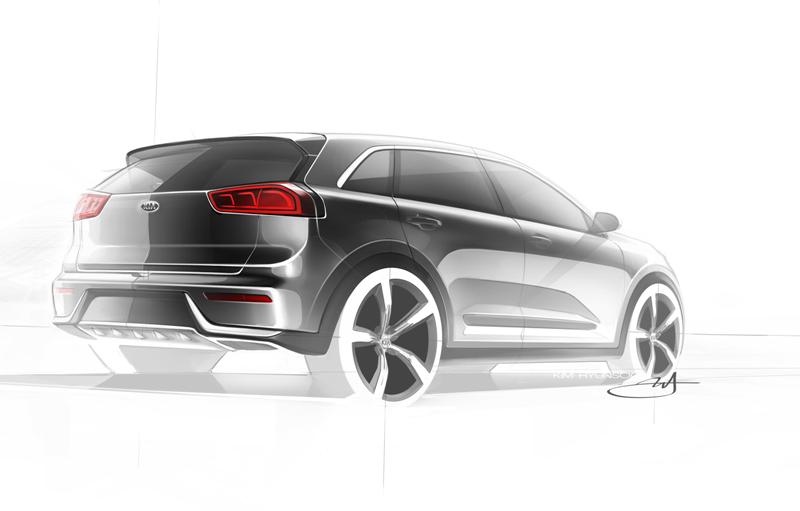 Una nuova aggiunta al design-led gamma di prodotti Kia, la Kia Niro vanterà un progetto completamente nuovo, con una carrozzeria aerodinamica sportiva, superfici sottilmente scolpite e dettagli di stile di finitura moderne nel nuovo look della vettura. Mentre il Niro è un modello tutto nuovo, senza diretti predecessori, è ancora immediatamente riconoscibile come una Kia, portando avanti la firma della società 'con la grata a naso di tigre' e una serie di altre indicazioni di disegno degli ultimi prodotti Kia. Lo stile del nuovo progetto di sviluppo Niro è stato guidato dai centri di design di Kia in California, Stati Uniti d'America e Namyang, in Corea.
Mettendo in mostra una forma di SUV compatto, i progettisti della vettura evidenziano i progetti architettonici più moderni e l'arte scultorea contemporanea come ispirazioni chiavi dietro la carrozzeria del nuovo HUV. Il veicolo vanta proporzioni eleganti lisce, mentre la sua posizione relativamente ampia ritrae la stabilità e un basso centro di gravità. Il passo lungo minimizza le dimensioni delle sporgenze anteriore e posteriore, mentre gli occupanti godono garantendo il massimo spazio interno possibile.
Risparmio di carburante ed emissioni di CO2 sotto i 90 g/km ai vertici della categoria
L'obiettivo principale degli sforzi delle squadre di ingegneri alla base dello sviluppo del nuovo modello è quello di distribuire economia di combustibile leader nel segmento dei SUV compatti. La Kia Niro combinerà un design elegante di SUV con maggiore risparmio di carburante rispetto ai suoi rivali, con un rating di emissioni di CO2 al di sottoi 90 g/km (ciclo combinato, basato sul nuovo ciclo di guida europeo).
Durante tutto il processo di sviluppo di Niro, è stato concepito come un modello ibrido dedicato. La vettura raggiungerà il suo bassissimo livello di emissioni e risparmio di carburante con un powertrain ibrido ridimensionato, l'associazione del motore Kia Kappa 1,6 litri a iniezione diretta benzina (GDI) (potenza 105 CV e 147 Nm di coppia) con un motore elettrico da 32 KW alimentato da batterie ai polimeri di litio da 1,56 kWh. Potenza combinata del propulsore e la coppia saranno applicate su strada attraverso un altamente efficiente cambio a sei marce con doppia frizione.
La piattaforma del Niro è stata progettata appositamente per accogliere questo powertrain ibrido benzina-elettrico di nuova generazione. Un powertrain ibrido plug-in dovrebbe essere aggiunto alla line-up della vettura più avanti nel suo ciclo di vita.
Acciaio ultra resistente per la nuova piattaforma di Niro
Sulla base di una nuova piattaforma su misura, la carrozzeria di Kia Niro è fatta di oltre il 50% in acciaio ad altissima resistenza, contribuendo al risparmio di carburante della categoria e alte valutazioni di sicurezza a cui i team di sviluppo puntano. Parte di un più ampio sforzo da Kia, l'uso prolungato di acciaio ad altissima resistenza aiuterà Kia a raggiungere il suo obiettivo di una riduzione del 5% del peso medio delle nuove carrozzerie entro il 2020 rispetto ai livelli del 2014.
Con una carrozzeria forte e leggera, Niro si baserà sulla reputazione di Kia per la produzione di vetture con una forte performance di crash. Il team di ingegneri dell'azienda stanno prendendo di mira il massimo dei voti da parte delle organizzazioni di test di sicurezza indipendenti di tutto il mondo, aiutati da una miriade di ultimi lavori nel settore della sicurezza passiva, attiva e pre-collisione, caratteristiche che Kia ha da offrire.
La piattaforma ad alta resistenza non solo comporterà un rating elevato di sicurezza, ma anche di ridurre al minimo il rumore, le vibrazioni e le ruvidità (NVH), un obiettivo chiave per tutta la concezione del Niro. La carrozzeria strong consente anche gli esperti di telaio e dinamica di Kia di dare alla vettura una linea regolare e raffinata e caratteristiche di maneggevolezza coinvolgenti.
Produzione per i mercati globali in programma nel 2016
La nuova Kia Niro Hybrid Utility Vehicle sarà svelata il prossimo anno, con la produzione per i mercati esteri in programma verso la fine del 2016. La vettura sarà costruita presso l'impianto di produzione di Hwasung di Kia in Corea.
Kia migliorare l'efficienza media del consumo di carburante del 25% entro il 2020
Lo sviluppo di una nuova piattaforma e powertrain su misura per il Niro contribuirà all'ambizione del marchio di diventare un leader nel mercado delle auto a basse emissioni entro il 2020. Nei prossimi cinque anni, Kia amplierà la sua gamma di auto verdi dai quattro modelli attuali a 11, e si rivolge ad un miglioramento del 25% del ​​rendimento medio del consumo aziendale rispetto i livelli del 2014.
Questa gamma ampliata di veicoli a basse emissioni comprenderà una vasta gamma di propulsori avanzati, da ibridi e ibridi plug-in ai veicoli elettrici a batteria e celle a combustibile a idrogeno. Niro sarà tra i primi nuovi modelli di Kia ad essere progettato, ingegnerizzato e prodotto come parte di questo piano.
Così come gli investimenti nelle tecnologie di propulsione avanzate, entro il 2020 Kia sostituirà anche sette della sua attuale gamma di dieci motori con unità benzina e diesel di nuova generazione, mentre l'aumento del numero di motori turbocompressi. Maggiore efficienza, è prevista anche dalle trasmissioni a più velocità, mentre gli ingegneri Kia stanno prendendo di mira una riduzione del 5% del peso medio delle nuove carrozzerie attraverso una maggiore applicazione di acciaio ad alta resistenza.
In English
Kia to launch all-new Niro Hybrid Utility Vehicle (HUV)
All-new compact SUV platform engineered uniquely for new Kia HUV
Stylish new design for Niro development project
Hybrid powertrain developed for latest model
Engineers targeting sub-90 g/km CO2 and class-leading fuel efficiency
Production for overseas markets scheduled to start in late 2016
Kia aims to improve average fuel efficiency by 25% over 2014 by 2020
Source:. Kia UK
Kia has today announced its plans to introduce an all-new low emissions vehicle to its growing model line-up. The Niro – labelled a Hybrid Utility Vehicle (HUV) – represents a new concept from the Korean car brand, and marks the development of Kia's first dedicated eco-car platform.
Niro will maintain all the practicality and appeal of a compact SUV, while offering greater fuel economy. Engineered from the ground up as a dedicated hybrid vehicle, its attractive, modern styling will help the car stand out in a traditionally conservative sector.
The Niro's all-new platform has been engineered in isolation from existing Kia models, and is designed to accommodate a specific set of environmentally-conscious technologies and next-generation powertrains.
Hyoung-Keun Lee, Vice Chairman & CEO, Kia Motors Corporation, commented, "Our new model is designed to offer buyers everything they could want from a compact SUV in terms of practicality and styling, while providing the typically low running costs associated with a dedicated hybrid powertrain. By encouraging our engineers to take a 'blank canvas' approach, we have tried to develop a car that will appeal to a broader range of consumers."

Lee added, "The compact SUV market remains one of the fastest-growing segments around the world, and by offering a handsome styling, modern appearance, high practicality and extraordinary fuel economy, Kia's new Niro Hybrid Utility Vehicle will be the most appealing and desirable car in its class."
Bold styling for all-new hybrid model
A new addition to Kia's design-led product range, the Kia Niro will boast a brand new design, with a sporty, aerodynamic body, subtly sculptured surfaces and styling details finishing off the car's modern new look. While the Niro is an all-new model, with no direct predecessors, it is still immediately recognisable as a Kia, carrying forward the company's signature 'tiger-nose' grille and a series of other design cues from the latest Kia products. The styling of the new Niro development project has been led by Kia's design centres in California, USA and Namyang, Korea.
Sporting a compact SUV shape, the car's designers highlight the most modern architectural designs and contemporary sculptural art as key inspirations behind the new HUV's body. The vehicle boasts smooth, sleek proportions, while its relatively wide stance portrays stability and a low center of gravity. The long wheelbase minimises the size of the front and rear overhangs, while ensuring occupants enjoy the maximum possible interior space.
Class-leading fuel economy and sub-90 g/km CO2 emissions
The main focus of the engineering teams' efforts behind the development of the new model is to deliver class-leading fuel economy in the compact SUV segment. The Kia Niro will combine a stylish SUV design with greater fuel economy than its rivals, with a target CO2 emissions rating of under 90 g/km (combined, based on the New European Driving Cycle).
Throughout the Niro's development process, it has been conceived as a dedicated hybrid model. The car will achieve its ultra-low emissions levels and impressive fuel economy with a downsized hybrid powertrain, pairing Kia's 1.6-litre 'Kappa' petrol direct injection (GDI) engine (105 ps power output and 147 Nm of torque) with a 1.56 kWh lithium-polymer battery pack and 32 kW electric motor. The powertrain's combined power output and torque will be applied to the road through a highly-efficient six-speed double-clutch transmission.
The platform underpinning the Niro has been engineered specifically to accommodate this next-generation petrol-electric hybrid powertrain. A plug-in hybrid powertrain is due to be added to the car's line-up later in its life-cycle.
Ultra-strong steel for Niro's unique new platform
Based upon a bespoke new platform, the Kia Niro's body is made of more than 50% ultra-high strength steel, contributing to the class-leading fuel economy and high safety ratings that development teams are targeting. Part of a wider effort by Kia, the extended use of ultra-high strength steel will help Kia reach its target of a 5% reduction in the average weight of new car bodies by 2020 compared to 2014 levels.
With a strong, lightweight body, the Niro will build on Kia's reputation for producing cars with a strong crash safety performance. The company's engineering teams are targeting the highest possible marks from independent safety test organisations around the world, aided by a host of the latest passive, active and pre-collision safety features Kia has to offer.
The high-strength platform will not only result in a high safety rating, but also help minimise noise, vibration and harshness (NVH), a key focus throughout the Niro's conception. The strong body also enables Kia's chassis and dynamics experts to give the car a smooth, refined ride and engaging handling characteristics.
Production for global markets scheduled to start in 2016
The new Kia Niro Hybrid Utility Vehicle is due to be unveiled next year, with production for overseas markets scheduled to start in late 2016. The car will be built at Kia's Hwasung manufacturing facility in Korea.
Kia to improve average fuel efficiency by 25% by 2020
The development of an all-new platform and bespoke powertrain for the Niro will contribute to the brand's ambition to becoming a leader in the low emissions car market by 2020. In the next five years, Kia will expand its current green car line-up from the four current models to 11, and is targeting a 25% improvement to average corporate fuel efficiency over 2014 levels.
This expanded range of low-emissions vehicles will encompass a wide range of advanced powertrains, from hybrids and plug-in hybrids to battery-electric and hydrogen fuel cell electric vehicles. The Niro will be among the first of Kia's new models to be designed, engineered and produced as part of this plan.
As well as investment in advanced propulsion technologies, by 2020 Kia will also replace seven out of its 10 current engine ranges with next-generation petrol and diesel units, while increasing the number of turbocharged engines. Higher-efficiency, multi-speed transmissions are also planned, while Kia engineers are targeting a 5% reduction in in the average weight of new car bodies through greater application of ultra-high strength steel.
no images were found