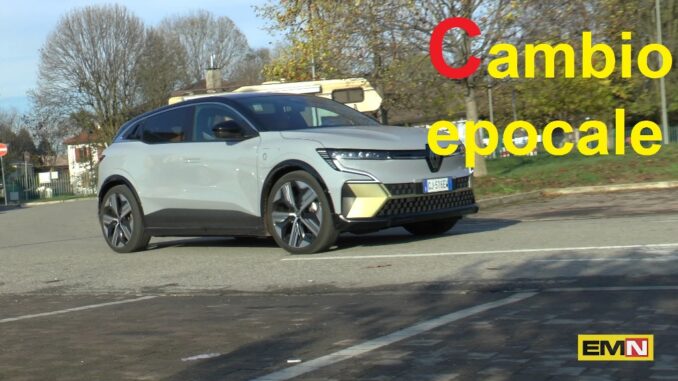 Nella sesta puntata di Electric Motor News, servizi di Volkswagen ID. Xtreme, Klara Andersson, BMW iX5 Hydrogen, Thok E-Bikes e alla guida di Renault Megane E-Tec.
Di seguito tutti i servizi video…
La concept car elettrica Volkswagen ID. Xtreme
La concept car Volkswagen ID. Xtreme a trazione integrale è basata sulla ID.4 GTX e combina le qualità di un robusto fuoristrada con i punti di forza di un moderno SUV. La nuova concept car elettrica dimostra l'enorme capacità prestazionale e la straordinaria versatilità della piattaforma modulare elettrica MEB di Volkswagen. Un motore ad alte prestazioni sull'asse posteriore e le regolazioni software dell'unità di controllo conferiscono all'ID. Xtreme impressionanti capacità fuoristrada.
From Rallycross to Extreme E
Klara Andersson, the new ABT Cupra XE driver, talks in depth about her racing beginnings, her passion for speed and her expectations for the next edition of Extreme E. The day she contributed to the team victory in the last round from last season was "the best of my life" according to the 23-year-old Swede.
In italiano – Dal Rallycross a Extreme E
Klara Andersson, la nuova pilota ABT Cupra XE parla in modo approfondito dei suoi inizi nelle corse, la sua passione per la velocità e le sue aspettative per la prossima edizione di Extreme E. Il giorno in cui contribuì alla vittoria della squadra nell'ultimo round della scorsa stagione è stato "il migliore della mia vita" secondo la 23enne svedese.
Video in lingua inglese.
Flotta pilota di BMW iX5 Hydrogen
Il BMW Group ha presentato ai rappresentanti dei media internazionali i primi veicoli BMW iX5 Hydrogen in una flotta pilota di meno di 100 veicoli, che dopo quattro anni di sviluppo verrà impiegata a livello internazionale per scopi dimostrativi e sperimentali per vari gruppi target.
The innovative full carbon Gram e-enduro from Thok E-Bikes
Thok E-Bikes unveiled the new Gram model, its first e-enduro with a carbon fiber frame, a bike suitable for climbing walls that could not be tackled with pedals. The new e-enduro expands the range of the Alba company, adding to the MIG series for All-Mountain, TK01 for Enduro and the HT model, for mixed Trail-Urban use. The project was born two years ago of prototyping and countless tests conducted on the challenging tracks of Finale Ligure, with the frame with an innovative design owned by Thok.
In italiano – L'innovativa e-enduro full carbon Gram da Thok E-Bikes
Thok E-Bikes ha presentato il nuovo modello Gram, la sua prima e-enduro con telaio in fibra di carbonio, una bici adatta a scalare pareti che non si potrebbero affrontare a pedali. La nuova e-enduro, amplia la gamma della casa di Alba, aggiungendosi alle serie MIG per l'All-Mountain, TK01 per l'Enduro e al modello HT, per l'uso misto Trail-Urban. Il progetto nasce da due anni di prototipazione e innumerevoli test condotti sugli sfidanti tracciati di Finale Ligure, con il telaio dal design innovativo e di proprietà Thok.
Servizio in lingua inglese.
Le impressioni di guida della Renault Megane E-Tec
Quando Renault ha presentato il modello Megane E-Tech full electric ha detto che si trattava di una vettura che rappresenta un cambio epocale per il marchio francese. Dal momento in cui siamo saliti per la nostra prova, insieme a Lilia Marcucci, abbiamo appurato che quell'affermazione è in linea con quello che la Megane E-Tech significa per Renault. La casa francese ha svolto un ottimo lavoro nei diversi componenti del powertrain elettrico, a partire dal motore sincrono a rotore avvolto da 8 poli costruito nell'impianto di Cleon, che ha dimostrato un consumo veramente contenuto. Secondo i nostri calcoli, guidando in diverse configurazioni e condizioni di traffico includendo autostrade, il consumo medio è stato di 12,8 kWh/100 km.
Servizio di Lilia Marcucci e Marcelo Padin.
Ecco le anteprime fotografiche dei video…