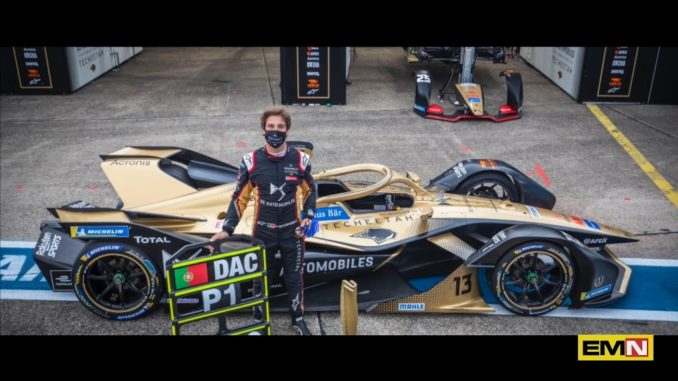 I servizi TV di gennaio, prima parte di Electric Motor News Inverno 2021, con Bentley, BMW, DS Automobiles, Tazzari, Italian Volt, Citroën e Peugeot.
La nuova Bentley Bentayga Hybrid
Con il lancio del nuovo SUV di lusso elettrificato Bentayga Hybrid, Bentley compie il passo successivo nel suo viaggio verso un futuro sostenibile. I clienti del Bentayga Hybrid possono sfuggire al rumore della città attraverso la serenità raffinata e acusticamente isolata dell'abitacolo senza interferenze del motore, utilizzando fino a 31 miglia (50 km) di autonomia solo elettrica (NEDC), prima di lasciare fisicamente la città alle spalle con il comfort di un'autonomia totale combinata di 536 miglia (862 km) (NEDC).
Servizio con la voce di Marco Cereda
Discussion between BMW 7 Series from 2001 and BMW iX
BMW's digital offering at CES 2021 also includes a fun teaser video that shows how the user experience has evolved over the past two decades inside a BMW. The protagonists of this journey through time are the BMW 7 Series from 2001 – on board which the first generation of the BMW iDrive system was installed – and the BMW iX, which will debut on the market in 2021 and in which the new generation of display and operating system.
In italiano – Discussione tra la BMW Serie 7 del 2001 e la BMW iX
L'offerta digitale di BMW al CES 2021 include anche un divertente video teaser che mostra come la user experience si sia evoluta negli ultimi due decenni all'interno di una BMW.
Protagoniste di questo viaggio nel tempo sono la BMW Serie 7 del 2001 – a bordo della quale è stata montata la prima generazione del sistema BMW iDrive – e la BMW iX, che debutterà sul mercato nel 2021 e in cui sarà disponibile per la prima volta la nuova generazione del display e del sistema operativo.
Il 2020 di DS Automobiles
DS Automobiles ricorderà il 2020 per il lancio della DS9, per il concept DS Aero Sport Lounge e per aver vinto il secondo campionato di Formula E.
Tazzari EV acquista Italian Volt
L'azienda di Imola Tazzari EV fa un passo avanti verso l'interesse sulle due ruote elettriche, con l'acquisto strategico degli asset di Italian Volt. In questo modo un nuovo brand italiano di moto elettriche entra nella Motor Valley, con Italian Volt, specializzato nello sviluppo di veicoli elettrici innovativi a due ruote.
Lacama ("La Camaleontica") è la moto elettrica simbolo di Italian Volt, caratterizzata da infinite possibilità di personalizzazione per rendere ogni moto elettrica un vero pezzo unico.
Servizio con la voce di Aurora Bovone
Peugeot e-Expert Van of the Year 2021
Nuovo Peugeot e-Expert ha ricevuto l'importante premio di Van of the Year 2021, completando i successi di critica di 208 e 2008. L'ambito titolo premia la strategia di elettrificazione del Marchio del Leone. A suo agio in ogni situazione di utilizzo e adatto a tutti gli impieghi professionali, e-Expert aggiunge alle doti di spazio, versatilità e tecnologie avanzate, la prerogativa della motorizzazione 100% elettrica che consente il libero accesso ai centri urbani. Tre lunghezze disponibili, identico volume di carico delle versioni termiche e due livelli di autonomia, fino a 330 km nel ciclo WLTP.
Il meglio di Citroën del 2020
Citroën ha lanciato nel 2020 diversi modelli elettrificati, con il debutto in Italia di C5 Aircross Hybrid Plug-in e di altri cinque veicoli tra vetture, commerciali e quadriciclo. Tra le full electric troviamo Nuova Citroën ë-C4 100% ëlectric, Citroën ë-SpaceTourer – 100% ëlectric, i veicoli commerciali Citroën ë-Jumper, Citroën ë-Jumpy e il quadriciclo Citroën Ami 100% ëlectric.
Di seguito le anteprime fotografiche dei video.