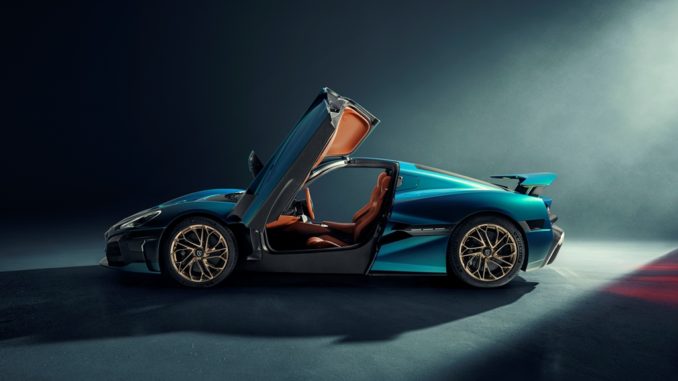 Rimac Automobili unveiled the hypercar Nevera, the production version of the C_Two, a full electric, 1914hp, 258mph, €2m.
Rimac's engineers have refined their new flagship on every level during an extensive development program, with the majority of key components developed in-house at Rimac's HQ in Croatia.
This is it. This is the car I had in mind when I embarked on the 'impossible' journey ten years ago. All our hard work has resulted in the the Nevera – our record-breaking hypercar. This car was born to outperform, and to raise the bar, redefining the norm for performance cars. And not only in performance – but as an all-arround package.

When we first revealed the C_Two, we set our targets extremely high. There was nothing else that could even come close to matching the car's cutting-edge electric powertrain and extreme performance. But for us, that was only the starting point – explains Mate Rimac, Founder and CEO of Rimac Automobili.

Everyone at Rimac is driven by curiosity and a desire to push things to the absolute limit. With its combination of everyday use and 1914hp performance, the Nevera proves what is possible when there are no restraints placed on technology, development, or ambition. We have now unveiled a car that pushes the hypercar market to a higher level, we have utilized the full potential of the electric powertrain today, proving what we've always been saying – that electric hypercar, in the form of the Nevera, is beyond exciting, and that is as thrilling on the track, as it is cosseting crossing continents."

We will be making just 150 examples of the Nevera, every single unit crafted in Croatia from passion and admiration for cars.
Underlining his own commitment to the project, Mate Rimac will personally test and sign off each of the Neveras, before they are delivered to customers from the company's current production site on the outskirts of Zagreb, Croatia.
Named after a force of nature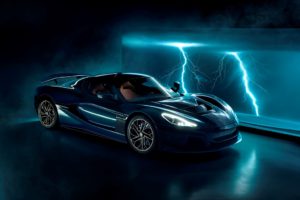 Fittingly, the Nevera bears a proud Croatian name and one that truly reflects the prodigious performance the car can unleash in the blink of an eye. The name given by the locals to a quick, unexpected and mighty Mediterranean storm, that races across the open sea off Croatia, a nevera is extremely powerful and charged by lightning.
Appearing with exceptional speed and potency, Rimac's next-generation hypercar shares the Nevera's name and looks set to leave a similarly disruptive effect on the global hypercar market. And, like the force of nature it is named after, it is just as adept at transforming its character in an instant – from assured and comfortable grand tourer to ultra-focused performance machine.
Form follows function
Rimac favors lean and effective engineering at every stage, and that philosophy is exemplified in the form-follows-function nature of the Nevera's timeless, elegant design. It is applied to every single detail, including Rimac's signature 'cravat' feature, which is incorporated into its flanks.
Since the 17th Century, the necktie has provided a symbol of Croatian strength and identity, and we first paid tribute to it on our Concept_One hypercar in 2011 – reveals Rimac Director of Design, Adriano Mudri. And, like every element of the car's design, it is there to provide a key function of the Nevera's performance, serving as an air intake for the rear cooling systems.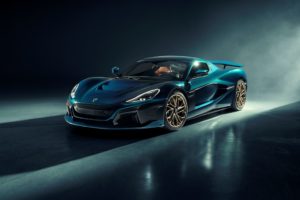 A comprehensive raft of changes to the Nevera's bodywork, air diffusers and intakes has delivered a 34 per cent improvement in aerodynamic efficiency over the early prototypes. The profile of the bonnet, the shape of the pillars and the design of the diffusers, splitters and radiators have all been intensively analysed and refined to improve airflow and downforce. Inlets and cooling channels have been painstakingly developed to increase the cooling efficiency of both the brake and powertrain systems, resulting in a 30 per cent improvement at low speeds and a seven per cent enhancement at high speeds.
Rimac has also created numerous new innovative active aerodynamic elements to elevate the Nevera's cooling, performance, stability, and efficiency abilities. The front bonnet profile, underbody flap, rear diffuser and rear wing can each move independently, driven by complex algorithms that provided the optimum aerodynamic configuration for every driving situation. Switching from 'high downforce' to 'low drag' mode reduces aerodynamic drag by 17.5 per cent to create a 0.3 coefficient of drag. Changing back into 'high downforce' mode increases downforce by 326 per cent.
Despite incorporating a wealth of active aerodynamic elements, as well as many cameras and sensors that enable the Driver Coach feature, the Nevera's body design remains a coherent graphic. It combines both the drama and beauty of a hypercar and appears simultaneously shaped by the air and forged with technology. The stunning butterfly doors elegantly carve away from the car's wide sill as they open, creating a generous space for ease of entry and egress.
Lightweight, forged alloy wheels feature a unique aerodynamic design that channels cooling air to the Brembo carbon-ceramic braking system and ensures smooth airflow down the car's flanks.
Source. Rimac Automobili