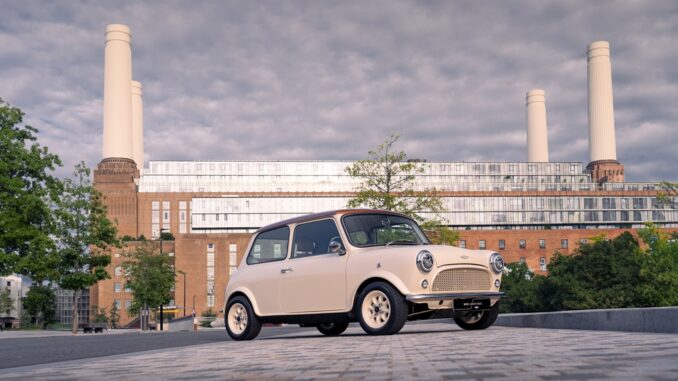 David Brown Automotive, the name that is synonymous of British craftsmanship, innovation, and timeless design, has revealed the MINI eMastered.
David Brown Automotive, il nome sinonimo di artigianato britannico, innovazione e design senza tempo, ha rivelato la MINI eMastered.
The all-electric creation marks a new era for David Brown Automotive, and will set new standards for zero-emissions, urban driving elegance. MINI eMastered combines the marque's world-leading expertise in bespoke luxury with iconic, classic car style.
At the forefront of automotive excellence, David Brown Automotive is known for remastering the iconic shape and look of the classic MINI as a bold, clean, electric product for the roads of today. The all-electric MINI eMastered showcases the perfect fusion of timeless aesthetics and electric propulsion, redefining the art of driving for the modern age.
Performance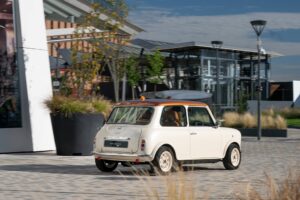 Owners will experience an effortless, whisper-quiet ride thanks to a powerful all-electric drivetrain. The feather-light 640kg MINI eMastered – the same weight as an original ICE car – harnesses the latest in electric technology, delivering sprightly acceleration thanks to a compact, power dense Zonic 70 motor emitting 72kW (97hp) and 175Nm of instantly accessible torque. MINI eMastered dispatches the 0-62mph dash in just 8.5 seconds and runs on to an (electronically limited) top speed of 92mph when in sports mode.
Thanks to its light weight and excellent powertrain efficiency, MINI eMastered delivers a WLTP certified range of 110 miles from its 'right sized' 18.8kWh battery, allowing for effortless city travel with total peace of mind. Capable of up to 6.6kW AC charging via a charging port housed in the same location as the original fuel filler outlet, the battery can be replenished in just 3 hours* using a typical home wall box charging point or a dedicated electric charging point (*charge point dependent).
Classic Design, Remastered
The timeless charm of the classic MINI is revived and taken to new heights. Meticulously handcrafted by David Brown Automotive's skilled British artisans, the all-electric MINI eMastered retains its iconic silhouette whilst enhancing a smooth driving experience through enhancements to the interior and its electrified powertrain, making it a masterpiece of contemporary elegance. This is truly a classic car integrated with all the electric technology required for modern city life.
Sustainable Luxury
MINI eMastered is a commitment to sustainability that is possible in every aspect of this remarkable model, each owner has the option to specify the materials used throughout to their exacting needs. By embracing zero emissions power, David Brown Automotive's models old and new will contribute to a cleaner future, MINImising environmental impact without compromising on performance or luxury, offering each owner and driver peace of mind.
Personalisation at its Finest
As with every David Brown Automotive creation, owners can indulge in an extensive array of bespoke options. Each MINI eMastered can be tailored to the unique preferences of its discerning owner, ensuring a truly personalised and exclusive driving experience.
MINI eMastered takes its cues from a donor body, which is hand crafted to exacting standards by David Brown Automotive's expert team of artisan coachbuilders based in Silverstone, England.
Technological Innovation
The all-electric MINI eMastered is a usable classic city car. It embraces new technologies for a user-friendly driving experience. From the seamless integration of a technological EV platform, through to a modern integrated infotainment system, featuring Apple CarPlay and Android Auto, MINI eMastered raises the bar for owners seeking a modern classic that offers a clean, quiet, and convenient driving experience.
This entry into electric mobility allows enthusiasts, collectors, and current David Brown Automotive owners to commission their own electrified model. The very first example of this will be revealed later this autumn.
Source: David Brown Automotive