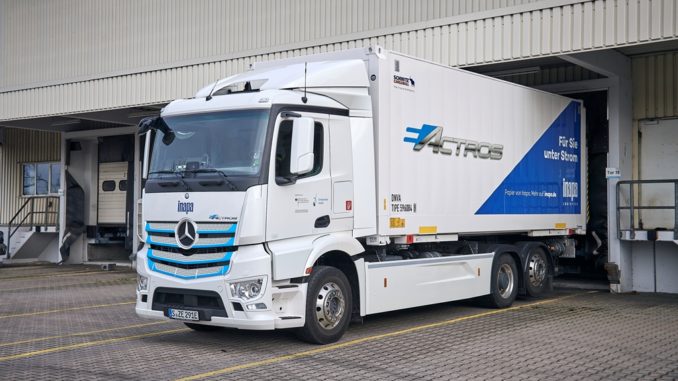 Inapa Deutschland company of Ettlingen start another practical test of the battery-electric 25-ton Mercedes-Benz eActros in the Karlsruhe region.
This leading paper wholesaler is to use the heavy-duty electric truck for the distribution of paper packed on pallets to printers. The vehicle has a range of approximately 200 kilometers and will cover a distance of between 150 and 200 kilometers each day. Its batteries will then be recharged overnight at Inapa's depot in Ettlingen.
Rico Claassen, Fleet Customer Manager at Mercedes Benz Trucks:
Since 2018, we have been using the prototype of the eActros to gain important insights for the planned start of series production of the battery electric truck in 2021. With this important milestone in mind, we are testing the eActros every day in a wide range of applications together with our future-oriented customers as part of our innovation fleet. We are delighted that Inapa is now one of the customers whose experience and feedback is contributing to the series production of the battery-powered eActros.
Frank Weithase, Chief Operating Officer at Inapa Deutschland GmbH:
Environmental protection and sustainability are among our most important tasks in our business with paper and paper products. As a leading paper wholesaler, we bear a high level of responsibility going far beyond our immediate economic activities in the field of paper solutions. Of course, this also includes our transport logistics, which is entrusted with distributing our products. It is right here that the locally emission-free eActros contributes to our environmental strategy. We are looking forward to the upcoming practical use of the truck.
The eActros in series production: outstanding performance
The series-production eActros will be significantly superior to the prototype in a number of respects, such as range, power and safety. The eActros will be launched as a two- and three-axle vehicle. Series production is scheduled to start in 2021 at the Wörth plant on the Rhine. In addition, Daimler Trucks will embed the vehicle in a holistic ecosystem that also includes consulting services relating to e-mobility. They include route analyses, checking for possible subsidies, support for operational fleet integration and the development of suitable charging-infrastructure solutions.
Source: Mercedes Benz Trucks