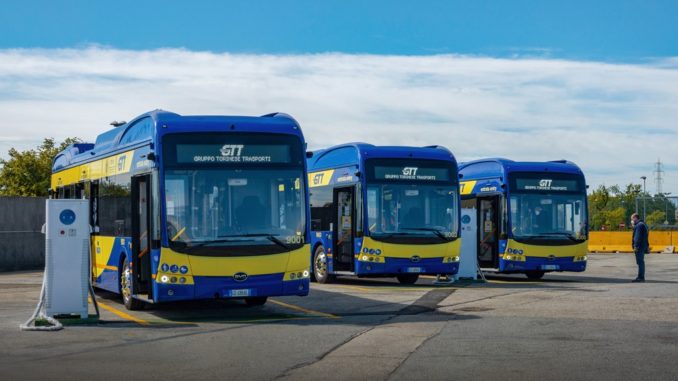 One of the largest orders for eBuses in Italy has been signed by BYD with GTT (Gruppo Torinese Trasporti) confirming of a further 50 units of the 12-metre low-floor model.
A framework agreement is also in place for the supply of an additional 50 BYD 12-metre models after the initial deliveries are completed and in operation.
This latest major fleet order for BYD comes as a result of its close and long-established partnership with GTT – Turin's principal Public Transport Operator – since first supplying BYD eBuses for the city in 2017. The programmed delivery of 50 eBuses will be GTT's third intake from BYD taking its total to 78 BYD vehicles. The latest fleet will feature three-door bodywork and the phased delivery of the remaining vehicles is scheduled for September.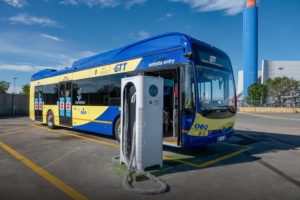 The first four eBuses were officially handed over on Monday, 16th May, at GTT's Gerbido depot, attended by the Mayor of Turin, Chiara Appendino, CEO of GTT, Giovanni Foti, and Councilor for Transport, Maria Lapietra. These latest new additions will enter service initially on routes 58 and 71 in the city.
Over 60 BYD eBuses are presently in operation throughout Italy, performing reliably on intensive routes in the cities of Turin, Novara, Alessandria, Milan, Padua and Messina, and other smaller towns. The BYD eBuses in Italy have to date combined to deliver over seven million electric kilometres, saving more than 7,000-tonnes of CO2 emissions from equivalent diesel-powered vehicles.
The majority of the vehicles will be built in the EU at BYD's dedicated production facility in Komárom in neighbouring Hungary. Once again, despite COVID-19 restrictions, BYD has worked tirelessly in line with pre-agreed production and delivery schedules to meet the stringent requirements of Local Authority and PTO customers throughout Europe.
BYD's best-selling eBus – exacting specification for GTT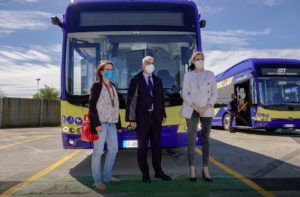 BYD's 12-metre eBus remains as the best-selling electric bus model
with over 700 vehicles already in service in Europe. GTT's latest BYD fleet order specification features a number of technological innovations to optimise safety, productivity and passenger comfort. Among them a MirrorEye camera to significantly broaden the driver's field of vision, independent charging points on each side of the vehicle to provide operational flexibility, while improved battery technologies mean the
HydroElectric heater
is more protective of the environment by eliminating CO2 emissions.
A dedicated and spacious on-board area is also provided for wheelchair users.
GTT will benefit from BYD's FleetLink vehicle and fleet monitoring system, the fully future-proofed fleet management tool with system architecture primed for Smart Transportation, Internet of Things and Big Data Analysis.
Source: BYD Europe