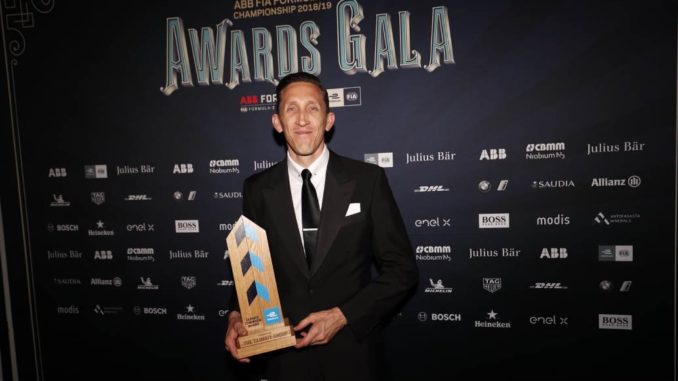 ABB FIA Formula E Championship and the Climate Group presented the first Climate Champion Award to Panasonic Jaguar Racing.
This sustainability award recognises efforts in advancing the fight against climate change with ambition, innovation and pace within the Formula E ecosystem
The award was presented to Panasonic Jaguar Racing, Team Director, James Barclay at the ABB FIA Formula E end of season awards on Sunday in New York City
The judges highlighted that Panasonic Jaguar Racing has shown a clear race-to-road technological transfer with the official support series to the championship, the Jaguar I-PACE eTROPHY. The game-changing all-electric performance SUV has been modified specifically for the track, but those watching from the grandstands and on TV can purchase the Jaguar I-PACE, demonstrating the rapid advancements of electric vehicle technology.
James Barclay, Panasonic Jaguar Racing Team Director said,
The Jaguar I-PACE pioneered the move to a vision of a clean, safe and sustainable future and is at the forefront of the electric vehicle revolution. What the Panasonic Jaguar Racing team learn on the track will directly benefit Jaguar's future electric vehicles. They will feature innovative technologies, improved performance and be even more efficient. Jaguar's move towards Destination Zero (zero emissions, zero accidents and zero congestion) will safeguard the future of motorsport, mobility and the planet. We are incredibly proud to be the first recipient of the Climate Champion Award.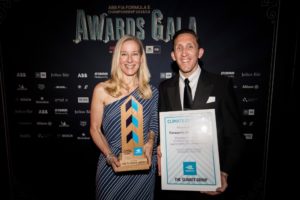 The Climate Champion Award is supported by The Climate Group, an award-winning, international non-profit organization specialising in bold and high-impact climate and energy initiatives with the world's leading businesses, states and regional governments. The Climate Group's work is at the forefront of ambitious climate action – with a mission to catalyse climate leadership in government and businesses to accelerate the shift to a prosperous and thriving net-zero future for all.
This award celebrates the team that is accelerating climate action, and Jaguar is truly a Climate Champion for their work in the electric vehicle revolution. Jaguar plays an important role in the increased demand for clean transport; their commitment and drive towards an electric future is the ambition all businesses should follow in order to achieve a cleaner planet – said Helen Clarkson, CEO of The Climate Group.
Formula E works with The Climate Group to spread the message of EV100, and continues to be the platform for manufacturers to test and develop road-relevant technologies in an exciting and competitive environment.
Julia Palle, Senior Sustainability Consultant at Formula E, said:
We are racing against climate change so it's time to act now, so congratulations to the Panasonic Jaguar Racing team. We are delighted to see Panasonic Jaguar Racing being recognised for its pioneering work in advancing EV adoption worldwide. They share the same philosophy as the ABB FIA Formula E Championship – pushing technology and inspiring people to drive electric, showcasing their own innovative and all-electric SUVs.
Source: Jaguar Racing