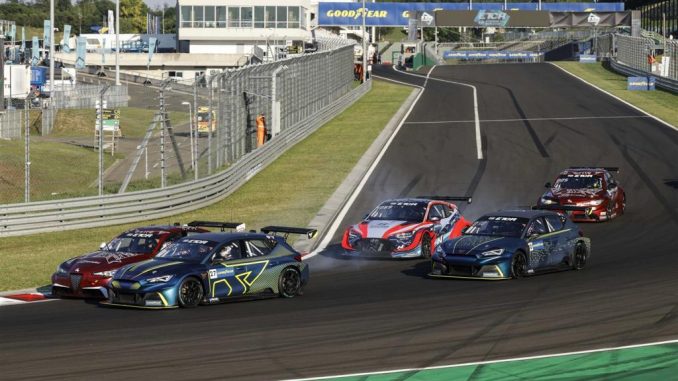 Il team Cupra EKS consolida la leadership della classifica costruttori del FIA ETCR eTouring Car World Cup dopo un incredibile weekend al Hungaroring.
Adrien Tambay vince la SuperFinal DHL Pool Furious, incoronandosi King of the Weekend, che lo porta al comando del campionato piloti – con il suo compagno di squadra Mattias Ekström solo due punti dietro!
Come previsto, il veloce e scorrevole circuito del Hungaroring di 4,381 km ha regalato emozionanti gare in un weekend segnato da svariati incidenti che ha tenuto il team Cupra EKS estremamente impegnato. L'utilizzo strategico del Power Up boost, che permette alle auto di girare a 450 kW per una durata prestabilita durante tutte le sessioni in circuito, è stato cruciale per sorpassare e difendere la propria posizione – una tattica che tutti e quattro i piloti Cupra EKS hanno rapidamente padroneggiato e fatto buon uso durante il secondo appuntamento tenutosi a Budapest.
Adrien Tambay ha fatto segnare il tempo più veloce nella sua Pool Furious Qualifying run ed è finito secondo nella sua Quarter Final race. Un problema alla partenza nella Semi Final 1 lo ha visto relegato all'ultimo posto, concludendo la gara in rimonta nella seconda posizione grazie a una guida brillante. Partito secondo sulla griglia del DHL Pool Furious SuperFinal, Tambay ha subito preso il comando al primo giro, controllando la gara il che gli ha permesso di prendere punti importanti, da essere incoronato vincitore del fine settimana (King of the Weekend).
Estratto casualmente nello stesso gruppo Pool Furious di Tambay, Tom Blomqvist è stato più veloce nella Qualifying 2, ma è rimasto fuori dalla classifica nella Quarter Final. Si è poi ripreso alla grande, portando a casa la vittoria nella sua Semi Final e per schierarsi quarto nella griglia per la SuperFinal. Gara che è andata in rimonta per Blomqvist, che a metà gara si è piazzato secondo e ha seguito il suo compagno di squadra tagliando il traguardo.
In forma brillante anche l'esperto pilota Mattias Ekström, che ha fatto registrare il tempo più veloce nella Pool Fast Free Practice e nella Qualifying, per poi vincere la sua Quarter Final. Partito in pole position per la Semi Final, ha perso il comando della gara in seguito a un duro scontro che l'ha portato a concludere in terza posizione. Posizione da cui è partito in griglia per i cinque giri della DHL Pool Fast SuperFinal, mantenendola grazie a una buona partenza, per poi portarsi avanti fino al secondo posto con un sorpasso all'interno nell'ultima curva del primo giro. Ha brillantemente difeso la posizione nella bagarre, segnando un ottimo secondo posto nella SuperFinal, ed è rimasto a soli 10 punti il titolo di King of the Weekend.
Jordi Gené si è posizionato bene nel weekend di gara e ha finito secondo la sua Pool Fast Semi Final. Ha fatto una grande partenza dalla quinta posizione in griglia per la SuperFinal, ma diversi contatti pesanti durante il primo giro lo hanno forzato a fermarsi per una foratura, concludendo la gara un giro indietro ma comunque segnando punti utili al fine della SuperFinal.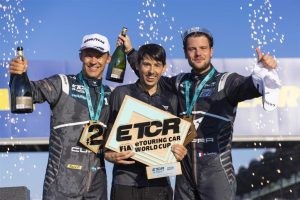 Adrien Tambay pilota Cupra EKS:
La SuperFinal è stata fantastica! A causa dei miei errori il primo giorno sono stato costretto a guadagnare terreno e quindi mi sono messo un po' di pressione addosso perché volevo premiare il team segnando un buon risultato per ringraziarli del loro duro lavoro. Sapevo che Cupra e-Racer è veramente veloce al Hungaroring e che dovevo avere una SuperFinal senza problemi. Sono partito secondo sulla griglia di partenza e sapevo di dover prendere il comando al più presto, cosa che ho fatto dopo le prime due curve. Il piano A ha funzionato, quindi sono felice! Ora dobbiamo tenere la testa bassa e lavorare per la gara di casa di Cupra a Jarama il prossimo weekend.
Mattias Ekström pilota Cupra EKS:
La mia SuperFinal è stata buona e in fin dei conti anche il secondo posto. Sono contento del risultato e davvero felice per il team Cupra EKS, perché Adrien [Tambay] è riuscito a vincere il King of the Weekend. È un enorme risultato per il team nel campionato costruttori che è ovviamente molto importante. Ora tutti gli occhi sono puntati sulla prossima gara. Cupra e-Racer è veramente un'ottima auto, e a Jarama dovremmo essere in grado di raggiungere un altro grande risultato.
Il terzo appuntamento si svolgerà nel circuito di Jarama in Spagna il 17-19 giugno.
6-8 maggio Pau Ville (Francia)
10-12 giugno Hungaroring (Ungheria)
17-19 giugno Jarama (Spagna)
8-10 luglio Zolder (Belgio)
22-23 luglio Vallelunga (Italia)
7-9 ottobre Inje Speedium (Corea del Sud)
Fonte: Cupra Italia