Mahindra Racing targets FIA Formula E Championship with Heidfeld and Rosenqvist in Season Four
Mahindra Racing retains drivers Nick Heidfeld and Felix Rosenqvist for the team's fourth season in the FIA Formula E Championship
The team has enjoyed its most competitive and successful season to date in Season 3 with a debut victory and nine additional podium finishes
Mahindra Racing has set out a clear target to fight for the teams' and drivers' championship win in Season Four with its M4Electro race car
Source: Mahindra Racing
Oxford, UK. 20 September 2017. Mahindra Racing today confirmed that Nick Heidfeld and Felix Rosenqvist will remain as the team's race drivers for season four of the FIA Formula E Championship, which will run from December 2017 to July 2018.
With consistency in the cockpit of the team's new M4Electro race car, Mahindra Racing has more ambitious objectives than ever before – to compete for the teams' and drivers' championship titles in Formula E.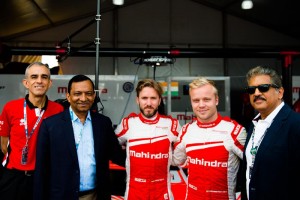 The combination of Germany's Heidfeld and Sweden's Rosenqvist has helped Mahindra Racing enjoy its most competitive season to date in Formula E. The team secured third place in the teams' and drivers' championship in a thrilling season three finale at the Montreal ePrix in July this year.
Mahindra Racing claimed some impressive statistics during its third year in Formula E. With one win, ten individual podiums (five apiece for Heidfeld and Rosenqvist), two fastest laps and three pole positions, the team took the most podiums of any team during the season.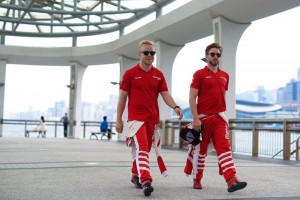 Rosenqvist, meanwhile, will move into his sophomore season after a stunning maiden season, in which he turned heads with some impressive performances and race results. He took a maiden victory and three pole positions, becoming the Rookie of the Year and finishing third in the drivers' standings.
Dilbagh Gill, Team Principal said
"We're thrilled that both Nick and Felix will remain with Mahindra Racing next season. With them, we're confident that our new race car, the M4Electro will prove to be our strongest yet and Mahindra will consistently be fighting at the front of the field for wins and championships."
Nick Heidfeld said,
"I am proud to be part of Mahindra Racing where we have been going from strength to strength in Formula-E. It's exactly where I want to be and I am delighted to extend my contract and commitment to target even more success. I am thrilled and can't wait to compete in my M4-Electro in this ever-improving championship."
Felix Rosenqvist said,
"I'm thrilled to be back for a second season in Formula E and to extend my relationship with Mahindra Racing That was our mutual intention from the very beginning, and we've already completed a series of promising tests with the M4Electro in recent months. Moving into season four, I will draw on everything I learned in 2016-17 to try and lift us to the next level. It will be a massive challenge with stiff competition, but we have a solid foundation and are all fully committed to taking the fight to the very best."
no images were found