Da: Scott Mitchell, Giornalista
Tradotto da: Chiara Rainis, Giornalista
Fonte: Motorsport.com
L'elvetico ha voluto scusarsi via Twitter con la Renault e.dams e i colleghi Frijns e Da Costa per l'eccessiva reazione avuta al termine di Gara 1, ripresa dalle telecamere del broadcaster ufficiale della serie e poi diventata virale…
Metabolizzata la sconfitta rimediata in volata, Sébastien Buemi è tornato a parlare del movimentato week end di Montréal nel Campionato FIA di Formula E, domandando perdono al suo team e a due degli avversari con cui si è battuto.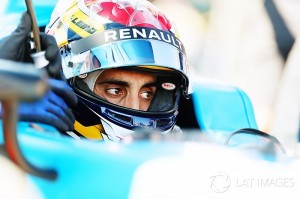 Non appena concluso il primo match ball, lo svizzero aveva apostrofato Antonio Félix Da Costa per averlo colpito al via, scoprendo subito dopo che invece era stato l'altro portacolori dalla Amlin Andretti, Robin Frijns, ad avergli danneggiato lo sterzo.
Lamentatosi con l'olandese, mentre veniva approcciato dal presentatore TV della serie "full electric", Marc Priestley, Buemi bloccava pure Daniel Abt, reo di averlo tamponato in corsia box.
"È brutto vedere certe immagini in televisione tra l'altro estrapolate dal contesto. Io volevo semplicemente discutere con Frijns e Abt", si è difeso parlando a Motorsport.com.

"Sapevo di essere veloce e volevo uscire dalla curva 2 senza danni, ma in quel momento Robin ha rovinato la geometria della mia auto, rendendo tutto più complicato. Per il resto, fortunatamente, Daniel non mi ha danneggiato l'alettone quando mi ha colpito. In pratica, stavo ponendo loro soltanto delle domande, ci tenevo al confronto e infatti adesso è tutto okay. È evidente che in futuro presterò maggior attenzione in caso di situazioni simili".
Il tweet di Buemi
Sébastien Buemi ✔ @Sebastien_buemi
After some rest, I would like to apologize to my @RENAULTedams team, Da Costa and Frijns for my outburst at the last Race. See you in S4.
Il fine settimana del ginevrino in Canada non è certo stato dei migliori, visto che dopo questo episodio è stato squalificato per vettura sottopeso, consegnando nelle mani di Lucas Di Grassi il titolo 2016-2017.
Senza contare l'errore nel primo gruppo di qualifica che lo ha costretto a partire da centro griglia, dove notoriamente è facile entrare in contatto con gli avversari allo start. Il pit stop extra per i danni riportati alla carrozzeria ha poi fatto il resto.
"È difficile accettare che la fortuna possa decidere un week end", ha affermato Sébastien Buemi a proposito del sorteggio pre-qualifica, per lui aggiunta superflua al format.
"Se sei nel Gruppo 1 avrai bisogno di una gran velocità per non trovarti tanto indietro sullo schieramento. Di solito merito e fortuna si equiparano alla fine di una stagione, però quest'anno è stata dura. Personalmente trovo sbagliato che la sorte influenzi così le prove del sabato", ha concluso Séb che per ben 5 volte è finito nella fase 1 delle qualifiche e che in due occasioni, Monaco e Parigi, ha conquistato la Super Pole. Unico assieme all'inglese Sam Bird (Berlino).
Nel complesso la media di presenze nel Gruppo 1 è di tre, tuttavia alcuni piloti come Sam Bird (DS Virgin Racing) e Loic Duval (Faraday Future Dragon Racing) ci sono finiti ben sei volte.
Ecco il video di cui si parla:
httpv://www.youtube.com/watch?v=oOQnYKDExaM