Fonte: BYD
Macao, 9 agosto 2017. BYD, ha annunciato orgogliosamente di aver firmato un contratto per fornire 20 autobus elettrici puri a due imprese turistiche di Macao, meno di un anno dopo l'esordio del veicolo sull'isola.
Nell'ambito dell'accordo BYD fornirà servizi sulla linea Chong Ou con autobus elettrici C8 da 10.6 metri di, fornendo lo stesso tipo di servizio al Galaxy Entertainment Group (Macao).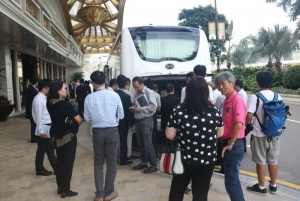 Entrambe le partnership sono state firmate lo stesso giorno, BYD ha introdotto la propria flotta di veicoli elettrici puri per uso pubblico, privato e industriale. Circa 100 persone sono state presenti all'evento che ha mostrato la gamma completa di automobili, monorotaie, tour e veicoli logistici.
Tra i partecipanti figurano il Direttore Generale Liu Xueliang, dirigenti di alberghi locali, agenzie di tour e operatori del trasporto, nonché altri rappresentanti del settore industriale e del governo.
"Macao è in una buona posizione per implementare un sistema di trasporto elettrico puro e siamo onorati che Macao abbia scelto di collaborare con BYD per concretizzare questa realtà", ha dichiarato Liu Xueliang. "Non vediamo l'ora di presentare a Macao tutta la nostra gamma di veicoli elettrici puri per trasformare la città dell'isola in un modello di turismo ecocompatibile".
Alimentato dalla batteria al litio ferro fosfato, l'autobus elettrico puro BYD può viaggiare per più di 250 chilometri e richiede solo un tempo di ricarica di quattro ore.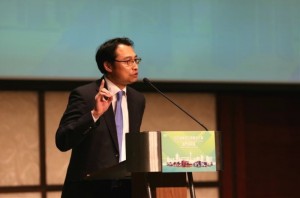 Il progetto di lancio di autobus elettrici, pullman e altri mezzi di trasporto ecologico a Macao mira a risolvere le emissioni inquinanti ed acustiche dai veicoli in una piccola città che ha registrato un aumento del 73% del numero di veicoli a motore tra il 1999 e il 2010.
Secondo le cifre del governo della Regione Amministrativa Speciale di Macao, i bus elettrici producono 56 per cento in meno di anidride carbonica e 60 per cento meno di ossido di azoto per ogni centinaia di chilometri percorsi rispetto agli autobus diesel.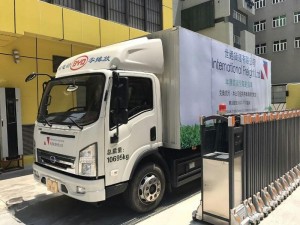 BYD ha fatto rilevanti incursioni nel mercato locale dopo il successo del suo autobus elettrico nel 2013. Un anno dopo la società con sede a Shenzhen ha consegnato il suo primo veicolo a un cliente dell'isola. Lo scorso novembre BYD ha segnato un altro punto fermo nella sua storia firmando il primo ordine di bus elettrico puro a Macao presso l'International Automobile Expo di Cina (Macao). L'azienda ha anche ricevuto numerose richieste di sperimentare il suo camion elettrico di consegne da 11 tonnellate a Macao dal lancio del veicolo a maggio.
BYD ha una presenza notevole in più di 20 paesi e regioni dell'Asia Pacifico, tra cui Giappone, Singapore, India, Corea del Sud, Malesia, Australia e Nuova Zelanda.
In English
BYD Makes Inroads in Macao's Pillar Tourism Industry with Pure Electric Coaches
Source: BYD
Macao, August 9th, 2017. New energy technology company BYD today proudly announced an agreement to provide 20 pure electriccoaches to two Macao tourism enterprises, less than a year after the vehicle's debut on the island.
Under the deal BYD will service Chong Ou Direct Bus Services Limited with 10.6 meter C8 pure electric coaches while providing Galaxy Entertainment Group (Macao) with the same kind.
Both partnerships were signed on the same day BYD introduced its fleet of pure electric vehicles for public, private and industrial use. Around 100people were present at the event that showcased the company's comprehensive range of cars, monorail, tour coaches and logistic vehicles. The attendees included the General Manager of BYD Asia Pacific Auto Sales Division Liu Xueliang, senior executives from local hotels, tour agencies and transportation operators, as well as other industry and government representatives.
"Macao is in a good position to implement a pure electric transportation system and we are honoured that Macao has chosen to partner with BYD to make this a reality," said Liu Xueliang. "We look forward to introducing our entire range of pure electric vehicles to Macao to turn the island city into a model of environmentally friendly tourism."
Powered by its proprietary iron phosphate battery, the BYD pure electric coach can travel more than 250 kilometers while only requiring a recharge time of four hours. The planned roll out of electric buses, coaches and other types of transport in Macao is aimed at addressing noise and vehicle carbon emissions in a tiny city that experienced a 73 percent increase in the number of motor vehicles between 1999 and 2010.
According to figures by the Macao Special Administrative Region government, electric buses produce 56 percent less carbon dioxide and 60 percent less nitrogen oxide for every hundred kilometres travelled, compared to diesel buses.
BYD has made significant inroads in the local market since the successful trial of its pure electric bus in 2013. A year later the Shenzhen based company delivered its first passenger vehicle to a customer on the island. Last November BYD chalked another notch in its history by signing the first pure electric coach order in Macao at the China (Macao) International Automobile Exposition. The company has also received numerous requests to trial its 11 ton pure electric delivery truck in Macao since launching the vehicle in May.
BYD hasa considerable presence in more than 20 Asia-Pacific countries and regions, including Japan, Singapore, India, South Korea, Malaysia, Australia and New Zealand.
no images were found

.