Team Rahal Letterman Lanigan Racing confirmed their second driver for the Jaguar I-PACE eTrophy and the first test will be in September in the United Kingdom.
Race-winning sports car veteran Bryan Sellers will complete the driver lineup for the teams two car Jaguar I-PACE eTROPHY series electric racecar program during the 2018/2019 ABB FIA Formula E season. Sellers will join previously-announced driver Katherine Legge for the debut season of the 10-race global series.
I'm very proud to be a part of Rahal Letterman Lanigan Racing's Jaguar I-PACE eTROPHY program – said Bryan Sellers. I grew up in Ohio watching Bobby win races and build an incredible racing program and it will be nice to finally get to see it from the inside. Electric cars are clearly the way of the future and to be involved with the first electric production car racing series is very important to me, more so doing it with a brand as iconic as Jaguar makes it even more special. I'm also looking forward to getting to work with Katherine. We have had a great relationship over the years and it will be nice to finally get to work together instead of head to head. I'm very thankful to everyone at RLL and Jaguar for giving me this opportunity.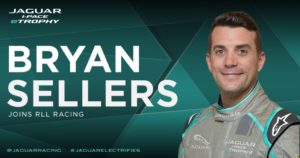 RLL first announced participation in the Jaguar I-PACE eTROPHY series, the world's first production-based electric vehicle race series, in November 2017. The first test for the series will take place September 24-27 at the iconic Silverstone circuit in the UK.
I have known Bryan quite some time and have been impressed with his ability and approach – said Bobby Rahal, co-owner of Rahal Letterman Lanigan Racing with David Letterman and Michael Lanigan. The demands of this series will put a premium on pace of course, but even more so on experience. There will not be a lot of practice time and there are other restrictions that you wouldn't normally see so experience, maturity and pace are very important qualities that I was looking for when we chose our driver lineup. Bryan will be an asset to our program.
The Jaguar I-PACE eTROPHY is a support series to the ABB FIA Formula E Championship and the world's first production battery electric vehicle race series. Races will take place the same weekend, and on the same city street circuits, throughout the 2018-19 season. The series, which will exclusively feature up to 20 Jaguar I-PACE eTROPHY race cars, offers teams the chance to showcase driving talent and electric performance, while competing on the world stage in zero-emissions motorsport.
Marion Barnaby, Jaguar I-PACE eTROPHY Championship Manager said:
Welcome to Bryan, who'll definitely add some fierce competition to the Jaguar I-PACE eTROPHY races. In a series where driver skill and adaptability will decide the winner, we're attracting an exciting line up with diverse backgrounds and experience. Prize money for the first season is in excess of £500,000 so I'm sure we'll see some lively racing as the drivers fight it out for podiums.
About Bryan Sellers
Sellers, who was born in Dayton, Ohio and resides near Atlanta, currently competes in his third season with Paul Miller Racing in the GTD class of the IMSA WeatherTech SportsCar Championship and is in his 14th season overall in sports car racing.
In the first nine races of the 2018 season, he and co-driver Madison Snow have won two races, one pole, and finished on the podium seven times. Since joining the team in 2016, the duo has earned three wins, five poles and 12 podium finishes.
Sellers got his start in karting at the age of 11 and went on to win the World Karting Association national title in 1997 before progressing through the ranks of Star Mazda and Skip Barber.
In 2002, he won both the Formula Ford Zetec and USF2000 championships and finished second in the New Zealand International Formula Ford Championship as a member of the Team USA scholarship system. That performance earned him Indy car tests with Newman/Haas Racing and Dale Coyne Racing in 2002 and 2003 while he competed in the Formula Atlantic Championship. The 2004 Atlantic championship season was his final in open wheel racing and he switched to sports car racing in 2005 where he made his debut in the Grand-Am Series GT class for Samax Racing and earned his first sports car pole. He was then hired as the factory driver for the Panoz Motor Sports program in the ALMS that same year and later made his 24 Hours of Le Mans debut in a Panoz Esperante.
From 2006-2008, he continued to compete in ALMS and Grand-Am and gained valuable experience and multiple top-five finishes before he joined the Team Falken Tire factory GTLM program in the ALMS, and later IMSA, for seven seasons from 2009-2015.
Sellers participated in six wins and eight podium finishes before the manufacturer exited the series and he moved to Paul Miller Racing's GTD program.