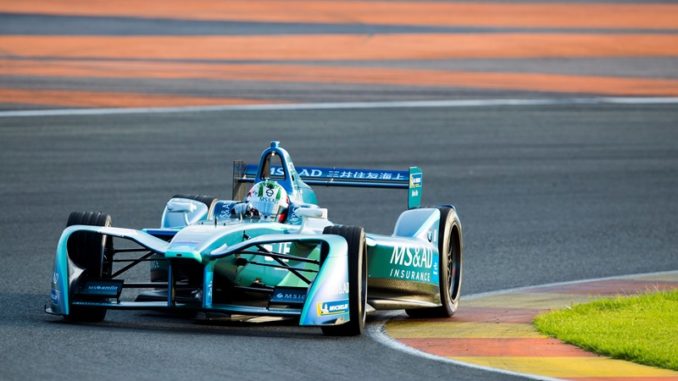 The re-branded MS Amlin Formula E team
Antonio Felix da Costa returns with MS&AD and Andretti Formula E for Season Four
Source: MS&AD Andretti
MS Amlin is delighted to unveil the new livery and lead name sponsor as MS&AD Andretti.
MS Amlin, the specialist global (re)insurer, today announces a new name and new livery for its Formula E team – the newly-named MS&AD Andretti.
Demonstrating continued support for this cutting-edge, global series, sponsorship is transferring to the parent brand MS&AD. Japanese insurance giant, MS&AD is one of the world's 10 biggest non-life insurers.
Fans were given a sneak-preview of the livery at the New York race in July. The unique, iridescent finish revives the stunning, and frequently copied, metallics of Amlin's Season One livery.
Now that one of Japan's oldest companies is lining up on the grid, Japanese fans, a top three audience for Formula E, at last have a team to follow.
Adrian Britten, MS Amlin's Director of Brand, said:
"We hold the risks for people, businesses and communities around the world and mitigating the impact of extreme weather is very important to our clients and our business. Through Formula E we help present the world with a compelling case for switching to alternative fuel sources for our transport needs."
Michael Andretti, Team Owner of MS&AD Andretti, commented:
"We are delighted that such an esteemed company as MS&AD is actively engaging in this exciting race series. Our sponsors are a key partner in Andretti Autosport and we are look forward to bringing the exciting new race series to a wider audience, not least in Japan."
Antonio Felix da Costa returns to the rebranded MS&AD Andretti for Season Four
Da Costa will be joined by Alexander Sims and Tom Blomqvist for the upcoming Formula E test in Valencia
Season Four of the exciting FIA Formula E Championship kicks off in Hong Kong on December 2, 2017, but all ten teams take to the track Monday in a pre-season test at the "Circuit de la Comunitat Valencia Ricardo Tormo" in Valencia, Spain. The Andretti Formula E team will test their Season Four car on the 3km national circuit layout during sessions Monday, Tuesday and Thursday.
The No. 28 MS&AD Andretti car will once again be piloted by Portuguese driver Antonio Félix da Costa in Season Four. da Costa, a Formula E veteran entering his fourth season in the series, has 11 top-10s and a win at the 2015 Buenos Aires ePrix on his impressive Formula E resume.
Behind the wheel of the No. 27 MS&AD Andretti all-electric racing machine during the test will be a pair of talented BMW Works drivers from Great Britain, Alexander Sims and Tom Blomqvist.
Season Four of Formula E will feature 14 races in 11 different countries, including first-time visits to Chile, Brazil and Switzerland.
Antonio Felix da Costa commented:
"I'm very happy to be back with the MS&AD Andretti Team for Season Four. We have had good testing days and I believe we have made some much-needed steps forward. Besides that, I believe with another small push from BMW and our partners, I believe we have the strength to fight for good results. I can't wait for Hong Kong."
Roger Griffiths, Co-Team Principal, Andretti Formula E, said:
"We are very fortunate to not only be testing two very capable drivers in Valencia but three top-level talents. Antonio has been in Formula E since the very start which makes him one of the most experienced drivers in the field and a huge asset to our team. Alexander had an important role as reserve and test driver in Season Three and is excited for a chance to show what he can do in Valencia. All three drivers are proven race winners in either Formula E or other race series and that is incredibly valuable. The whole team is looking forward to a productive week of testing for MS&AD Andretti."
no images were found