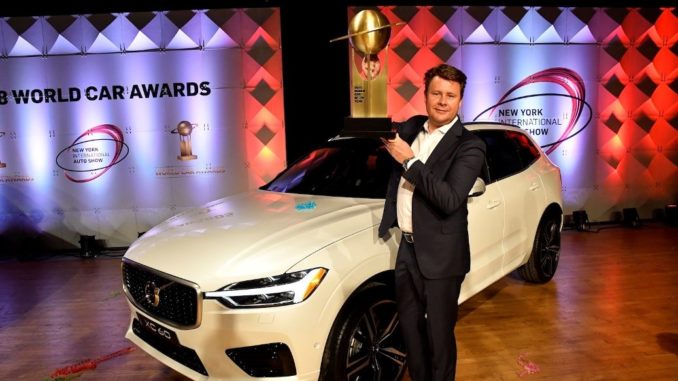 Il nuovo SUV medio Volvo XC60 ha vinto il World Car of the Year Award 2018, nuovo riconoscimento che si aggiunge alla lunga lista di quelli ottenuti dal nuovo SUV della casa svedese.
Il premio è stato assegnato in occasione del Salone dell'Auto di New York.
La XC60 si era aggiudicata anche il prestigioso North American Utility of the Year Award all'inizio di quest'anno, mentre al SUV compatto XC40 è andato il premio europeo di Auto dell'Anno durante il Salone dell'Auto di Ginevra tenutosi all'inizio del mese. Questa è la prima volta che la Casa
automobilistica specializzata in vetture di lusso viene proclamata Auto dell'Anno a livello mondiale.
Sono contento di vedere che gli investimenti fatti dalla Casa a livello di prodotto stanno dando i loro frutti – ha commentato Håkan Samuelsson, Presidente e CEO di Volvo Cars. Ci confrontiamo con una concorrenza accanita, ma il premio assegnato alla XC60 dimostra che Volvo sta offrendo un giusto mix di design, connettività e sicurezza, che viene apprezzato dai clienti in tutto il mondo.
A bordo della nuova XC60, già selezionata da Euro NCAP nel 2017 come vettura con le migliori prestazioni nella categoria di appartenenza, il sistema City Safety Autonomous Emergency Braking di Volvo è stato dotato di un dispositivo di supporto alla sterzata che si attiva nei casi in cui la frenata automatica non consenta, da sola, di evitare una potenziale collisione. Sono stati poi aggiunti l'Oncoming Lane Mitigation with Steer Assist, il dispositivo che contribuisce a ridurre gli effetti di un possibile scontro frontale, e il sistema Blind Spot Information System (BLIS) con funzionalità Steer Assist per ridurre il rischio di collisione durante i cambi di corsia.
La XC60 è disponibile in diverse motorizzazioni diesel e benzina, oltre che con la pluri-premiata unità ibrida plug-in benzina T8 Twin Engine di Volvo Cars, che si colloca in cima alla gamma dei propulsori Volvo con una potenza erogata di 407 CV e un'accelerazione da 0 a 100 km in soli 5,3 secondi.