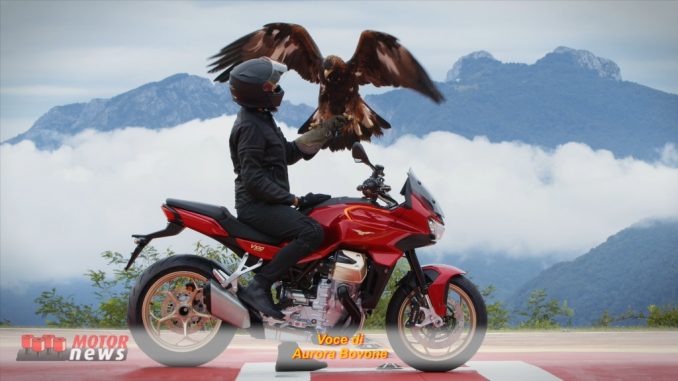 Nella puntata 28 di Motor News, Peugeot 508 PSE, Porsche Experience Center Franciacorta, Citroën C5 Aircross Hybrid, Dacia Duster, Michelin e Moto Guzzi.
Di seguito tutti i servizi…
Peugeot 508 PSE, la sportiva per la famiglia
Che 508 Peugeot Sport Engineered sia una appagante gran turismo non è una novità. Che sia un'auto in grado di adattarsi alle esigenze di una famiglia con figli, è invece forse meno noto. Lo dimostra ora un video che documenta la versatilità di questa nuova punta di diamante della Casa del Leone, primo modello a introdurre il nuovo concetto di Neo-Performance, alte prestazioni con basse emissioni e consumi; un'auto che sa appagare i papà più appassionati di guida e soddisfare anche le esigenze di una famiglia moderna.
Servizio con la voce di Lilia Marcucci.
Inaugurato il Porsche Experience Center Franciacorta
Porsche Italia ha inaugurato il Porsche Experience Center Franciacorta, un complesso di 60 ettari situato a Castrezzato in Provincia di Brescia. La cerimonia di inaugurazione si è svolta l'11 settembre – un giorno simbolico per Porsche e per tutti gli appassionati della Marca (11 settembre: 9 come settembre e 11, ovvero 911) – alla presenza, fra gli altri, di Oliver Blume, Presidente del Consiglio di Amministrazione di Porsche AG, Detlev von Platen, Membro del Consiglio di Amministrazione Vendite e Marketing di Porsche AG e l'ex pilota Mark Webber, Brand Ambassador Porsche.
Il sogno e il piacere di guidare il SUV Citroën C5 Aircross Hybrid Plug-In
Il SUV C5 Aircross Hybrid Plug-In, oggi vetta dell'offerta Citroën nel mercato, è la traduzione in termini dinamici della vocazione di marca tecnologica, di stile, di prestazioni e di confort. In special modo questa versione con un motore benzina 1.6, 181 CV, in abbinamento con uno elettrico che sviluppa 80 kW ed il cambio automatico elettrificato a 8 rapporti, ë-EAT8.
Dacia Duster, il SUV comodo e dal design accattivante
Sul mercato dal 2010 a un prezzo da city car, Dacia Duster ha rivoluzionato il segmento dei SUV. Ed è stata una vera rivoluzione perché con oltre 1,9 milioni di unità vendute, Duster è il numero 1 nelle vendite al dettaglio della suo segmento nel mercato dei SUV in Europa dal 2019. Sulla scia delle generazioni precedenti, il New Duster si rivolge sia ai clienti che cercano un SUV comodo e dal design accattivante, sia a coloro che desiderano un 4×4 robusto e versatile.
Servizio con la voce di Marco Cereda.
Florent Menegaux, CEO Michelin, speaks in Alessandria establishment
Florent Menegaux, CEO Michelin, speaks at the 50th anniversary of Alessandria plant about sustainability plan of the company. The 100% sustainable approach aims to reach concret objectives in the 2030. In the video also speak some workers about what's mean for them to work in the Alessandria establishment.
In italiano – Florent Menegaux, CEO Michelin, parla nello stabilimento di Alessandria
Florent Menegaux, CEO Michelin, parla in occasione del 50° anniversario dello stabilimento di Alessandria del piano di sostenibilità dell'azienda. L'approccio 100% sostenibile punta a raggiungere obiettivi concreti nel 2030. Nel video parlano anche alcuni lavoratori di cosa significa per loro lavorare nello stabilimento di Alessandria.
Cinquant'anni dello stabilimento Michelin di Alessandria
Il sito di Michelin Italiana S.p.A. di Alessandria festeggia i 50 anni di attività. Fondato nel 1971, questo impianto copre una superficie di 50 ettari e impiega oggi più di 950 dipendenti e nell'anno delle nozze d'oro, festeggia anche i 30 milioni di pneumatici prodotti. Dal 2016 ad oggi sono quasi 50 milioni gli euro investiti dal gruppo Michelin nel sito alessandrino, finalizzati a migliorarne sempre più le performance in termini di sostenibilità, in linea con gli obiettivi del Gruppo di dimezzare l'impronta ecologica dei suoi stabilimenti entro il 2030, per raggiungere la neutralità nel 2050.
L'Aquila lariana si rinnova per i prossimi cento anni
E' stato presentato il 10 settembre scorso a Mandello del Lario, nella sede di Moto Guzzi, il progetto "Road to 2121: i prossimi 100 anni di Moto Guzzi". Si tratta di un'importante progetto di ristrutturazione conservativa del sito industriale nel quale, da un secolo esatto, viene prodotta ogni singola motocicletta del Marchio dell'Aquila.
Servizio con la voce di Aurora Bovone.
Ecco le anteprime fotografiche dei video…