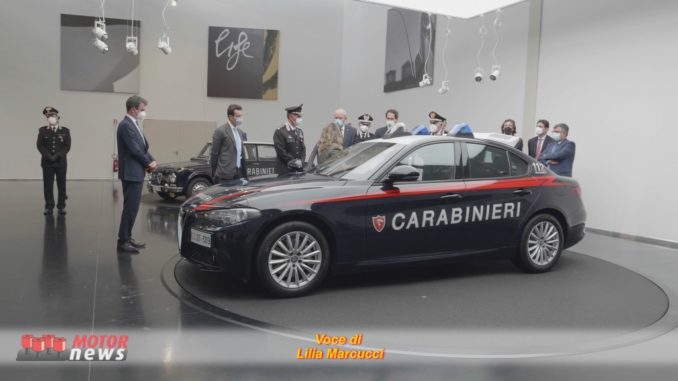 Motor News in TV, puntata 17 del 2021In Motor News puntata 17, servizi di Peugeot, Mercedes e ACI, alluminio per la Nissan Qashqai, la Giulia ai Carabinieri e lo scooter Piaggio MP3 300 HPE.
Ecco tutti i video…
Nuovo logo Peugeot già visibile nelle concessionarie italiane
Dal 1° giugno la capillare rete di Concessionarie e Centri di Riparazione ufficiali Peugeot in Italia, ha iniziato a mostrare il nuovo logo del Marchio del Leone. Il nuovo logo Peugeot ha inaugurato una inedita stagione del Marchio che ha fatto la sua originale apparizione oltre 210 anni fa, scanditi dall'evoluzione dell'azienda e dei suoi prodotti in diversi settori merceologici.
Servizio con la voce di Lilia Marcucci.
Partnership Mercedes Benz Italia con ACI per la guida sicura
Mercedes-Benz Italia ha stretto una partnership biennale con i Centri di Guida Sicura Aci. Un accordo che nasce da una condivisione di valori quali sicurezza, sostenibilità e l'importanza di fare sistema in una delicata fase di transizione, che vede l'industria dell'automotive protagonista della più grande trasformazione della sua storia.
Aluminium to the new Nissan Qashqai
The new Qashqai is the first car Nissan Europe has pressed and assembled out of aluminium. Olli Brown, Nissan Europe Manager Press Shop, explains the new way to work, with the new XL press is capable of fifteen strokes per minute all to precision detail and up to a force of 2.400 tonns per panel. The new proccess has meant hundreds of hours of training also to learn to safely manage highly explosive aluminium dust.
In italiano – Alluminio per la nuova Nissan Qashqai
La nuova Qashqai è la prima auto che Nissan Europe ha stampato e assemblato in alluminio. Olli Brown, Nissan Europe Manager Press Shop, spiega il nuovo modo di lavorare, con la nuova pressa XL che è in grado di eseguire quindici colpi al minuto tutti con precisione nei dettagli e fino a una forza di 2.400 tonnellate per pannello. Il nuovo processo ha significato centinaia di ore di formazione anche per imparare a gestire in sicurezza la polvere di alluminio altamente esplosiva.
Servizio in lingua inglese.
Consegnata la nuova Giulia ai Carabinieri
È stata consegnata a Torino presso il Centro Stile, sede del nuovo quartier generale Alfa Romeo, la Giulia Radiomobile 2.0 turbo 200 cavalli con cambio automatico a 8 rapporti in livrea blu istituzionale, destinata all'impiego da parte del personale delle Tenenze e delle Stazioni dei Carabinieri per il controllo del territorio: è la prima di una flotta di 1.770 esemplari.
Servizio con la voce di Lilia Marcucci.
ll nuovo scooter Piaggio MP3 300 HPE
Piaggio MP3 300 HPE rappresenta la versione più agile e leggera di Piaggio MP3: un veicolo compatto, sportivo e dinamico che però non rinuncia a un livello di comfort superiore e ai contenuti tipici degli scooter GT.
Servizio con la voce di Aurora Bovone.
Di seguito le anteprime fotografiche dei video…