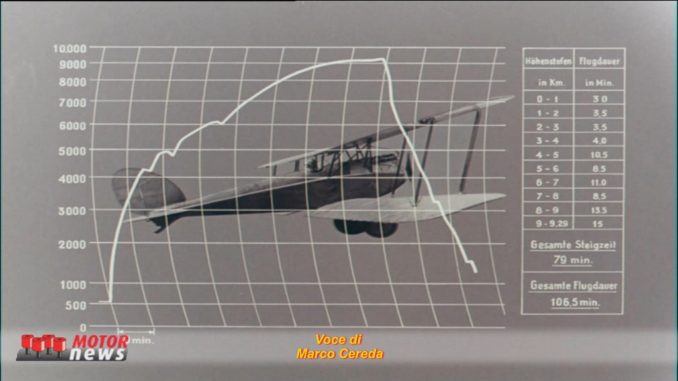 Su Motor News n° 35 parliamo dei motori di aerei di BMW, Citroën Armando di Cuneo, Nuova Opel Astra, la moto Suzuki V-Strom 1050 e il titolo Peugeot di Rally.
I 55 anni della concessionaria Citroën Armando di Cuneo
La Concessionaria Citroën Armando di Cuneo ha celebrato nel weekend dell'8 al 10 novembre i suoi 55 anni di attività e il centenario della Marca, con un'esposizione in città.
Quasi cinquanta modelli iconici Citroën sono stati protagonisti di un'esposizione all'aperto, su un elegante tappeto rosso, di circa 500 metri, lungo la centrale Via Roma, nel cuore della città in cui la Concessionaria svolge la sua attività da 55 anni.
Servizio con la voce di Aurora Bovone.
Consumi da record e piacere di guida nella Nuova Opel Astra
La nuova Opel Astra si presenta con ridotto consumo e tecnologia avanzata, Stefano Virgilio, Responsabile Comunicazione Opel Italia, illustra questi particolari.
Centenario del record di altitudine dell'aereo con motore BMW
Il 17 giugno 1919 nei cieli di Monaco di Baviera un aereo con motore BMW pilotato da Franz Zeno Diemer raggiungeva per la prima volta al mondo i 9.760 metri di altitudine. La quota di crociera dei moderni aerei di linea è compresa tra i 10 e i 12 chilometri. È quindi difficile immaginare che un pilota sia riuscito a toccare queste altitudini ben 90 anni fa.
Se mai fosse stata necessaria un'ulteriore prova della superiorità del concept ingegnoso ma semplice dei motori d'alta quota di BMW, essa fu fornita nell'estate del 1919, nel campo d'aviazione di Oberwiesenfeld nei pressi di Monaco.
To fly in an historic airplane with BMW engine
There are a lot of people interesting to fly with an historical airplane built in 1939 and that has been used as a transport airplane by Swiss Air Force. During the years 30's, the U-52 airplane was one of the more reliable and comfortable. In the video, the words of Captain Urs Uerli di Ju Air, that is the pilot of the historical aircraft.
In italiano
C'è molta gente interessata a volare in un aereo storico costruito nel 1939 che veniva utilizzato come aereo da trasporto dalla Forza Aerea Svizzera.
Durante gli anni '30, l'aereo U52 era uno degli aerei più affidabili e confortevoli. Nel video, la parola del Capitano Urs Uerli di Ju Air, il pilota dell'aeroplano storico.
La nuova Suzuki V-Strom 1050
Suzuki è ancora una volta grande protagonista di EICMA, dove ha presentato in anteprima mondiale la straordinaria V-Strom 1050.
Questa moto, proposta in due allestimenti, standard e XT, irrompe nella categoria delle Sports Adventure Tourer con uno stile iconico e un impareggiabile equilibrio tra prestazioni e fruibilità.
Servizio con la voce di Marco Cereda.
Le emozioni del Rally e del titolo di Peugeot – Motor News n° 35 (2019)
La stagione rallistica è ormai terminata e Peugeot ha chiuso in bellezza il campionato vincendo anche il Campionato Costruttori 2 Ruote Motrici con la 208 R2B. Dopo la vittoria nel Campionato Piloti 2 RM di Tommaso Ciuffi e Nicolò Gonella, la Casa del Leone chiude il 2019 in bellezza.