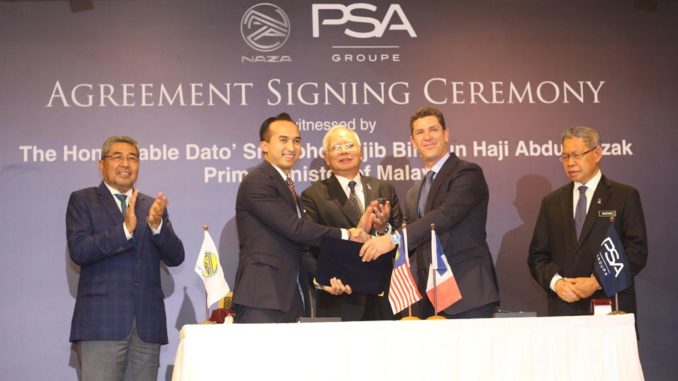 Il Groupe PSA e Naza Corporation Holdings hanno firmato un accordo per cessione di attivi e creazione di una joint venture per l'impiego in comune della fabbrica Naza Automotive Manufacturing (NAM) di Gurun (Kedah), in Malesia.
L'obiettivo di Groupe PSA è quello di accelerare il suo sviluppo nella Regione, in linea con il piano strategico
Push to Pass e nel contempo è un'ottima opportunità per il gruppo Naza di imporsi come un importante protagonista dell'industria automobilistica malese.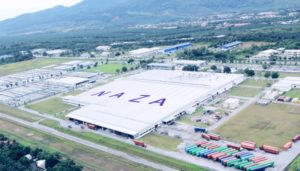 Il moderno stabilimento Naza Automotive Manufacturing di Gurun (Kedah), ha una capacità annua di 50 000 veicoli e si prevede che i primi veicoli prodotti nel 2018 saranno Peugeot (modello 3008) e nel 2019 (Citroën C5 Aircross).
Il primo ministro della Malesia, Najib Razak, ha onorato l'evento con la sua presenza.
Groupe PSA, grande protagonista internazionale dell'industria automobilistica e secondo costruttore europeo per dimensioni, testimonia così la sua fiducia e la sua volontà di sfruttare il potenziale commerciale dei mercati malese e del Sud Est Asiatico.
Groupe PSA deterrà una quota di maggioranza delle operazioni di Naza Automotive Manufacturing (NAM).
Il Gruppo Naza sarà responsabile della distribuzione in esclusiva dei veicoli dei marchi Peugeot, Citroën e DS Automobiles in Malesia ed esplorerà con Groupe PSA le possibilità di distribuzione su altri mercati dell'ASEAN per sfruttare un potenziale di 680 milioni di clienti, con un tasso di equipaggiamento automobilistico crescente.
Grazie a questa nuova collaborazione, i Gruppi PSA e NAZA Corporation Holdings consolidano il loro partenariato iniziato nel 2008 per sviluppare un'attività sostenibile e proficua in Malesia e nel resto della regione dell'ASEAN. L'investimento di Groupe PSA nello stabilimento Naza Automotive Manufacturing (NAM) permetterà di installare la piattaforma modulare EMP2, dedicata ai segmenti C e D.
Carlos Tavares, Presidente del Direttorio di Groupe PSA, ha dichiarato:
La creazione di questo centro di produzione a Gurun per la zona ASEAN è un significativo passo avanti, che permetterà al nostro Gruppo di sviluppare attività redditizie nella Regione, in linea con il nostro piano strategico Push to Pass. Siamo contenti di lavorare insieme a Naza Corporation Holdings e di continuare a far fruttare la nostra relazione storica.

Siamo riconoscenti a Groupe PSA per il suo sostegno e la fiducia testimoniata a Naza Corporation Holdings nel potenziamento di questo partenariato di lunga data. Questa collaborazione ha un notevole potenziale per fare del Kedah il principale hub dell'industria automobilistica in Malesia – ha dichiarato SM Nasarudin SM Nasimuddin, Direttore esecutivo del Gruppo Naza Corporation Holdings.