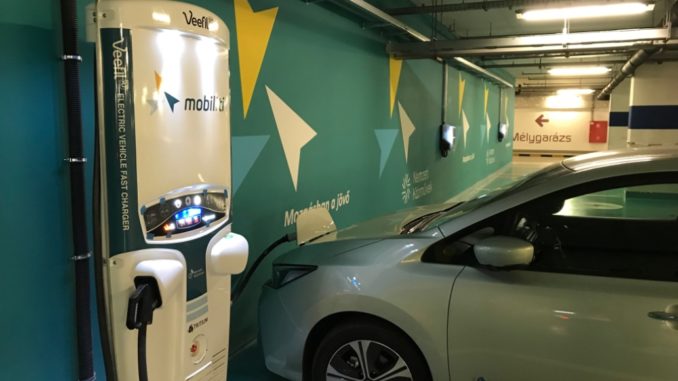 Australian DC electric vehicle charging infrastructure solutions specialist Tritium has installed the first Hungarian liquid-cooled 50kW DC fast charger for electric vehicles.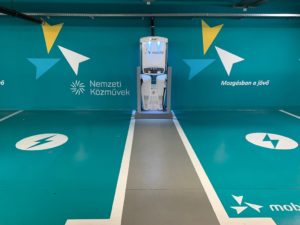 Hungarian Company NKM Mobilitas Ltd. (Mobiliti) installed the EV charger in the KÖKI Terminál P+R, an underground parking facility at one of Budapest's major shopping malls.
The charger belongs to Tritium's Veefil-RT product range and is part of Mobiliti's expanding EV charging network across Hungary.
We are very pleased to offer our EV customers this fast charging opportunity – says Szabolcs Balogh, Managing Director of NKM Mobilitás Ltd. Thanks to its small footprint, the Tritium charger needs limited space and could be installed conveniently between two bays of the parking garage. During the opening event at the mall, members of Villanyautósok, Hungary's EV owners' club, were pleasantly surprised by the silent operation of the fast charger, which is due to its unique liquid-cooling system. This feature will also reduce future maintenance requirements.
The Veefil-RT 50kW DC fast charger is capable of delivering up to 125km of range in just 30 minutes and offers both CHAdeMO and CCS connectors. It features an easy-to-use interface and integrated lighting. Operators can further benefit from Tritium's customised branding design service.
The breakthrough of e-mobility depends essentially on the ready availability of public chargers – adds Jeroen Jonker, Vice President Sales Europe, Tritium. Mobiliti's decision to add Tritium DC fast chargers to their national network has been an important signal to the EV market in Hungary. We are very proud to play a major role in this success story with our advanced 50kW fast chargers.