L'Alleanza Renault-Nissan fornirà la più grande flotta di veicoli elettrici alla Conferenza Internazionale COP21
L'Alleanza fornirà 200 veicoli al 100% elettrici alla Conferenza Parigi Clima 2015.
Durante la manifestazione, la flotta percorrerà 400.000 km con zero emissioni* in fase di funzionamento.
La flotta sarà composta da Renault ZOE, Nissan LEAF e Nissan e-NV200.
200 dipendenti di Renault e Nissan si sono candidati volontari per guidare le auto, affiancando gli autisti professionisti.
Fonte: Alleanza Renault Nissan
Parigi. Francia. 26 ottobre 2015. Per la prima volta nella storia, l'Alleanza Renault-Nissan fornirà la più grande flotta al mondo di veicoli elettrici in occasione di una conferenza internazionale. Partner ufficiale della COP21, Conferenza delle Nazioni Unite sul clima, l'Alleanza metterà a disposizione 200 veicoli al 100% elettrici durante il summit annuale, che si svolgerà  a Parigi dal 30 novembre all'11 dicembre.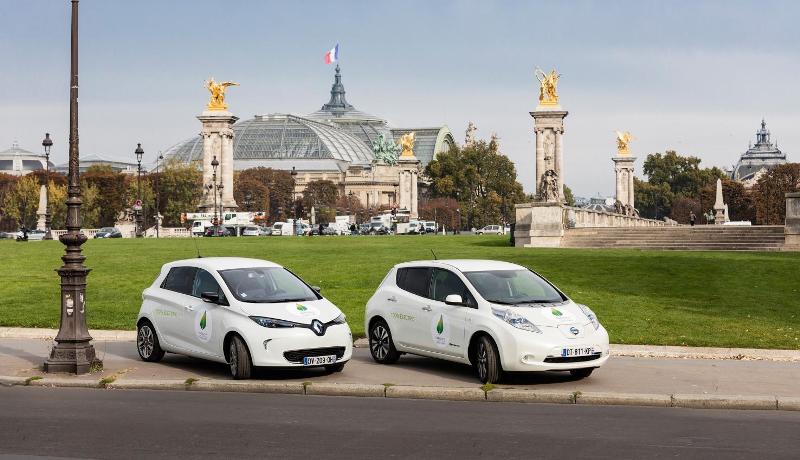 I veicoli percorreranno oltre 400.000 km, producendo zero emissioni*, per trasportare i delegati durante la 21° Conferenza Annuale delle Parti (cosiddetta COP21), a cui sono attesi oltre 20.000 partecipanti accreditati dall'ONU, provenienti da 195 Paesi.
"I veicoli elettrici costituiscono un mezzo di trasporto pratico e accessibile, che consente di diminuire sensibilmente le emissioni di CO2. Essi riducono anche gli inquinanti atmosferici regolamentati dei motori, migliorando di conseguenza la qualità dell'aria nelle nostre città. Insieme, il settore pubblico e privato possono accelerare la transizione verso una societ a zero emissioni" – ha dichiarato Carlos Ghosn, Presidente Direttore Generale dell'Alleanza Renault-Nissan.
La flotta di veicoli della COP 21 sarà composta dalla city car Renault ZOE, la berlina compatta Nissan LEAF e il Nissan e-NV200 in versione 7 posti. I veicoli saranno a disposizione dei delegati per trasportarli, 24 ore su 24 e 7 giorni su 7, tra Le Bourget, sede della conferenza, e Parigi, completando la proposta di trasporti pubblici.
Per la prima volta, le Nazioni Unite utilizzeranno una flotta a zero emissioni o al 100% elettrica per coprire tutti i servizi di navetta dei loro delegati in occasione di un summit sul clima.
200 dipendenti di Renault e Nissan volontari per guidare i veicoli durante la COP21
I veicoli al 100% elettrici saranno guidati da uno staff di 200 autisti professionisti, affiancati da 200 volontari, dipendenti di Renault e Nissan. A giugno, l'Alleanza Renault-Nissan ha coinvolto i suoi dipendenti, a Parigi e nell'hinterland, per offrir loro l'opportunità di partecipare alla COP21 come autisti volontari. Prima della chiusura delle iscrizioni erano state registrate oltre 450 candidature di collaboratori: i 200 prescelti seguiranno un programma di formazione per prepararsi all'evento.
I dipendenti di Renault e Nissan sono in prima fila nella rivoluzione del veicolo elettrico e molti ne guidano già uno. Sono i migliori ambasciatori per far conoscere i vantaggi di tali veicoli e difendere la mobilità a zero emissioni, ha aggiunto Carlos Ghosn.
Nel seguente video, Carlos Ghosn spiega le ragioni che hanno spinto l'Alleanza Renault-Nissan a partecipare alla COP21 e il ruolo svolto dai dipendenti (in lingua inglese)
httpv://blog.alliance-renault-nissan.com/node/2732/
L'Alleanza Renault-Nissan predisporrà una rete di oltre 90 colonnine di ricarica rapida e standard in posizioni strategiche. Saranno alimentate con elettricità a basso tasso di carbonio prodotta da EDF.
Le emissioni residue saranno compensate nell'ambito di un programma di compensazione delle emissioni di carbonio autorizzato dalle Nazioni Unite. Le colonnine di ricarica rapida potranno ricaricare i veicoli elettrici, da 0 fino all80% della loro capacità, in massimo 30 minuti.
L'Alleanza ha venduto oltre 274.000 veicoli elettrici nel mondo, pari a oltre la metà dei veicoli elettrici in circolazione dalla fine del 2010, data di commercializzazione di Nissan LEAF, il suo primo veicolo elettrico.
* emissioni di CO2n inquinanti atmosferici regolamentati durante il funzionamento, in conformità con il ciclo di omologazione NEDC.
In English
From Alliance Renault-Nissan 200 EV to Climate Conference
Renault-Nissan Alliance to provide world's largest EV fleet to international conference at COP21
Alliance to provide 200 pure electric vehicles to 2015 Paris climate conference
Fleet expected to cover 400,000 km during event and emit zero emissions* while driving
Fleet comprised of Renault ZOE, Nissan LEAF and Nissan e-NV200
200 Renault and Nissan employee volunteers to drive cars, alongside team of professional drivers
Source: Renault-Nissan Alliance
Paris, France. October 26, 2015. The Renault-Nissan Alliance will provide the world's largest electric-vehicle fleet ever to an international conference. As the official passenger-car provider for the United Nation's COP21 climate conference in Paris, the Alliance will provide 200 pure electric vehicles to the annual summit which runs from Nov. 30 to Dec. 11.
Together, the vehicles are expected to cover more than 400,000 km, emitting zero emissions* while shuttling delegates during the 21st annual Conference of Parties (better known as COP21). More than 20,000 U.N. participants from 195 countries are expected to attend COP21.
"Electric vehicles are a practical and affordable mode of transportation. At the same time, they offer a solution for drastically reducing tailpipe CO2 emissions. They also reduce regulated exhaust pollutants, helping us to improve the air quality in our cities. Together, the public and private sectors can accelerate the transition to a zero-emission society," said Carlos Ghosn, Chairman and CEO of the Renault-Nissan Alliance.
The COP21 car fleet will feature the Renault ZOE subcompact car, the Nissan LEAF compact car and the 7-seater Nissan e-NV200 van. The vehicles will be available to shuttle delegates 24 hours, seven days a week to and from the Le Bourget conference venue, as a complement to public transportation.
This marks the first time the U.N. will use a zero-emission or 100% electric fleet for its entire passenger-car shuttle at a climate summit
200 Renault and Nissan employees volunteer to drive at COP21
The 100% electric cars will be driven by a team of 200 professional drivers and 200 volunteers from Renault and Nissan. In June, the Renault-Nissan Alliance launched a call for volunteers to allow employees in and around Paris the opportunity to be part of COP21 as volunteer drivers. The response was overwhelming with more than 450 employees applying before the recruitment process was closed. The 200 successful Renault and Nissan applicants, as well as the professional drivers, will undergo a rigorous training program in preparation for the event.
"Renault and Nissan employees are at the forefront of the electric-vehicle revolution. Many of them already drive an electric vehicle. They are the best ambassadors to demonstrate the benefits of these cars and what zero-emissionmobility is all about," said Ghosn.
no images were found