Premiato il concept pionieristico ecologico e sportivo
Raddoppiato il successo di BMW i3 dell'anno precedente.
Fonte: BMW Group
Monaco di Baviera, Germania e New York, USA. 2 Aprile 2015, Per la seconda volta consecutiva BMW i ha conquistato la vittoria nel World Car Awards nella categoria World Green Car.
Dopo il successo della BMW a propulsione esclusivamente elettrica i3 l'anno precedente, alla BMW i8 è stato assegnato questo prestigioso premio al New York International Auto Show.
La vettura sportiva combinazione di innovativa tecnologia ibrida plug-in e innovativa costruzione leggera insieme con il suo design d'avanguardia è stata onorata dalla la giuria internazionale al World Car Awards.
La BMW i8 è stata anche una delle finalisti nella categoria World Luxury Car al World Car Awards 2015, sottolineando in tal modo la sua particolare posizione.
"Sono lieto di accettare questo premio a nome del team di Monaco di Baviera", dice il Dr. Ian Robertson, membro del Consiglio di Amministrazione di BMW AG, responsabile Vendite e Marketing di BMW, parlando alla Cerimonia di Premiazione a New York.

"La BMW i8 rappresenta il futuro con la sua unica costruzione leggera e connettività impareggiabile. Vincere questo premio per il secondo anno consecutivo dimostra che i nostri prodotti BMW "i" sono veramente al top del mondo".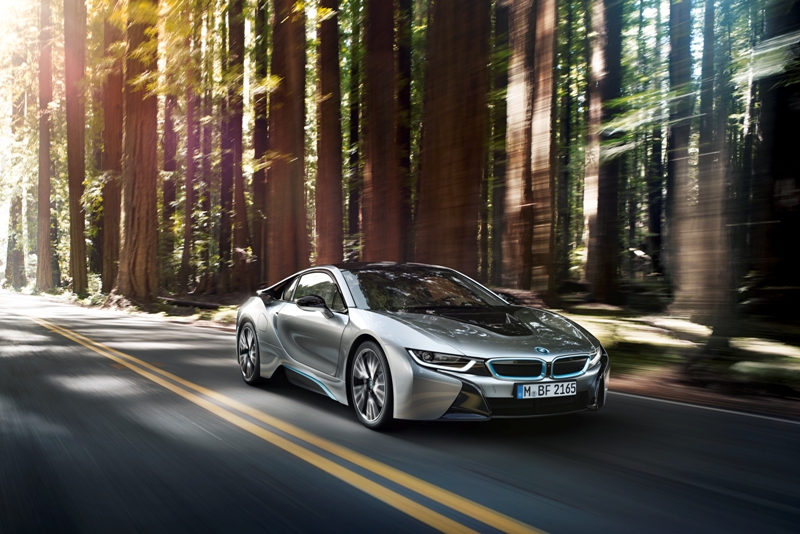 La BMW i8 è il primo veicolo ibrido plug-in prodotto da BMW Group.
Esso combina le prestazioni di una vettura sportiva con il consumo di carburante e valori delle emissioni di un veicolo utilitario. La BMW i8 può essere guidata fino a 37 chilometri con il solo motore elettrico, con accelerazione nello stile di un'auto purosangue sportiva e tuttavia il suo consumo medio è quello di una macchina utilitaria.
Il suo motore a benzina tre cilindri da 1.5 litri, dotato di tecnologia BMW TwinPower Turbo, è combinato con un motore elettrico. La batteria può essere ricaricata in una convenzionale presa di corrente, ad una stazione di ricarica o semplicemente durante la guida. Le prestazioni del sistema della BMW i8 sono di 266 kW / 362 CV e accelera in soli 4,4 secondi fino a 100 km/h con partenza da fermo (consumo combinato:  2,1 l / 100 km; emissioni di CO2 combinate: 49 g/km) *.
L'ampio uso di materiali innovativi, così come i processi di produzione e l'alta efficienza energetica della i8  sottolinea anche il concetto globale orientato al futuro.
I fari laser opzionali e i servizi sviluppati appositamente per la mobilità electrica dal team BMW ConnectedDrive sono un'ulteriore prova del senso di progressiva presa dalla BMW i8.
Riguardo il World Car Awards
Dal 2005, il World Car Awards viene consegnato annualmente all'inizio del New York International Auto Show ed è tra i più importanti premi internazionali in palio nel settore automobilistico.
La giuria è composta da 75 giornalisti provenienti da più di 20 paesi. Ogni estate, prima della cerimonia di premiazione, i modelli nominati in ciascuna categoria sono annunciati, da cui un comitato di esperti o dei giurati nominano cinque veicoli di ogni categoria (World Car Design of the Year e World Green Car) o dieci veicoli (World Car of the Year, World Luxury Car, World Performance Car). Da questi, la giuria seleziona i tre finalisti nella rincorsa al Salone di Ginevra, prima che i vincitori siano finalmente annunciati a New York.
La BMW i8 è il terzo modello del BMW Group di essere onorato con il World Green Car Award al World Car Awards, a seguito della BMW 118d nel 2008, che ha rappresentato la strategia di sviluppo BMW EfficientDynamics, e la BMW i3 l'anno precedente.
Ulteriori informazioni sui dati relativi al consumo ufficiale di carburante, dei valori delle emissioni specifiche di CO2 e il consumo di energia elettrica di autovetture nuove sono inclusi nel seguente orientamento: "über Leitfaden Kraftstoffverbrauch, die Emissioni CO2 und den Stromverbrauch neuer Personenkraft-Wagen" (Linee guida per il consumo di carburante, le emissioni di CO2 e il consumo di energia elettrica delle autovetture nuove), che possono essere presi in tutte le concessionarie, dalla Deutsche Automobil Treuhand GmbH (DAT), Hellmuth-Hirth-Str. 1, 73760 Ostfildern-Scharnhausen e al http://www.dat.de/angebote/verlagsprodukte/leitfaden-kraftstoffverbrauch.html. LeitfadenCO2 (Guideline CO2) (PDF – 2,7 MB)
* Valori di consumo si basano sul ciclo di prova ECE e dipendono dalle dimensioni degli pneumatici selezionati.
no images were found