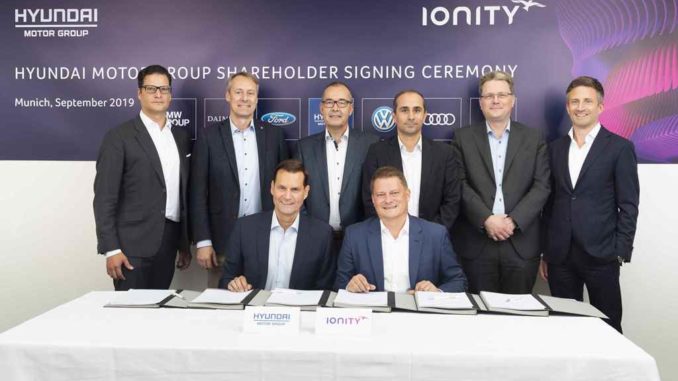 Il network IONITY è joint venture tra BMW Group, Daimler AG, Ford Motor Company e Volkswagen Group con Porsche AG, al quale ora si uniscono Hyundai Motor Company insieme a Kia Motors.
La decisione di unirsi al network garantirà maggiori benefici per i clienti europei di Hyundai e Kia. A partire dal 2021, i veicoli elettrici di Hyundai e Kia saranno equipaggiati con un sistema di ricarica a 800 volt per ricevere la massima potenza di ricarica IONITY a 350 kilowatt.
I clienti saranno in grado di usare le strutture HPC di IONITY, equipaggiate con sistemi di pagamento digitale, per ridurre significativamente i tempi di ricarica e per facilitare al meglio i viaggi a lunga distanza.
Dalla sua creazione, IONITY attualmente possiede quasi 140 stazioni di ricarica in Europa, con altre 50 in costruzione.
La tecnologia di IONITY è caratterizzata da una capacità di ricarica fino a un massimo di 350 kilowatt e il suo utilizzo dello standard universale di carica Combined Charging System (CSS) assicura la massima compatibilità possibile tra gli EV.
IONITY sta espandendo il suo network a 400 stazioni di ricarica veloce entro il 2020, con una media di almeno un'area ogni 120 km lungo le principali autostrade d'Europa. La sua distribuzione europea e il suo approccio brand-agnostico migliorerà in maniera significativa l'immagine e l'accessibilità dei veicoli elettrici sia per gli attuali utenti EV, che per i potenziali nuovi utilizzatori.
La nostra partecipazione a questa joint venture ribadisce l'impegno del Gruppo sulla futura mobilità elettrica – ha affermato Thomas Schemera, Executive Vice President and Head of Product Division di Hyundai Motor Group. Sono fiducioso che il nostro lavoro con IONITY darà inizio a una nuova era per le esperienze di ricarica ad alta potenza, dove ricaricare per i nostri clienti sarà sempre più senza soluzione di continuità e più facile rispetto al rifornimento di carburante.
Attraverso ampi sforzi di R&D e molteplici partnership con i leader dell'industria, Hyundai Motor Group ha continuato a consolidare la sua posizione di leader nei veicoli elettrici e a propulsione alternativa. A maggio, il Gruppo ha annunciato una partnership con Rimac Automobili per lo sviluppo di EV a elevate prestazioni.
L'investimento in IONITY enfatizza i continui sforzi del Gruppo nel diventare game changer in una società a basse emissioni di carbonio, i quali includono 44 modelli a zero o basse emissioni entro il 2025. Il Gruppo sfrutterà la partnership per offrire ai propri clienti esperienze innovative attraverso una potenziata e migliorata mobilità elettrica.
IONITY è lieta di dare il benvenuto a bordo al nuovo socio. "Hyundai Motor Group porta una significativa esperienza internazionale e di know-how con un pieno impegno strategico verso la mobilità elettrica. La partecipazione di nuovi investitori in IONITY è un chiaro segnale di fiducia e sta ad indicare che il lavoro della nostra giovane società sta già dando i suoi frutti – ha dichiarato Michael Hajesch, CEO di IONITY.
Hyundai Motor Group avrà in IONITY pari quote rispetto agli altri soci fondatori, BMW Group, Daimler AG, Ford Motor Company e Porsche AG.
Fonte: Hyundai Motor Company Italy