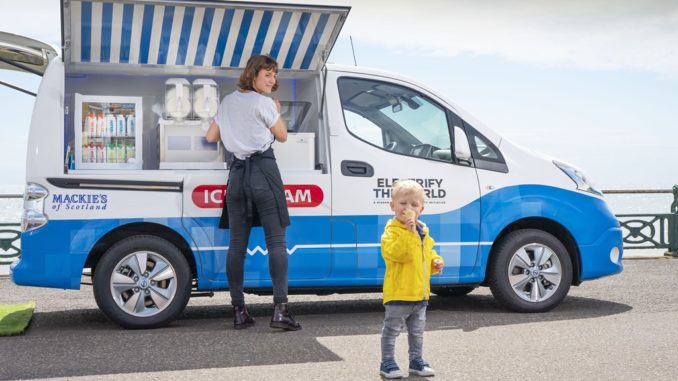 The e-NV200 developed as ice cream van has an all-electric driving range of up to 124-miles (WLTP Combined)* between charges.
The two Nissan Energy ROAM units have a combined storage capacity of 1.4kWh and can each output power at up to 1kW. They can be recharged either from a 230v mains supply (a full recharge takes about an hour), or the solar panel array on the van's roof (a full recharge in 2-4 hours**).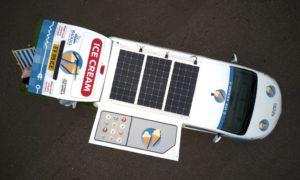 The concept takes a number of new approaches to the ice cream van. Ice cream is served from a hatch that opens in the side of the vehicle, with the vendor dispensing ice cream standing next to the van – a customer-facing experience instead of being separated by an elevated counter.
Payment can be by cash, but also contactless bank card and smartphones via a 'tap-to-pay' panel mounted on the side of the van.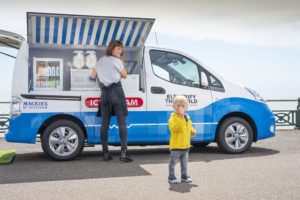 Instead of a jingle to attract customers – not always popular with parents – the concept has a smart button that generates a tweet of the van's precise location using the global addressing service What3Words. What3Words divides the world into 3m x 3m locations, each with a unique three word address, e.g. ///trendy.angel.define is a spot on Brighton & Hove's seafront in the UK. Customers can easily find the van in a park or seafront location where normal street addressing would not apply.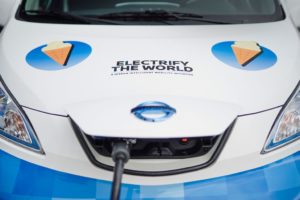 Thanks to the e-NV200's bi-directional charging capability, owners could even income through the winter – when the van is less frequently used. Through a V2G (Vehicle-to-Grid) charger, the e-NV200's battery can be used to store surplus energy from the national grid (for example renewable wind and solar energy), and then provide it back to the grid when needed. This technology can help balance out the peaks in national energy demands, as well as providing EV owners with additional revenue from their vehicle when it's not being driven.
Source: Nissan UK