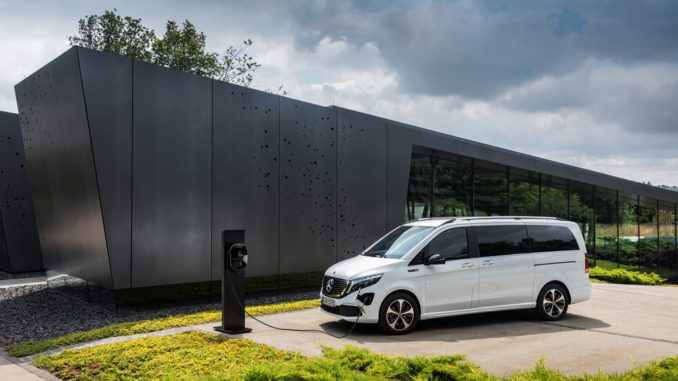 Mercedes-Benz will unveil at Frankfurt Auto Show the first ever made fully-electric premium MPV Mercedes-Benz EQV powered by high voltage battery system.
Mercedes-Benz declared officially e range of 405 kilometres (provisional figures)[1] and a rapid charging function as standard to provide electromobility for everyday use.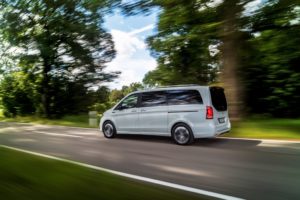 EQV has full availability of space thanks to installation of high-voltage battery below the floor, the interior and exterior design present specific EQ aesthetic and vehicle includes intelligence and connectivity with MBUX and EQ-specific functions.
Following the eVito and eSprinter, Mercedes-Benz Vans presents its first electric vehicle that is positioned equally for private and commercial purposes.
Mercedes-Benz Vans presented the Concept EQV as a study at the Geneva Motor Show in March 2019. Now the series version of the Mercedes-Benz EQV (combined power consumption: 27.0 kWh/100 km; combined CO2 emissions: 0 g/km, provisional figures) is celebrating its debut.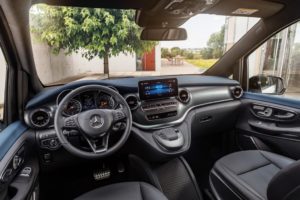 The next member of the Mercedes EQ family combines emissions-free mobility with impressive driving abilities. The Mercedes-Benz EQV will be displayed to the public for the first time at this year's IAA (12 to 22 September).
The technical highlights include a range of 405 kilometres and the rapid charging of the high-voltage battery from 10 to 80 per cent in less than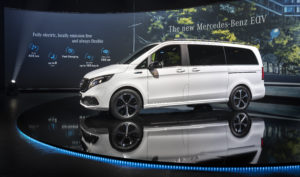 an hour. The Mercedes-Benz EQV also offers ultimate comfort in the interior and unparalleled flexibility. Customers can also choose between two different wheel bases.
Our MPVs meet the highest standards in terms of functionality and variability. The EQV also does not compromise in this respect. It offers comfortable handling, dynamic electro-aesthetics, intuitive operation and generous space – and all locally emissions-free. This means that it offers all of the typical qualities of the brand and segment that our customers expect, whether as a family car or a shuttle vehicle with a lounge-like character – says Marcus Breitschwerdt, Head of Mercedes Benz Vans.
Source: Daimler AG