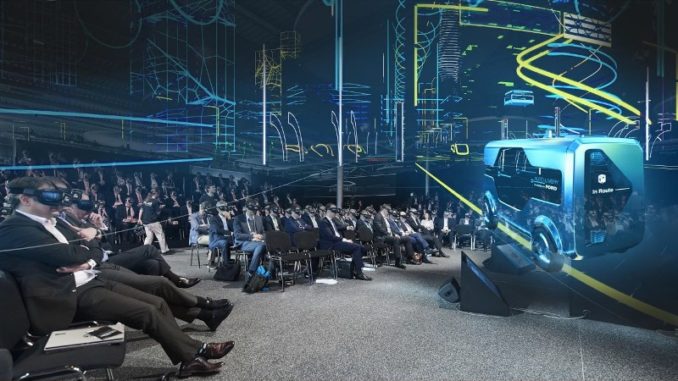 Autolivery la cooperazione tra van elettrificati a guida autonoma e droni e il futuro delle realtà urbane visto attraverso il Ford VR experience
Fonte: Ford Motor Company
Colonia, Germania. 26 ottobre 2017. Durante l'evento Handelsblatt Auto-Gipfel, in Germania, Ford ha mostrato per la prima volta, a un pubblico di 500 persone, Autolivery il video concept realizzato attraverso la virtual reality, permettendo ai presenti di immergersi,
contemporaneamente, nella visione dell'Ovale Blu City of Tomorrow.
L'innovativo sistema di consegne Autolivery, sviluppato da un team di dipendenti-inventori Ford all'ultima Last Mile Mobility Challenge, che, grazie alla cooperazione tra van elettrificati a guida autonoma e droni, potrebbe rivoluzionare la logistica "dell'ultimo miglio" nelle città del futuro.
Steven Armstrong, Vice President e President, Ford Europe, Middle East & Africa ha inoltre illustrato la vision di Ford City of Tomorrow, il programma creato per ispirare innovazione tecnologica e offrire soluzioni alle sfide in tema di mobilità con la finalità ultima di aiutare le persone a muoversi più facilmente, oggi ed in futuro.
no images were found

.