Fonte: Nextev
Pechino, Cina.14 Settembre 2015. Oliver Turvey correrà al fianco del campione in carica di Formula E Nelson Piquet Jr nel team NEXTEV TCR per la stagione 2015-2016.
Turvey ha debuttato in Formula E al London ePrix nel doppio appuntamento di giugno raccogliendo punti in entrambe le gare al Battersea Park.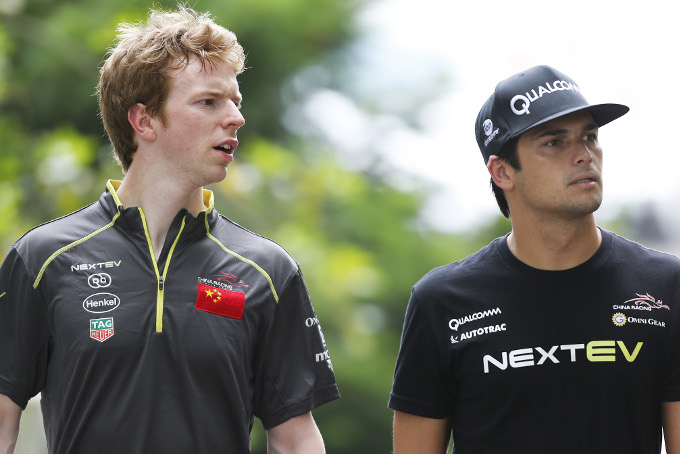 Il 28enne ha goduto di successo nelle categorie minori di monoposto nella sua carriera con il sostegno del Racing Steps Foundation. Nel 2006, ha vinto il prestigioso McLaren Autosport BRDC Award, che lo ha portato a fare il suo debutto in Formula 1 in un test per il team britannico nel 2009.
Nel 2008, ha finito runner-up da Jaime Alguersuari nella F.3 britannica, e poi ha corso una stagione nella Formula Renault 3.5, durante la quale ha vinto a Monaco. E' stato vincitore anche in GP2 Asia, ma non si è mai ha ripetuto nella serie principale e nel 2012 si è trasferito alle corse GT con la McLaren.
Turvey ha dichiarato: "Sono lieto di entrare a far parte di NEXTEV TCR per la seconda stagione di Formula E. La squadra mi ha dato una fantastica opportunità quando mi si avvicinavata per correre nel finale di stagione a Londra e sono felice che la mia performance mi abbia portato ad essere in grado di riunirmi a loro e competere per l'intera stagione".

Ha poi aggiunto: "Non vedo l'ora di lavorare con tutta la squadra sullo sviluppo del loro nuovo propulsore e sono entusiasta di guidare a fianco dell'attuale campione! Vorrei ringraziare la McLaren e Honda per il loro continuo supporto e per avermi permesso di gareggiare in Formula E accanto ai miei doveri di pilota di test di F1 e impegni nelle corsa in Super GT".
Steven Lu, NEXTEV TCR team principal, ha dichiarato:
"Siamo lieti di dare il benvenuto al team ad Oliver. Ha fatto in un fantastico spettacolo a Londra ed è uno molto intelligente, pilota di talento. Crediamo di avere la più forte coppia di piloti sulla griglia di partenza con Nelson e Oliver nel NEXTEV TCR e non vediamo l'ora di iniziare una stagione di successo e di ripettere i nostri successi della prima stagione. "
Turvey si schiererà-up sulla griglia di partenza per la gara di apertura della stagione a Pechino il 24 ottobre.
In English
Turvey completes NEXTEV line-up
Source: Nextev
Beijing, China. September 14, 2015. Oliver Turvey will race alongside reigning Formula E champion Nelson Piquet Jr at NEXTEV TCR for the 2015-2016 season.
Turvey made his Formula E debut at the London ePrix double-header in June picking up points in both races in Battersea Park.
The 28-year-old enjoyed a successful junior single-seater career with backing from the Racing Steps Foundation. In 2006, he won the prestigious McLaren AUTOSPORT BRDC Award, which led to him making his Formula 1 test debut for the British team in 2009.
In 2008, he finished runner-up to Jaime Alguersuari in British F3, which led to a season of Formula Renault 3.5, during which he won at Monaco. He was a winner in GP2 Asia, but never repeated that in the main series and in 2012 he moved into GT racing with McLaren.
Turvey said:
"I am delighted to be joining NEXTEV TCR for the second season of Formula E. The team gave me a fantastic opportunity when they approached me to race in the season finale in London and I am happy that my performance has led to me being able to re-join them and compete for the full season."

He added: "I am looking forward to working with the whole team on the development of their new powertrain and I am excited to drive alongside the current champion! I would like to thank McLaren and Honda for their continued support, and for allowing me to compete in Formula E alongside my F1 testing duties and racing commitments in Super GT."
Steven Lu, NEXTEV TCR team principal said:
"We are delighted to welcome Oliver to the team. He put in a fantastic performance in London and is a very intelligent, talented driver. We believe we have the strongest driver pairing on the grid with Nelson and Oliver at NEXTEV TCR and are looking forward to a successful season ahead to build on our achievements from the first season."
Turvey will line-up on the grid for the opening round of the season in Beijing on October 24.
no images were found