WEC. 6 Ore di Austin 2016
Piccola ricompensa per il buon andamento di entrambe le vetture Audi R18 in Texas
Lucas di Grassi / Loïc Duval / Oliver Jarvis (BR / F / GB) al secondo posto
Audi con pole position e giro veloce in gara in America
Fonte: Audi Motorsport
Austin, Texas. USA. 18 Settembre 2016. Audi è stata in testa nella prima metà del sesto round del Campionato Mondiale Endurance FIA ​​(WEC) con entrambe le vetture R18 in grande stile. Ma alla fine, le sue prestazioni hanno raccolto un trofeo per il secondo posto, che non ha prodotto il premio desiderato. Nella quinta ora, il l'auto numero 7 ha perso molto tempo a causa di una collisione in cui il suo conducente era incolpevole. Durante una manovra di sorpasso, una macchina da corsa ha colpito l'Audi che successivamente è finita contro il guardrail. La vettura gemella, numero 8, che è stata leader per un lungo periodo di tempo, ha perso terreno a seguito di vari incidenti ed ha recuperato al secondo posto.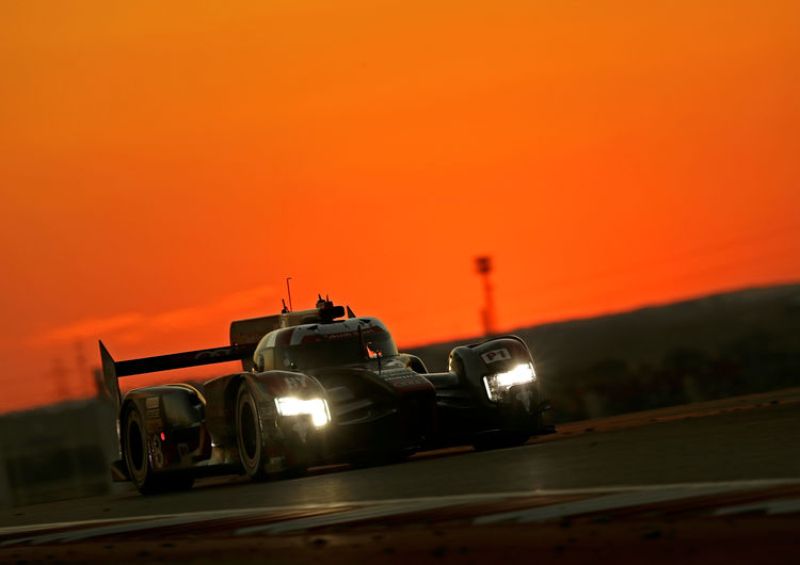 Audi ha prevalentemente dominato all'inizio del fine settimana. In tutte le sessioni di prove, la vettura Sport ibrida R18 era nella parte anteriore e in qualifica, entrambe le auto da corsa del Audi Sport Team Joest erano in prima fila. La gara è iniziata anche bene per loro. Con temperature dell'aria di 36 gradi centigradi, i piloti Audi hanno costruito un vantaggio di quasi un minuti davanti i loro migliori rivali. Inizialmente, Marcel Fässler (CH) e, successivamente, André Lotterer (D) sono stati leader nella vettura numero 7 prima che Lucas di Grassi con l'auto numero 8 abbia preso il comando.
Il suo compagno di squadra Loïc Duval ha ottenuto il giro più veloce della gara.
Al giro 99, ha perso il comando quando un problema elettrico ha disabilitato sua Audi per circa 50 secondi. Successivamente, il francese è rimasto senza carburante prima del previsto perché il suo sistema di alimentazione non era più funzionante. Quando il controllo gara ha imposto un ciclo di bandiere gialla poco dopo, gli avversari hanno guadagnato tempo prezioso durante i loro pit stop. Infine, nella quinta ora di gara, Lucas di Grassi, poco dopo il suo pit stop programmato ha dovuto rientrare ai box ancora una volta dovendo chiudere una porta rimasta aperta. Verso il finale, di Grassi, Duval e Oliver Jarvis sono arrivati con uno svantaggio dal vincitore di soli 23 secondi.
Fino alla quinta ora di gara, i piloti della vettura numero 7 si aspettavano una possibilità di vittoria. Benoît Tréluyer (F), con un distacco di soli 19 secondi, era in seconda posizione quando un pilota GT ha lambito la fiancata dell'Audi mandando l'auto nella ghiaia. Sei giri sono stati persi perl raggiungere i box e riparare il danno riparato. Alla fine, Fässler / Lotterer / Tréluyer hanno chiuso la gara con un sesto posto non rappresentativo.
"E 'difficile credere quanto può andare storto nel corso di una gara di sei ore", ha detto il capo di Audi Motorsport Wolfgang Ullrich."I nostri piloti hanno fatto delle ottime prestazioni e si sono trovati molto bene con la Audi R18. Siamo stati veloci in tutte le sessioni e in gara nessuno ha fatto eventuali tempi sul giro più veloce di noi due. Le battute d'arresto ci colpiscono duramente perché oggi un uno-due sarebbe stato possibile. In questa luce, il secondo posto è magra consolazione."
Nella classifica costruttori, Audi, a tre gare dalla fine, continua a inseguire le prime posizioni al secondo posto. Nella classifica piloti, di Grassi / Duval / Jarvis ha migliorato di una posizione e sono ora al secondo posto. Il titolo si deciderà nell'ultimo terzo della stagione che inizierà sul circuito di Fuji in Giappone tra quattro settimane.
Classifica finale
1 Bernhard / Hartley / Webber (Porsche) 186 giri
2 Di Grassi / Duval / Jarvis (Audi R18) + 23.641s
3 Conway / Kobayashi / Sarrazin (Toyota) + 26.096s
4 Dumas / Jani / Lieb (Porsche) -1 lap
5 Buemi / Davidson / Nakajima (Toyota) -2 giri
6 Fässler / Lotterer / Tréluyer (Audi R18) -6 giri
7 Imperatori / Kraihamer / Tuscher (Rebellion) -12 giri
8 Lapierre / Menezes / Richelmi (alpino) -14 giri
9 Albuquerque / Gonzalez / Senna (Ligier-Nissan) -15 giri
10 Brundle / Rast / Rusinov (Oreca-Nissan) -15 giri
In English
Second place for Audi in WEC round at Austin
WEC Austin 2016
Small reward for strong performance of both Audi R18 cars in Texas
Lucas di Grassi/Loïc Duval/Oliver Jarvis (BR/F/GB) in second place
Audi with pole position and fastest race lap in America
Source: Audi Motorsport
Austin, Texas. USA. 18 September 2016. Audi led the first half of round six of the FIA World Endurance Championship (WEC) with both R18 cars in commanding style. But in the end, its strong performance, with a trophy for second place, did not produce the desired reward. In the fifth hour, car number 7 lost a lot of time due to a collision in which its driver was not at fault. During an overtaking maneuver, a lapped race car hit the Audi which subsequently spun into the guardrail. The sister car, number 8, that was leading for a long time, lost ground following several incidents and recovered to second place.
Audi dominantly began the weekend. In all practice sessions, the R18 hybrid sports car was in front and in qualifying, both race cars of Audi Sport Team Joest locked out the first row. The race started strong as well. In air temperatures of 36 degrees centigrade, the Audi drivers built a near-one minute advantage over their best rivals. Initially, Marcel Fässler (CH) and subsequently André Lotterer (D) were leading in car number 7 before Lucas di Grassi in number 8 took the lead.
His teammate Loïc Duval managed the fastest lap of the race. On lap 99, he lost the lead when an electrical issue disabled his Audi for about 50 seconds. Subsequently, the Frenchman pitted earlier than planned because his drink system was no longer functional. When race control imposed a full course yellow shortly afterwards, the rivals gained valuable time during their pit stops. Finally, in the fifth hour of the race, Lucas di Grassi shortly after his scheduled pit stop had to pit again to have an open door closed. On finishing, di Grassi, Duval and Oliver Jarvis were trailing the winner by only 23 seconds.
Up until the fifth hour of the race, the drivers of car number 7 were expecting to have a chance of victory as well. Benoît Tréluyer (F), with a gap of just 19 seconds, was running in position two when a lapped GT driver spun the Audi into the gravel. Six laps were lost in reaching the pits and having the damage repaired. In the end, Fässler/Lotterer/Tréluyer were left with an unrepresentative sixth place.
"It's hard to believe how much can go wrong in the course of a six-hour race," said Head of Audi Motorsport Dr. Wolfgang Ullrich. "Our drivers delivered a tremendous performance and felt very comfortable in the Audi R18. We were fast in all sessions and in the race nobody drove any faster lap times than us either. The setbacks hit us hard because today a one-two would have been possible. In this light, second place is cold comfort."
In the manufacturers' classification, Audi, with three rounds remaining, continues to chase the front runners in second place. In the drivers' classification, di Grassi/Duval/Jarvis improved by one position and are now lying second. The title decisions will be made in the last third of the season that will begin at the Fuji circuit in Japan in four weeks' time.
Race results
1 Bernhard/Hartley/Webber (Porsche) 186 laps
2 Di Grassi/Duval/Jarvis (Audi R18) +23.641s
3 Conway/Kobayashi/Sarrazin (Toyota) +26.096s
4 Dumas/Jani/Lieb (Porsche) –1 lap
5 Buemi/Davidson/Nakajima (Toyota) –2 laps
6 Fässler/Lotterer/Tréluyer (Audi R18) –6 laps
7 Imperatori/Kraihamer/Tuscher (Rebellion) –12 laps
8 Lapierre/Menezes/Richelmi (Alpine) –14 laps
9 Albuquerque/Gonzalez/Senna (Ligier-Nissan) –15 laps
10 Brundle/Rast/Rusinov (Oreca-Nissan) –15 laps
no images were found

.