Gli atleti ambasciatori Nissan ricevono la Leaf d'oro
Nissan Leaf d'oro agli ambasciatori che ha vinto l'oro ai Giochi Olimpici e Paralimpici di Rio 2016
Il record del ginnasta Max Whitlock ed il vogatore d'oro George Nash presentati con le loro nuove auto questa settimana
Paraolimpici Richard Whitehead MBE ed il nuotatore Matt Wylie saranno omaggiati con una Leaf d'oro al loro ritorno da Rio
Fonte: Nissan UK
Gli atleti Max Whitlock e George Nash, ambasciatori Nissan, sono stati omaggiati con l'edizione special placata in oro dell'elettrica Nissan LEAF per celebrare il loro successo e medaglia d'oro alle Olimpiadi di Rio 2016.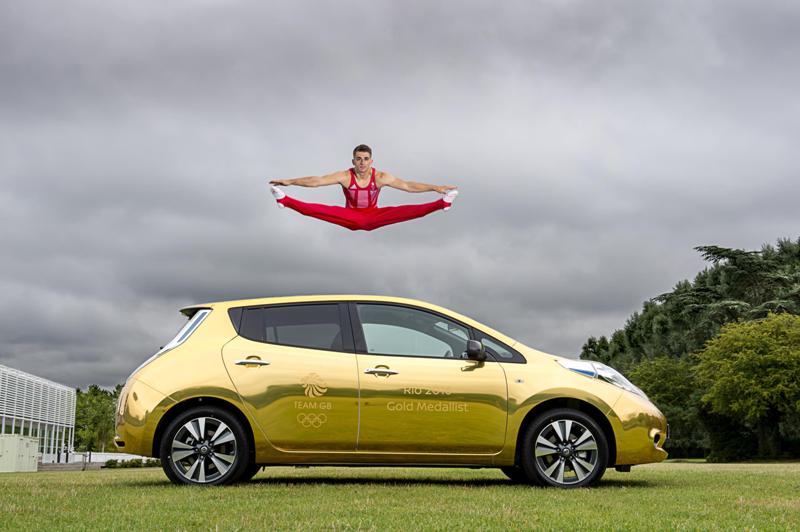 Il gimnasta di maggior successo della Gran Bretagna, Max Whitlock, che ha vinto l'oro nell Corpo Libero maschile ed nel Cavallo con maniglie maschile, così come il bronzo nel Concorso Individuale Maschile, ha preso le chiavi della sua nuova auto dalla concessionaria Nissan Aylesbury dove ha celebrato insieme ai giovani membri di club locale, Lynx Ginnastica.
"Rio è stato un momento brillante per me – avevo fatto così tanto duro lavoro nel corso degli ultimi quattro anni per assicurarmi di essere pronto, quindi venire via con due medaglie d'oro e una medaglia di bronzo è incredibile ", ha detto Whitlock.

"Il supporto di Nissan nel corso degli ultimi quattro anni è stato prezioso, quindi per loro fare un gesto come questo è fantastico. Non vedo l'ora di prendere fiato il resto dell'anno e poi colpire duro con l'allenamento nel 2017 e lavorare per difendere le mie medaglie d'oro a Tokyo 2020".
George Nash, che ha vinto l'oro nel Quattro Senza Maschile, è ritornato alla sua città natale di Guildford per raccogliere la sua Leaf d'oro dalla concessionaria Nissan Bishop.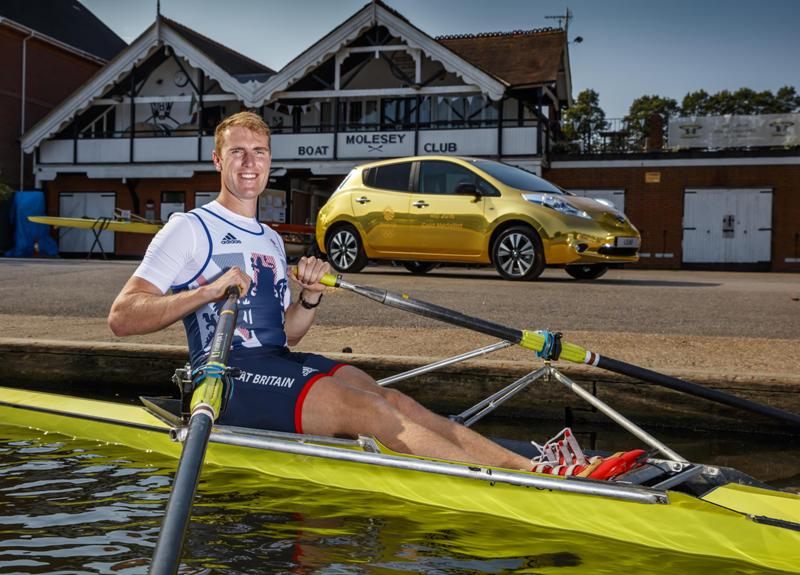 Parlando delle sue Olimpiadi di Rio, Nash ha detto:
"Siccome la mia medaglia d'oro non è abbastanza un buon ricordo sulla mia mensola del caminetto, la mia nuova Leaf d'oro mi darà un promemoria quotidiano del successo di Rio 2016. Sono incredibilmente grato a Nissan per tutto il loro supporto nei miei preparativi per i Giochi".
Chris Marsh, Nissan Motor GB Marketing Director, ha aggiunto:
"Dare ai vincitori della medaglia d'oro il titolo di ambasciatori Nissan con una Nissan Leaf rivestita in oro è il nostro modo di celebrare i loro incredibili successi.

"Siamo lieti che Max e George, insieme a tutto il Team GB, abbiano raggiunto tali successi brillanti a Rio ed è stato un onore sostenerli nei loro rispettivi viaggi. Ora rivolgiamo la nostra attenzione a celebrare l'incredibile successo degli atleti Paraolimpici della Gran Bretagna. Siamo stati lieti di vedere Richard Whitehead MBE e Matt Wylie vincere l'oro e siamo ansiosi di consegnare le loro Leaf d'oro al loro ritorno."
In English
Nissan Gold for Rio Gold – Nissan athlete ambassadors gifted with gold LEAF
Nissan gives away gold LEAFs to ambassadors who won gold at the Rio 2016 Olympic and Paralympic Games
Record breaking gymnast Max Whitlock and golden rower George Nash presented with their new cars this week
Paralympians Richard Whitehead MBE and swimmer Matt Wylie will be presented with a golden LEAF on their return from Rio
Source: Nissan UK
Nissan athlete ambassadors Max Whitlock and George Nash have been presented with special edition, gold wrapped all-electric Nissan LEAFs to celebrate their gold medal success at the Rio 2016 Olympic Games.
Britain's most successful gymnast, Max Whitlock, who won gold in the Men's Floor Exercise and Men's Pommel Horse events, as well as bronze in the Men's Individual All-Around, picked up the keys to his new car from the Nissan Aylesbury dealership where he celebrated by performing for young members from local club, Lynx Gymnastics.
"Rio was such a brilliant time for me – I'd put so much hard work in over the past four years to make sure I was ready, so for it all to come off and to come away with two gold medals and a bronze medal was incredible," said Whitlock.

"Nissan's support throughout the past four years has been invaluable, so for them to make a gesture like this is fantastic. I'm looking forward to taking the rest of the year off and then hitting training hard in 2017 to work towards defending my gold medals at Tokyo 2020."
George Nash, who won gold in the Men's Four, returned to his hometown of Guildford to collect his golden LEAF from the Bishop's Nissan dealership.
Speaking about his time in Rio, Nash said:
"As if my gold medal isn't enough of a memento on my mantelpiece, my new golden LEAF will give me a daily reminder of the success of Rio 2016. I'm incredibly thankful to Nissan for all of their support in my preparations for the Games."
Chris Marsh, Nissan Motor GB Marketing Director, added:
"Giving our gold medal-winning Nissan athlete ambassadors a gold Nissan LEAF is our way of celebrating their incredible successes.

"We are delighted that Max and George, along with the whole of Team GB, had such brilliant successes in Rio and it has been an honour to support them in their respective journeys. We now turn our attention to celebrating the incredible success of ParalympicsGB athletes. We were delighted to see Richard Whitehead MBE and Matt Wylie win gold and look forward to presenting them with their golden LEAFs on their return. "
no images were found

.