– Il cambiamento della legge svizzera spiana la strada per il potenziale ePrix svizzero
Fonte: Formula E
Ginevra, Svizzera. 1° marzo 2015. I tifosi svizzeri avuto la possibilità di vedere la macchina di Formula E in azione per la prima volta quanto la monoposto elettrica ha girato per le strade di Ginevra.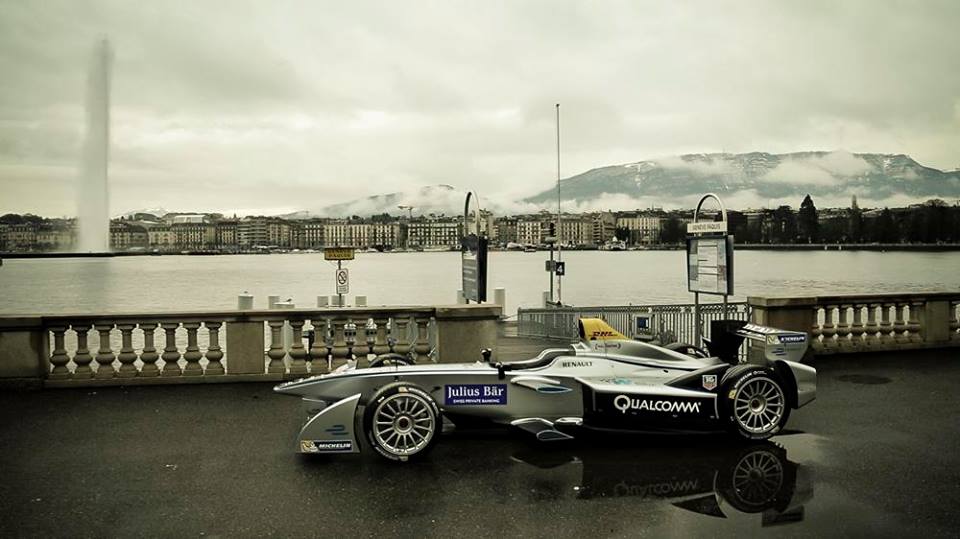 L'evento, organizzato dal cronometrista ufficiale e partner fondatore della Formula E TAG Heuer con il supporto del Global Partner Julius Baer, ha visto la pilota locale Simona de Silvestro al volante della Spark-Renault SRT_01E.
Partendo dalla boutique TAG Heuer di recente apertura di Ginevra la SRT_01E ha continuato lungo il Quai du Général-Guisan ed è passata dall'ufficio di Ginevra di Julius Baer. In questa sede, Simona ha trovato un volto popolare della famiglia Formula E; Nick Heidfeld l'attendeva appena fuori dall'ufficio della banca svizzera. La passeggiata dell'auto di Formula E ha poi proseguito attraversando il Pont du Mont Blanc prima di finire sul Quai du Mont-Blanc.
Simona de Silvestro, che ha guidato in IndyCar e testato per la Sauber F1 Team, ha dichiarato:
"E 'stato un momento speciale per me guidare la vettura di Formula E qui nelle strade di Ginevra, nel giorno che si celebra il ritorno del motorsport in Svizzera . Per me era la prima volta che guidavo la Spark-Renault SRT_01E e la prima sensazione che ho avuto è che non c'era nessun rumore! Per un pilota ogni nuova sfida è una grande esperienza e questa è stata ancora più speciale; l'accelerazione di questa vettura è veramente buona e mi sono divertita molto. Sono certo che i fan americani ameranno vedere la Formula E a Miami e Long Beach nelle prossime settimane".
L'ultima gara automobilistica che si è tenuta in Svizzera è stata sul circuito del Bremgarten, vicino a Berna, nel 1954. Ora, dopo una decisione storica da parte del Consiglio nazionale di adottare una mozione da MP Fathi Derder, la Svizzera può accogliere il motorsport professionale di nuovo nel Paese.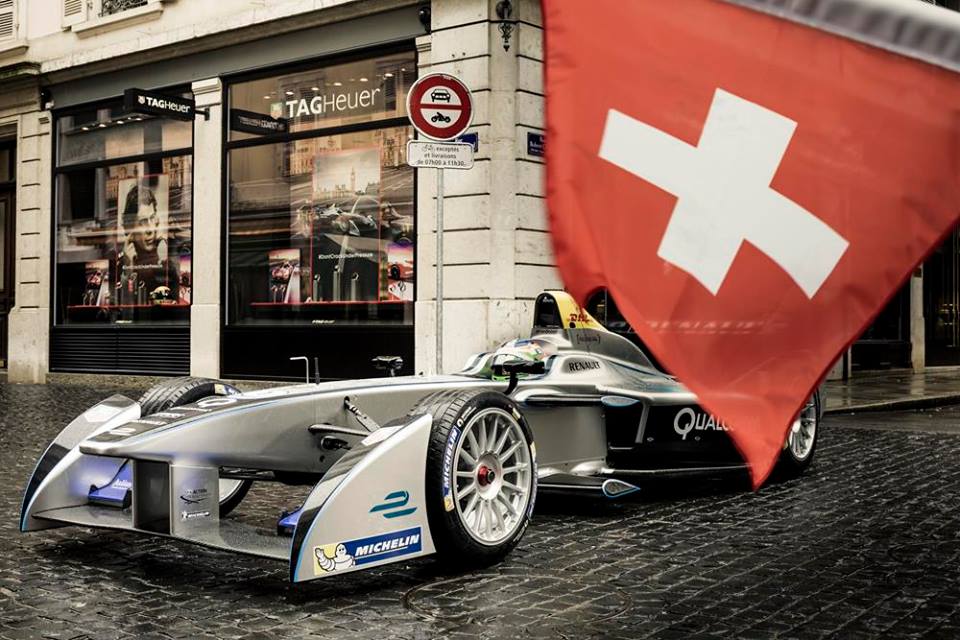 E 'stato l'onorevole Derder che effettivamente ha dato l'inizio alla demo sulla strada, sventolando la bandiera svizzera davanti alla vettura.
La nuova legge – da confermare da parte del Consiglio degli Stati – limita le corse ai veicolo elettrici. Questo apre la possibilità per la Formula E di correre in futuro per le strade delle città della Svizzera.
"Non avremmo mai sognato di fare un ePrix in Svizzera senza TAG Heuer e il continuo sostegno di Jean-Claude Biver", ha detto Alejandro Agag, amministratore delegato di Formula E.

"Siamo molto orgogliosi di avere TAG Heuer come socio fondatore, e grati perché sono in grado di aiutarci in questa sfida entusiasmante. Se la gara si svolgerà, TAG Heuer sarà sicuramente il nostro title sponsor. L'ePrix rafforzerà la nostra stretta relazione con questo Paese, che è il mercato domestico del nostro Global Partner Banca Julius Baer. Sono stati sempre dietro di noi fin dalla prima gara a Pechino".
Questo mese vedrà anche l'attenzione volta a Ginevra, come la capitale del mondo motorsport con il lancio del Salone Internazionale di Ginevra dal 5 al 15 marzo.
La vettura di Formula E sarà in mostra con la vettura e.dams-Renault anche in mostra presso lo stand Renault.
In English
Formula E takes the streets of Geneva
Law change to pave way for potential Swiss ePrix
Source: Formula E
Geneva, Switzerland. March 1st 2015. Swiss fans got the chance to see the Formula E car in action for the first ever time when the fully-electric single-seater drove through the streets of Geneva.
The event, organised by Formula E's Official Timekeeper and Founding Partner TAG Heuer with the support of Global Partner Julius Baer, saw local driver Simona de Silvestro behind the wheel of the Spark-Renault SRT_01E.
Setting off from the newly opened TAG Heuer Geneva boutique the SRT_01E continued along the Quai-du-Général-Guisan and past the Geneva branch of Julius Baer. There, Simona found a popular face in the Formula E family; Nick Heidfeld waiting for her just outside the Swiss bank office. The Formula E car stroll then continued crossing the Pont du Mont Blanc Bridge before finishing on the Quai du Mont-Blanc.
Simona de Silvestro, who has driven in IndyCar and tested for the Sauber F1 Team, said:
"It was a special moment for me to drive the Formula E car here in the streets of Geneva on the day which celebrates the return of motorsport in Switzerland. For me it was the first time I drove the Spark-Renault SRT_01E and the first feeling I had is that there was no noise! For a driver every new challenge is a great experience and this was even more special; the acceleration of this car is really good and I had a lot of fun. I am sure that the American fans will love to see Formula E in Miami and Long Beach in the next weeks."
The last motor race to be held in Switzerland was at the circuit of Bremgarten, near Bern, in 1954. Now, after a historic decision by the National Council to adopt a motion by MP Fathi Derder, Switzerland can welcome professional motorsport back into the country. It was Mr Derder who actually gave the start of the street demo, waving the Swiss flag ahead of the car.
The new law – to be confirmed by the Council of States – is restricted to only electric vehicle racing. This opens up the possibility for Formula E to race on the city streets of Switzerland in the future.
"We would never have dreamed of getting an ePrix in Switzerland off the ground without TAG Heuer and Jean-Claude Biver's continuing support," said Alejandro Agag, CEO of Formula E. "We are very proud to have TAG Heuer as a founding partner, and thankful that they are able to assist us in this exciting challenge. If the race takes place, TAG Heuer will definitely be our title sponsor. The ePrix will strengthen our close relationship with this country, which is the home market of our Global Partner Bank Julius Baer. They have been fully behind us since the very first race in Beijing."
This month will also see attention turn to Geneva as the capital of the motorsport world with the launch of the Geneva International Motor Show from the 5-15 March. The Formula E car will be on display with the e.dams-Renault car also on show at the Renault stand.
no images were found