Presentato al IAA Commercial Vehicle Show di Hannover 2016
Hyundai Motor dimostra l'applicazione della tecnologia delle celle a combustibile ad idrogeno nei veicoli commerciali leggeri
Concept H350 Fuel Cell impiega meno di quattro minuti per il 'rifornimento'
Il powertrain a zero-emissioni non ha alcun impatto sullo spazio di carico
Fonte: Hyundai Motor Company
Hannover, Germania. 21 Settembre 2016. Hyundai ha presentato il Concept 350 Fuel Cell al IAA Commercial Vehicle Show di Hannover che si svolge dal 21 al 29 Settembre. Lo studio del powertrain mostra il potenziale della tecnologia avanzata delle celle a combustibile a idrogeno della società nel settore del veicolo commerciale leggero (LCV).
Dando uno sguardo verso il futuro degli LCV, il Concept H350 Fuel Cell di Hyundai Motor mostra l'idoneità della società per l'applicazione commercial del powertrain a fuel cell.
A differenza di un veicolo elettrico convenzionale, che richiede un numero di ore per ricaricare, il serbatoio dell'idrogeno da 175 litri può essere riempito in meno di quattro minuti – simile al tempo necessario per riempire un serbatoio di benzina o diesel in un veicolo con un interno tradizionale come un veicolo a motore a combustione. Il Concept H350 Fuel Cell ha un'autonomia totale di 422 km ed emette solo acqua.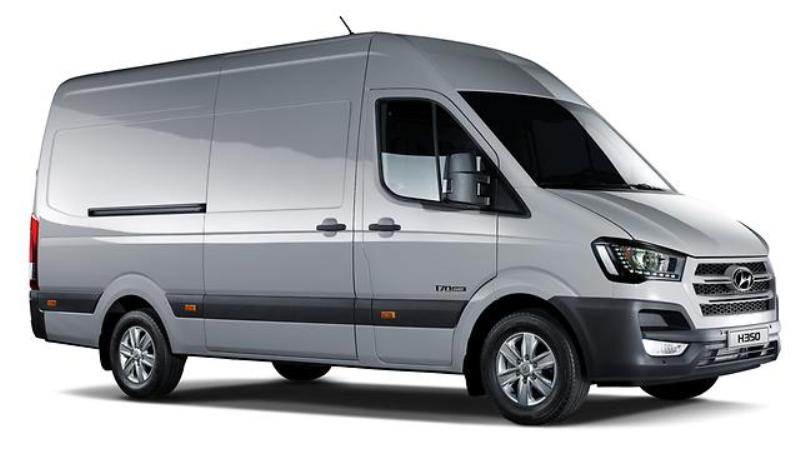 Il laboratorio esplorerà quattro aree chiave: la libertà di quando e dove utilizzare la mobilità; la libertà di connettersi alla vita quotidiana durante gli spostamenti; la libertà da incidenti e inconvenienti; e l'assenza di inquinamento ambientale e di esaurimento dell'energia.
Il propulsore è intelligentemente confezionato in modo tale che la sua installazione non ha alcun impatto sulla zona di carico del H350. A seconda dell'interasse, H350 fornisce 10,5 m³ oppure 12,9 sm³ di spazio – sufficienti per ospitare cinque pallet da standard europeo – o un abitacolo da 14 posti.
La trasmissione a Fuel Cell consente il funzionamento quasi silenzioso del veicolo, contribuendo anche alla riduzione dell'inquinamento acustico che lo rende particolarmente adatto per consegne notturne in aree urbane. Il Concept H350 a celle a combustibile sarebbe adatto non solo per le consegne porta a porta e le missioni urbane, ma anche per missioni a lungo chilometraggio grazie al miglioramento dell'autonomia.
Con il propulsore alimentato a Fuel Cell in grado di produrre fino a 100 kW (136 CV) e 30.6kg.m, il Concept H350 Fuel Cell è in grado di raggiungere una velocità di fino a 150 km orari – prestazioni simili a veicoli commerciali leggeri alimentati da un motore a combustione interna equivalente. Azionato da un motore elettrico pressoché silenzioso, produce anche significativamente meno rumore rispetto ai veicoli convenzionali.
Il propulsore della H350 a celle a combustibile è costituito da un serbatoio di idrogeno, celle a combustibile, batterie ad alta tensione, inverter e motore elettrico. I serbatoi di idrogeno ad alta pressione da 700 bar, che si trovano sotto il pavimento del veicolo tra i due assi, immagazzinano 7,05 kg di idrogeno compresso, che viene poi suddiviso in protoni ed elettroni nello stack di celle a combustibile. L'energia elettrica prodotta dalla pila a combustibile viene poi immagazzinata in un compatto pacco batterie ai polimeri di litio da 24 kW, con l'inverter che converte l'energia in corrente alternata per alimentare il motore elettrico da 100 kW.
Leader mondiale nella tecnologia delle celle a combustibile a idrogeno
Hyundai Motor è un leader mondiale nello sviluppo della tecnologia delle celle a combustibile a idrogeno, aprendo il primo impianto di produzione di massa del mondo per veicoli a fuel cell nel Febbraio 2013.
La società rappresenta una forma veramente vitale di propulsione con powertrain a Fuel Cell per veicoli di tutti i giorni, dalle autovetture ai veicoli commerciali, ed è il prodotto dell'impegno di Hyundai per il trasporto sostenibile.
La Hyundai ix35 Fuel Cell è il primo veicolo a Fuel Cell prodotto in serie e commercializzato del mondo, ed è disponibile per coloro interessati ad ordinarlo nella rete di rivenditori Hyundai. Attualmente ci sono 50 unità di ix35 Fuel Cell in uso per i membri del pubblico a Monaco di Baviera, in Germania. Il powertrain Fuel Cell di Hyundai è stato dimostrato con successo durante la Coppa del Mondo FIFA 2006 in Germania, con l'autobus urbano a Fuel Cell della società utilizzato come veicolo ufficiale per tutto il torneo.
Il IAA Commercial Vehicle Show 2016 è la mostra più importante del mondo per la mobilità, trasporti e logistica nel segmento dei veicoli commerciali.
In English
Hyundai Motor to Unveil H350 Fuel Cell Concept
New Concept has been unveiled at the 2016 IAA Commercial Vehicle Show in Hanover
Hyundai Motor demonstrates light commercial vehicle application for hydrogen fuel cell technology
H350 Fuel Cell Concept takes under four minutes to 'refuel'
Zero-emissions powertrain has no impact on load space
Source: Hyundai Motors
Hannover, Germany. September 21st, 2016. H350 Fuel Cell Concept at the 2016 IAA Commercial Vehicle Show in Hanover taking place from September 21 to 29. The powertrain study shows the potential for the company's advanced hydrogen fuel cell technology in the light commercial vehicle (LCV) segment.
Providing a glimpse into the future of the LCV, Hyundai Motor's H350 Fuel Cell Concept shows the suitability of the company's pioneering Fuel Cell powertrain for commercial application.
Unlike a conventional electric vehicle, which requires a number of hours to recharge, the 175-litre hydrogen tank can be filled in under four minutes – similar to the time it takes to refill a tank of gasoline or diesel in a vehicle with a traditional internal combustion engine. The H350 Fuel Cell Concept has a total range of 422 km, and emits only water.
The Lab will explore four key areas: freedom to use mobility whenever and wherever; freedom to connect to everyday life while on the move; freedom from accidents and inconveniences; and freedom from environmental pollution and energy exhaustion.
The powertrain is intelligently packaged in such a way that its installation has no impact on the H350's load area. Depending on wheelbase, the H350 provides 10.5 m³ or 12.9 m³ space – sufficient to accommodate five standard European pallets – or room for a 14-seat passenger compartment.
The Fuel Cell driveline enables almost silent operation of the vehicle contributing also to a reduction in noise pollution what makes it especially suitable for night deliveries in urban areas. The H350 Fuel Cell concept would be suitable not only for door to door and urban missions, but also to extended mileage missions thanks to the improved autonomy.
With the Fuel Cell powertrain capable of producing up to 100 kW (136 ps) and 30.6kg.m, the H350 Fuel Cell Concept is able to reach speeds of up to 150 kph – similar performance to LCVs powered by an equivalent internal combustion engine. Propelled by a near-silent electric motor, it also produces significantly less noise than conventional vehicles.
The H350 Fuel Cell's powertrain is formed of a hydrogen tank, fuel cell stack, high-voltage battery pack, inverter, and electric motor. The 700-bar high-pressure hydrogen tanks, located under the floor of the vehicle between the two axles, store 7.05 kg of compressed hydrogen, which is then broken down into protons and electrons in the fuel cell stack. The electricity produced by the fuel stack is then stored in a compact 24 kW lithium-polymer battery pack, with the inverter converting the energy to an alternating current to power the 100 kW electric motor.
World leader in hydrogen fuel cell technology
Hyundai Motor is a world-leader in the development of hydrogen fuel cell technology, opening the world's first mass production facility for Fuel Cell vehicles in February 2013. The company's Fuel Cell powertrain represents a truly viable form of propulsion for everyday vehicles, from passenger cars to LCVs, and is the product of Hyundai's commitment to sustainable transport.
The Hyundai ix35 Fuel Cell is the world's first mass-produced and commercial available Fuel Cell vehicle, and is available to order from Hyundai's dealer network. There are currently 50 units of ix35 Fuel Cell in use for members of the public in Munich, Germany. Hyundai's Fuel Cell powertrain was demonstrated successfully during the 2006 FIFA World Cup in Germany, with the company's Fuel Cell city bus used as an official vehicle throughout the tournament.
no images were found

.