DS Virgin Racing punta al podio nella gara di apertura della terza stagione di Formula E a Hong Kong
Fonte: DS Virgin Racing
30 Settembre 2016. La prima gara della terza stagione di Formula E vede 10 squadre in competizione a Hong Kong il 9 Ottobre prossimo.
DS Virgin Racing ha un nuovo pilota: José María López, alias 'Pechito' che si unisce alla Formula E fresco dal suo terzo titolo mondiale consecutivo nel Campionato Mondiale Turismo (WTCC).
Il team ha anche una nuova auto, la DSV-02: con un nuovo propulsore unico, cambio a 3 marce, nuova ala anteriore e nuova livrea.
A seguito di una seconda stagione altamente competitiva, dove DS Virgin Racing ha raggiunto il terzo posto in campionato, la squadra ha trascorso l'estate a testare la sua nuova macchina e si trova nella stagione tre ben posizionata per competere per i campionati squadre e piloti.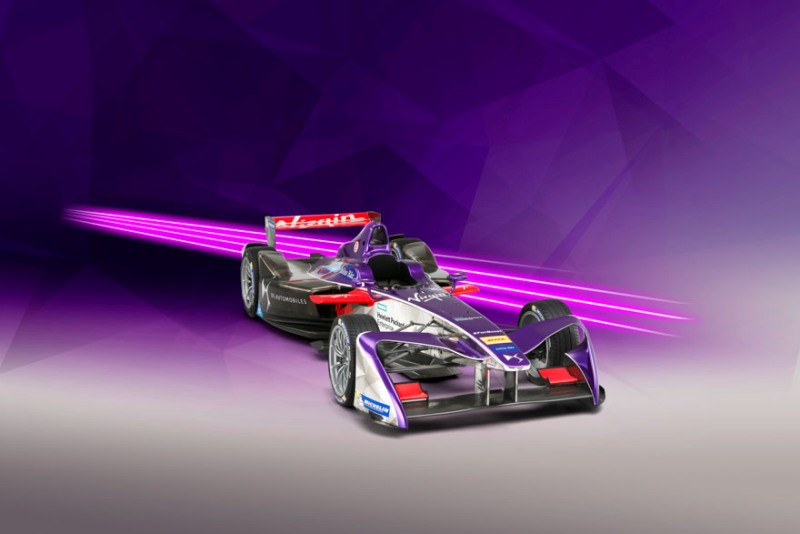 La nuova stagione vede la Formula E espandersi in nuovi territori, con Hong Kong viene aggiunto nel calendario insieme alle nuove gare di Marrakech, Montreal e New York. Delle nuove squadre sono entrate nella Formula E, mentre nuovi accordi di trasmissione per la stagione tre continuano a muoversi con questo sport sempre più sotto i riflettori.
Il pilota DS Virgin Racing Sam Bird ha ottenuto più pole position durante la stagione 2015-16 di qualunque altro pilota, finendo la stagione al quarto posto nel campionato piloti. Il 28enne, che è stato uno dei primi piloti del DS Virgin Racing è fiducioso di fare una buona gara a Hong Kong.
Sam è affiancato dal nuovo pilota, il tre volte campione José María López, noto come 'Pechito' – o 'The Cold One' nella sua nativa Argentina. Rinomato per il suo stile di guida aggressivo che lo ha portato a nove vittorie di campionato mondiali in sette categorie del motorsport, Pechito raggiunge il DS Virgin Racing in un momento estremamente eccitante della sua carriera, portando con sé lo slancio dei tre successivi titoli mondiali del WTCC vinti nel 2014, 2015 e 2016.
Entrambi i piloti saranno alla guida dell'ultima generazione dell'auto di Formula E del team DS Virgin Racing, denominato DS V02, che dispone di un propulsore singolo ridisegnato, cambio a 3 marce, nuova ala anteriore doppia Formula E e la nuova livrea del DS Virgin Racing.
Potete vedere nel seguente video il nuovo look:
httpv://www.youtube.com/watch?v=90OXcd0XP9M
Il Team Principal DS Virgin Racing, Alex Tai ha detto
"I piloti, gli ingegneri ed i nostri partner presso DS Performance hanno lavorato particolarmente duro durante l'estate per ottimizzare i sistemi e le prestazioni della nuova vettura. Credo che abbiamo prodotto un pacchetto di corse altamente competitivo e voglio ringraziare tutto il team per il loro impegno nella nostra preparazione per la stagione. Non c'è posto per nascondersi in pista e attendo con ansia di vedere come i nostri sforzi saranno a confronto con i rivali."
La gara sul circuito di Hong Kong presenta un inizio difficile di stagione. Da poco più di 2 km, la pista vanta un rettilineo di 550 metri, sette curve a 90 gradi e due tornanti pieni. Tutto ciò allestito esattamente sul lungomare tra l'iconica ruota di osservazione, l'International Finance Centre e l'Hong Kong Convention and Exhibition Centre.
La prima gara della Formula E stagione di FIA è a Hong Kong il 9 Ottobre.
| | | | | |
| --- | --- | --- | --- | --- |
| | | Hong Kong Timings | 9th Oct | |
| | | | | |
| | | Free Practice 1 | 0800-0845 | |
| | | Free Practice 2 | 1030-1100 | |
| | | Qualifying | 1200-1300 | |
| | | Race | 1600-1700 | |
In English
DS Virgin Racing aiming for the podium at Formula E season opener in Hong Kong
The first race of Formula E's 3rd season sees 10 teams compete in Hong Kong October 9th
DS Virgin Racing have a new driver: José María López, aka 'Pechito' who joins Formula E fresh from his third world title in a row in the World Touring Car Championship (WTCC)
The team also have a new car, the DSV-02: with a new single motor powertrain, 3 speed gearbox, new front wing, and new livery
Source: DS Virgin Racing
30th September 2016. Following a highly competitive second season where DS Virgin Racing achieved third place in the championship, the team has spent the summer testing its new car and returns to season three well positioned to compete for the team and driver championships.
The new season sees Formula E expand into new territories, with Hong Kong being joined on the calendar by new races in Marrakech, Montreal and New York. New teams have entered the Formula E category, whilst new broadcast deals for season three continue to move the sport ever further into the mainstream spotlight.
DS Virgin Racing driver Sam Bird took more pole positions during the 2015-16 season than any other driver, finishing the season in fourth position in the drivers' championship. The 28 year-old, who was one of DS Virgin Racing's first hires expects to perform strongly in Hong Kong.
Sam is joined by new driver, the highly rated José María López, known as 'Pechito' – or 'The Cold One' in his native Argentina.  Renowned for his aggressive driving style that's taken him to nine world championship wins across seven motorsport categories, Pechito joins DS Virgin Racing at a hugely exciting time in his career, carrying with him the momentum of three successive WTCC wins in 2014 2015 and 2016.
Both drivers will be driving DS Virgin Racing's latest gen Formula E car, the DS V02, which features a redesigned single powertrain, 3 speed gearbox, Formula E's new double front wing and DS Virgin Racing's new Livery. A video showing the new look can be seen here:
httpv://www.youtube.com/watch?v=90OXcd0XP9M
DS Virgin Racing Team Principal Alex Tai said:
"The drivers, engineers and our manufacturing partners at DS performance have been working exceptionally hard over the summer to optimise the new car's systems and performance. I believe we have produced a highly competitive racing package and I want to thank the entire team for their commitment to our preparation for the season. There is no place to hide on the track, and I eagerly await to see how our efforts will compare."
Come race day the Hong Kong circuit presents a challenging start to the season. At just over 2 km, the track boasts a 550 metre straight, seven 90 degree turns and two full hairpins. All of which are set squarely on the waterfront between the iconic Observation Wheel, International Finance Centre and Hong Kong Convention
and Exhibition Centre.
The first race of the FIA Formula E season is in Hong Kong on October 9.
| | | | | |
| --- | --- | --- | --- | --- |
| | | Hong Kong Timings | 9th Oct | |
| | | | | |
| | | Free Practice 1 | 0800-0845 | |
| | | Free Practice 2 | 1030-1100 | |
| | | Qualifying | 1200-1300 | |
| | | Race | 1600-1700 | |
no images were found

.