I media sono invitati al garage del team al Londra ePrix per vedere la nuova livrea
Fonte: Andretti Formula E Team
Londra, Gran Bretagna. 29 giugno 2016. Il Team Andretti Formula E avrà un nuovo look per le ultime due gare del FIA Formula E Championship come sponsor principale Amlin che ora diventa MS Amlin.
Con sede a Londra, MS Amlin considera il London ePrix come la sua gara di casa, quindi il momento ideale per svelare il nuovo look elegante del nuovo marchio della società. La nuova livrea delle macchine n° 27 di Robin Frijns e n° 28 di Simona de Silvestro dispone di un nastro a doppia elica che scorre con grazia dal rosso al blu su uno sfondo bianco per onorare Mitsui Sumitomo Insurance.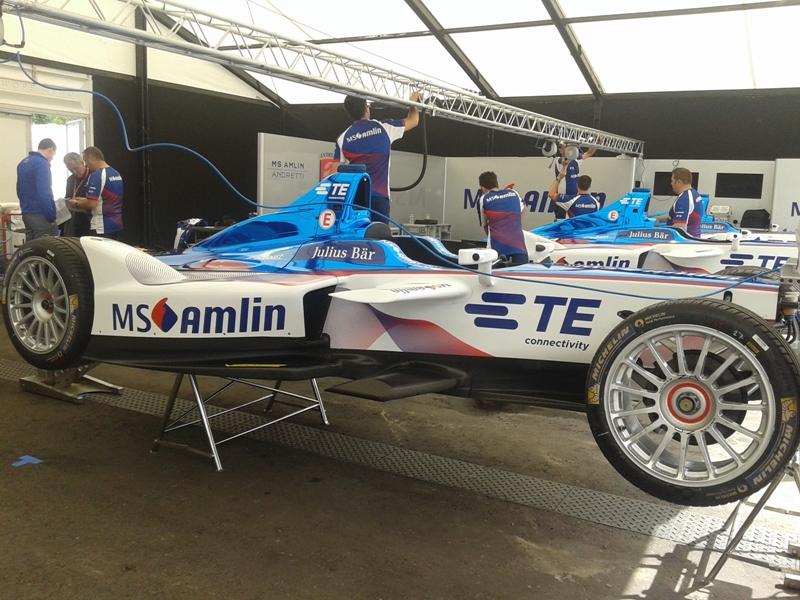 Mentre il classico blu metallico sul rivestimento superiore, l'ala posteriore e ed i laterali anteriori spiccheranno nel contrasto con il blu elettrico Amlin che il team ha gestito fin dall'inizio della stagione 2.
Il proprietario del Team Michael Andretti è orgoglioso del nuovo design creativo che il suo sponsor principale ha creato perchè dimostra il loro impegno ad aiutare alla squadra ad avere maggiore visibilità.
"Amlin ha sempre impostato in grande stile l'immagine in Formula E quando si tratta di standard del marchio – le nostre livree delle auto Amlin Andretti sono l'invidia del paddock e popolari agli occhi del pubblico", ha detto Andretti. "Sono felice di essere ora in grado di condividere i nuovi colori MS Amlin mentre celebriamo il nuovo futuro del rapporto e alziamo il livello ancora una volta."
Il nuovo look si rifletterà anche nel nuovo kit dei piloti Frijns e de Silvestro, le tute della squadra e le modifiche al garage.
Mitsui Sumitomo Insurance Company, Ltd. ha completato con successo l'acquisizione di Amlin, un assicuratore di specialità globale e riassicuratore, all'inizio di quest'anno. L'acquisizione ha portato alla formazione della MS Amlin, un leader mondiale nel settore delle compagnie di assicurazioni. Con la costituzione finalizzata della società, l'azienda potrà ora riflettere il cambiamento del marchio sul Team MS Amlin Andretti Spark-Renault SRT-01_E.
Le imprese con sede a Bermuda e Londra e di Mitsui Sumitomo Insurance sono state riunite con la storica attività Amlin per comprendere la nuova formazione MS Amlin.
I Media saranno invitati al garage del team Andretti Formula E al Battersea Park il 30 giugno alle 13:30 per uno sguardo esclusivo alle vetture prima di toccare la pista per la doppia gara del fine settimana a Londra.
In English
Andretti Formula E Team unveils MS Amlin livery
Media invited to Team Garage at London ePrix to view new livery
Source: Andretti Motorsport
London, UK. June 29, 2016. Andretti Formula E Team will take on a new look for the final two rounds of FIA Formula E as primary sponsor Amlin makes the switch to MS Amlin.
Headquartered in London, MS Amlin counts the London ePrix as its home race, so an ideal time to unveil the sleek new look the company's new brand provides. The new livery of the No. 27 machine of Robin Frijns and the No. 28 of Simona de Silvestro features a double helix ribbon that gracefully flows from red to blue over a white canvas to honor Mitsui Sumitomo Insurance. While the classic metallic blue on the top paneling, rear wing and front side end fences will resonate with fans as the electric Amlin blue the team has run since the start of Season 2.
Team Owner Michael Andretti is proud of the creative new design his primary sponsor has created as it shows their commitment to helping the team standout.
"Amlin has always set the bar in Formula E when it comes to brand standards – our Amlin Andretti car liveries have been the envy of the paddock and popular in the public eye," Andretti said. "I'm happy to now be able to share the new MS Amlin colors as we celebrate the new future of the relationship and raise the bar yet again."
The new look will also be reflected in a new drivers kit for Frijns and de Silvestro, team kit and garage modifications.
Mitsui Sumitomo Insurance Company, Ltd. successfully completed the acquisition of Amlin, a global specialty insurer and reinsurer, earlier this year. The acquisition led to the formation of MS Amlin, a world leading insurance company. With the formation finalized the company will now reflect the change in the branding on the teams MS Amlin Andretti Spark-Renault SRT-01_E cars.
Mitsui Sumitomo Insurance's London and Bermuda-based businesses were brought together with the historic Amlin business to comprise the newly formed MS Amlin.
Media will be invited to the Andretti Formula E Team Garage in Battersea Park on June 30 at 1:30 p.m. BST for an exclusive look at the cars before they hit the track for the doubleheader weekend in London.
no images were found

.