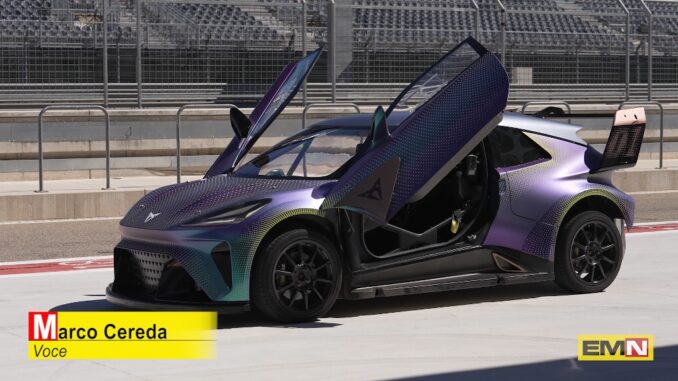 Nella puntata 40 di Electric Motor News, Citroën e Asterix, Cupra UrbanRebel, FIM E-Xplorer World Cup, Electric Travel Guide, Energica e Seat MÓ 125 Performance.
Di seguito i servizi video…
Carro concept di Citroën per Asterix
Citroën ha creato il primo ''carro concept'' realizzato in Gallia, ispirato alla mitica 2CV e ha messo a disposizione 10 veicoli elettrificati per Asterix & Obelix. Citroën e l'universo di Asterix fanno parte integrante del patrimonio francese e proprio questo partenariato ha dato origine a una particolare evoluzione del nuovo logo di Citroën: i famosi chevron inseriti in un ovale arricchito dalle ali dell'elmo di Asterix.
Cupra UrbanRebel Racing Concept
Sull'RX Circuit de Barcelona-Catalunya di Montmeló (incluso nel percorso del World Rallycross di Catalunya), i piloti Jordi Gené e il campione del mondo FIA ETCR Adrien Tambay hanno spinto al limite la Cupra UrbanRebel Racing Concept, la concept car da corsa che coniuga elettrificazione, sostenibilità e prestazioni con l'estetica del mondo virtuale.
Servizio con la voce di Marco Cereda.
Men and women at the FIM E-Xplorer World Cup
Up to twelve all-electric teams, each made up of two riders, one female and one male, will compete in thrilling head-to-head races throughout the season, crowning the first-ever winner of the FIM E-Xplorer World Cup. The 6 tracks will be developed in harmony with the race venue and will present the racers with technical and thrilling obstacles as they go head-to-head.
In italiano – Uomini e donne alla FIM E-Xplorer World Cup
Fino a dodici squadre completamente elettriche, ciascuna composta da due piloti, una donna e un uomo, si sfideranno in emozionanti gare testa a testa per tutta la stagione, incoronando il primo vincitore della FIM E-Xplorer World Cup. Le 6 piste saranno sviluppate in armonia con il luogo della gara e presenteranno ai corridori ostacoli tecnici ed elettrizzanti mentre gareggiano testa a testa.
Video in lingua inglese.
Electric Travel Guide by Nissan
Nissan arricchisce di nuove destinazioni la sua Electric Travel Guide, l'applicazione progettata per aiutare i clienti di veicoli elettrici a pianificare viaggi e gite completamente sostenibili. I nuovi itinerari proposti da Nissan fanno tappa in quattro paesi dell'Europa Centrale: Austria, Repubblica Ceca, Ungheria e Slovacchia. Il crossover 100% elettrico Nissan Ariya è il mezzo ideale per viaggiare a zero emissioni e nel massimo comfort.
Servizio con la voce di Marco Cereda.
Nel 2023 ancora più Energica
La gamma Energica 2023 arriverà con una coppia maggiore e una maggiore autonomia. Entrambe le caratteristiche saranno presenti sui primi tre modelli – Ego+, Eva Ribelle ed EsseEsse9+ – che già offrono ai motociclisti più coppia o autonomia rispetto a qualsiasi altra motocicletta elettrica sulle strade pubbliche.
Record dello scooter elettrico Seat MÓ 125 Performance
Seat MÓ 125 Performance ha battuto il record delle 24 ore nella prova di squadra, percorrendo 1.430 chilometri, più del doppio della distanza del precedente Guinness World Records. Cinque piloti con esperienza si sono alternati in una staffetta che prevedeva il cambio pilota a ogni cambio di batteria, circa ogni 50 minuti.
Ecco le anteprime fotografiche dei video…