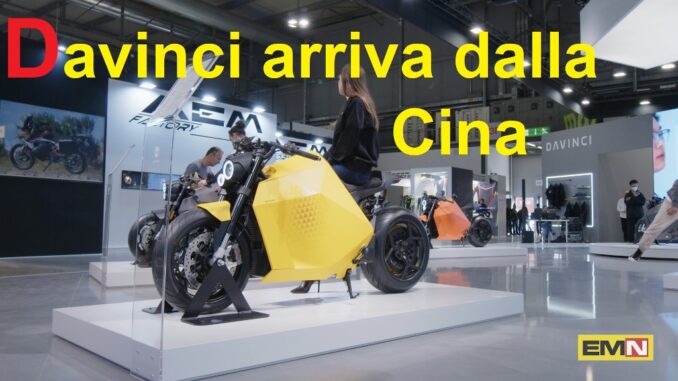 Electric Motor News 37 con Volvo EX90, BMW, Birò, e-day di Nissan, Audi S1 Hoonitron, Moke, BMW idrogeno a Lipsia, Ecooter E5, MV Ampelio e Davinci Motor.
Di seguito tutti i servizi video…
Volvo EX90, l'accesso a un ecosistema di servizi
Svelata in anteprima mondiale nel centro di Stoccolma, la Volvo EX90 non è soltanto la Volvo più avanzata mai realizzata. La nuova elettrica della casa svedese è anche la chiave d'accesso a un più ampio ecosistema di servizi.
BMW annuncia la produzione di batterie rotonde al Li-Ion
Il BMW Group si rende sempre più protagonista nello sviluppo dell'elettromobilità e annuncia la produzione di batterie con celle agli ioni di litio rotonde, che verranno istallate a partire dal 2025 sui modelli della Neue Klasse, ovvero la nuova generazione di veicoli dell'azienda tedesca.
Birò si rifa il look
Nuovo look per il Birò, ora con nuove tecnologie e linee riviste senza snaturare la sua filosofia, che si presenta a EICMA 2022. Nella nuova versione di Birò, caratterizzata da un design rinnovato e più moderno, aumentano i volumi interni, ma non cambiano le misure esterne. Birò mantiene il primato di veicolo elettrico a 4 ruote più piccolo al mondo. Migliora anche l'abitabilità per le persone più alte grazie ai +4 cm tra seduta e tetto apribile.
L'evento e-day di Nissan
Nissan ha presentato la sua nuova strategia di brand con l'obiettivo di affermarsi nel mercato come la marca giapponese con la gamma più emozionante di crossover elettrificati. Per l'occasione, i nuovi crossover elettrificati Nissan Juke Hybrid, Qashqai e-POWER, X-Trail e-POWER e Ariya 100% elettrico, sono tutti insieme su strada nell'ambito dell'evento e-day.
Nel servizio, parla Marco Toro, Amministratore Delegato Nissan Italia.
The video Electrikhana, with Audi S1 Hoonitron and Ken Block
The new video Electrikhana, starring Audi S1 Hoonitron and Ken Block, has totalized more than four and half million of visualizations. Inspired by the design of the legendary Audi Sport quattro S1 E2 Pikes Peak, victorious in 1987 of the world-famous time trial, the full electric Audi prototype combines the lightning-fast delivery of the powertrain torque with efficiency of AWD quattro electric traction.
In italiano – Il video Electrikhana, con Audi S1 Hoonitron e Ken Block
Il nuovo video Electrikhana, con protagonisti Audi S1 Hoonitron e Ken Block, ha già totalizzato oltre quattro milioni e mezzo di visualizzazioni. Ispirato nel design alla leggendaria Audi Sport quattro S1 E2 Pikes Peak, vincitrice nel 1987 della cronoscalata più celebre al mondo, il prototipo full electric Audi abbina la fulminea erogazione di coppia del powertrain all'efficacia della trazione integrale quattro elettrica.
Video in lingua inglese.
Ordinabile l'Electric MOKE Californian
L'Electric MOKE Californian è ora disponibile per l'ordine dal nuovo sito Web statunitense di MOKE International con prezzi a partire da $ 41.900. I clienti possono prenotare uno slot di costruzione per una tariffa rimborsabile di $ 990, ma con vendite limitate a 325 auto all'anno dovranno agire rapidamente per evitare delusioni. Dopo aver annunciato il suo ritorno in America dopo 40 anni di assenza, MOKE International ha già riscosso un forte interesse per il nuovo Electric MOKE Californian.
Idrogeno nello stabilimento BMW di Lipsia
Lo stabilimento BMW Group di Lipsia è il primo stabilimento automobilistico al mondo a sperimentare una tecnologia di combustione di nuova concezione che consente di funzionare con idrogeno verde e gas naturale. Lo stabilimento del BMW Group di Lipsia ha lanciato il primo bruciatore a idrogeno a combustibile flessibile per essiccatori di vernici. La particolarità del sistema è che può funzionare con idrogeno, metano o una miscela dei due. Può anche passare da un combustibile all'altro durante il funzionamento.
Ecooter E5 da Italy2Volt
Italy2Volt, ha presentato a EICMA il nuovo modello Ecooter E5 con l'obiettivo di alzare l'asticella dell'offerta con un prodotto del design elegante e tecnologia all'avanguardia. Partendo da un design quasi minimalista ma al contempo solido e distintivo, si è riusciti a creare uno scooter estremamente compatto: 109 kg (139 kg con le batterie) in 1940 mm di lunghezza e 760 mm di larghezza, abbinate a un motore elettrico brushless con una potenza massima di ben 8 kW e 2 batterie estraibili da 45Ah, in grado di assicurare una velocità di punta di 103 Km/h.
MV Agusta lancia Ampelio, ispirato agli anni cinquanta
Ampelio è perfettamente in linea con il DNA di MV Agusta, ovvero uno scooter elettrico dall'aspetto e dai contenuti contemporanei, che trae ispirazione dallo stile dei modelli CGT e Ovunque, prodotti negli anni Cinquanta. Il prototipo nasce dalla creatività del designer russo Maksim Ponomarev.
Davinci Motor presenta DC100 all'EICMA di Milano
Il produttore cinese di moto elettriche robotizzate dalle alte prestazioni Davinci Motor ha svelato i piani di espansione in Europa con il lancio del nuovo DC100 ad EICMA. Davinci Motor ha lanciato per la prima volta la DC100 nel luglio 2021 nel mercato cinese prima di aprire il suo primo stabilimento di produzione a Zibo, in Cina, nell'agosto di quest'anno, con la DC 100 già messa in produzione di prova.
Di seguito le anteprime fotografiche dei video…