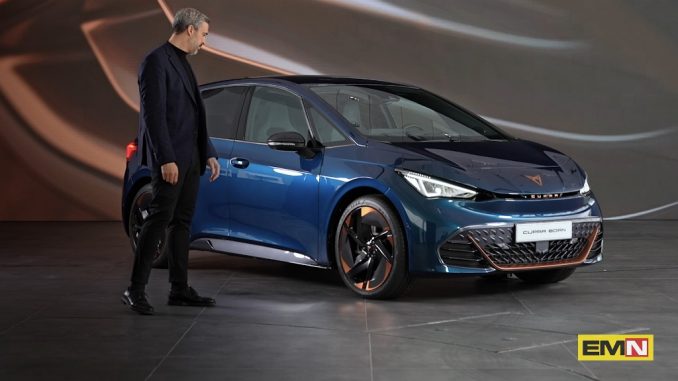 Nella 33esima puntata del 2021 di Electric Motor News, lancio di Citroën ë-Berlingo Van, Cupra Born e la Nuova Range Rover che sarà anche ibrida ed elettrica.
Ecco tutti i servizi…
Lancio del Citroën ë-Berlingo Van
Elena Fumagalli, Responsabile delle Pubbliche Relazioni di Citroën Italia, parla del Citroën ë-Berlingo Van a trazione elettrica, che viene lanciato sul mercato e rappresenta il compagno ideale per i professionisti. I nuovi limiti fissati da molte città in materia di emissioni inquinanti favoriscono coloro che utilizzato questo mezzo elettrico per effettuare le consegne quotidiani, senza emissioni e in silenzio.
Disegnare la Cupra Born è come un sogno che si avvera
Jorge Diez, Direttore Design Cupra, dice che il lavoro svolto sulla Cupra Born si equivale a un sogno che si avvera, quello di progettare un'auto elettrica con un design emozionale, con le proporzioni dell'auto ben studiate e con le ruote distanziate una dall'altra che offre agli occupanti una sensazione di centralità. Il designer parla anche del ruolo importante dei gruppi ottici anteriori e posteriori e dell'illuminazione della vettura.
Servizio in lingua inglese con sottotitoli in italiano.
The help of the drivers in the development of the Cupra Born
Marta Almuni, technical development manager of Cupra Born, speaks about the contribution made by the Cupra Racing drivers to the development of the brand's first electric vehicle, considering that the racing cars are the inspiration for every single model because we want the Cupra vehicles to be precise, dynamic and convey very well the sensations of the road.
In Italiano – Il contributo dei piloti nello sviluppo della Cupra Born
Marta Almuni, responsabile tecnico di sviluppo di Cupra Born, parla del contributo dato dai piloti Cupra Racing allo sviluppo del primo veicolo elettrico del marchio considerando che le vetture da gara sono l'ispirazione per ogni singolo modello perché vogliamo che i veicoli Cupra siano precisi, dinamici e trasmettano molto bene le sensazioni della strada.
Servizio in lingua inglese.
Cupra Born, prodotta a Zwickau con l'anima di Barcellona
Cupra Born, il primo modello elettrico del brand, è stato sviluppato in modo di offrire un'esperienza multi sensoriale creata per evocare emozioni in tutti gli occupanti dell'auto. Gli interni includono sedili bucket microperforati e il design parametrico dei rilievi, tutto realizzato con materiali sostenibili. La vettura viene prodotta nell'impianto Volkswagen di Zwickau a impatto zero di CO2, ma è stata disegnata e sviluppata a Barcellona.
Luxury and modern sophistication of the New Range Rover
The elegant New Range Rover defines modern luxury, offering more sophistication, more choice for the customer and more customization options than ever before. With a range of efficient mild-hybrid, plug-in hybrid powertrains and an all-electric Range Rover joining the range in 2024; plus a choice of four, five- or seven-seater interiors available on standard and long wheelbase, the New Range Rover feels at home in any environment.
In italiano – Lusso e raffinatezza moderna della Nuova Range Rover
L'elegante Nuova Range Rover definisce il lusso moderno, offrendo più raffinatezza, più scelta per il cliente e più possibilità di personalizzazione che mai. Con una serie di efficienti propulsori mild-hybrid, plug-in hybrid e una Range Rover completamente elettrica che si unirà alla gamma nel 2024; oltre a una scelta di interni a quattro, cinque o sette posti disponibili su passo standard e lungo, la Nuova Range Rover è a suo agio in qualsiasi ambiente.
Servizio in lingua inglese.
Il mito Range Rover diventa ibrido… in attesa dell'elettrica
La Nuova Range Rover si presenta con una gamma completa di propulsori avanzati a sei e otto cilindri a cui si aggiunge la scelta di nuovi propulsori per veicoli ibridi plug-in Extended Range, P440e e P510e, e i più recenti mild-hybrid denominati P360 e P400 Ingenium a benzina e D250, D300 e D350 diesel. Una nuova potente ammiraglia a benzina, la P530 Twin Turbo V8, offre maggiore raffinatezza e prestazioni ed è più efficiente del 17% rispetto alla precedente Range Rover V8.
Ecco le anteprime fotografiche dei video…