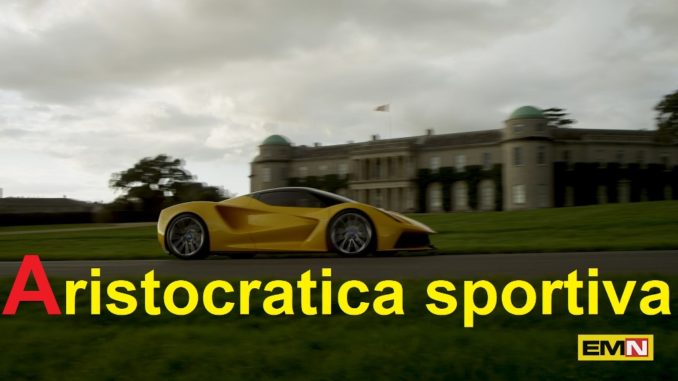 Nella puntata n° 32 di Electric Motor News in TV vi proponiamo dei servizi che spaziano dalle ipercar a le utilitarie a trazione elettrica.
La puntata include servizi di Lotus Evija, Nuova Fiat 500 3+1 elettrica, BMW iX3, Nuova Peugeot e-208, diversi aspetti e iniziative del BMW Group sia per il marchio BMW che per MINI e Audi e-tron GT.
Di seguito i servizi…
Lotus Evija debutta Goodwood SpeedWeek
L'hypercar elettrica Lotus Evija ha fatto il suo debutto pubblico dinamico alla Goodwood SpeedWeek, prendendo parte a una serie di attività sullo storico circuito. I prototipi, uno di colore giallo e due colore nero dorato, hanno presentato anche un'immagine stilizzata del famoso circuito del West Sussex, accompagnata dalle parole "Lotus x Goodwood: Creating History since 1948", a riconoscimento dell'anno della prima vettura Lotus e del primo evento di sport motoristici a Goodwood.
Anteprima mondiale di Nuova Fiat 500 3+1 elettrica
Al Lingotto di Torino è stata presentata in anteprima mondiale dal Presidente del Brand Fiat Olivier François, la Nuova Fiat 500 3+1 elettrica e l'intera gamma della Nuova 500.
Da Mirafiori la Nuova Fiat 500 elettrica
Dopo il debutto della Nuova Fiat 500, il Gruppo apre le porte dello storico stabilimento di Mirafiori a Torino dove ogni giorno uomini e donne di FCA producono la Nuova 500. Per realizzare la Nuova 500 si è partita dal lavoro di progettisti e gli sviluppatori del nuovo modello che, insieme agli esperti dello stabilimento, hanno dato vita a una specifica linea di produzione utilizzando anche la realtà aumentata per migliorare il prodotto e i processi. Inoltre, grazie a un sistema chiamato MES (Manufacturing Execution System), si ha la possibilità di monitorare gli ordini dei clienti e di trasmettere in anticipo queste informazioni ai fornitori esterni, oltre a sistemare in sequenza le parti prima del loro invio alla linea di produzione.
Servizio con la voce di Marco Cereda
Via alla produzione della BMW iX3 elettrica
E' iniziata la produzione il 29 settembre 2020 presso la joint venture BMW Brilliance Automotive (BBA) a Shenyang, in Cina, della prima BMW iX3 elettrica. Oltre alla produzione intelligente e alle tecnologie all'avanguardia, lo stabilimento di produzione BBA di Shenyang si distingue anche per il suo sistema completo di gestione della qualità. Uno speciale "concetto di zero difetti" garantisce il rispetto degli elevati requisiti del mercato globale per la mobilità elettrica.
Servizio con la voce di Marco Cereda.
Peugeot e il nuovo modo di guidare un'auto elettrica
Nuova Peugeot e-208 ha aperto la strada ad un nuovo modo di concepire la guida di una vettura elettrica perché progettata fin dall'inizio per essere 100% elettrica (le batterie sono perfettamente integrate nel pianale) ed offrire prestazioni più che adeguate per la tipologia di impiego per cui è nato il modello, aprendo le porte ad una nuova esperienze di guida.
Servizio con la voce di Aurora Bovone.
Evento itinerante BMW per la mobilità elettrificata
Nelle città di Roma, Milano, Napoli, Bologna e Firenze c'è un parco auto elettrica e ibride plug-in dei marchi BMW e MINI, con un hub luminoso che illustra i traguardi della mobilità sostenibile e forniscono informazioni tecniche e approfondimento di prodotto. Sono queste le principali aspetti dell'evento itinerante che BMW Group Italia ha organizzato per promuovere la mobilità elettrificata e valorizzare il percorso intrapreso dal Gruppo in tema di sostenibilità.
BMW plans to electric mobility
Wieland Brùch, Comunication Electric Mobility and BMW i explain the BMW plans to electrification and share in the video how the BMW Group will follow the target with BMW and MINI models.
In Italiano – I piani di BMW per la mobilità elettrica
Wieland Brùch, Comunication Electric Mobility and BMW i spiega i piani di BMW per l'elettrificazione dei modelli e nel video illustra come il BMW Group prevede di seguire quest'obiettivo con i modelli dei marchi BMW e MINI.
BMW electric and hybrid initiatives
In the video, Wieland Brùch, Comunication Electric Mobility and BMW i speaks about BMW Group initiatives concerning the battery charge network for electric and hybrid plug-in vehicles and also about the eDrive Zones that BMW Group intend to organize with the public administration in the city centres.
In Italiano – Le iniziative BMW per le auto elettriche e ibride
Nel video, Wieland Brùch, Comunication Electric Mobility and BMW i parla riguardo le iniziative del BMW Group riguardo il network di stazioni di ricarica per veicoli elettrici e ibridi plug-in e anche dell'iniziativa eDrive Zones che il BMW Group intende organizzare con le amministrazioni pubbliche nei centri urbani.
Sustainability in the complete production cycle
The BMW Group combines the further development of electric mobility with a holistic understanding of sustainability, whilst always bearing in mind the entire value chain and the complete production cycle – from the procurement of raw materials, production and service life of the vehicle up to later recycling. Today, the total environmental impact of a plug-in hybrid model, known as the CO2 footprint, is already significantly lower than that of a conventionally powered vehicle.
Wieland Brùch, Comunication Electric Mobility and BMW i.
In italiano – Sostenibilità nel ciclo completo di produzione
Il BMW Group combina l'ulteriore sviluppo della mobilità elettrica con una comprensione olistica della sostenibilità, tenendo sempre presente l'intera catena del valore e il ciclo di produzione completo – dall'approvvigionamento delle materie prime, alla produzione e alla vita utile del veicolo fino al successivo riciclaggio . Oggi, l'impatto ambientale totale di un modello ibrido plug-in, noto come impronta di CO2, è già significativamente inferiore a quello di un veicolo a propulsione convenzionale.
Wieland Brùch, Comunication Electric Mobility and BMW i.
Audi e-tron GT, la prima Audi elettrica costruita in Germania
Audi e-tron GT è la prima auto elettrica costruita da Audi in Germania, più precisamente presso l'Audi Böllinger Höfe, nelle vicinanze di Neckarsulm. La factory, dedicata alle produzioni in piccola serie, è stata ampliata, potenziata e convertita per le nuove attività. Le competenze artigianali caratteristiche della precedente manifattura sono state mantenute, integrate tuttavia da processi digitali e tecnologie d'avanguardia.
Servizio con la voce di Aurora Bovone.
Di seguito le anteprime fotografiche dei servizi della puntata.