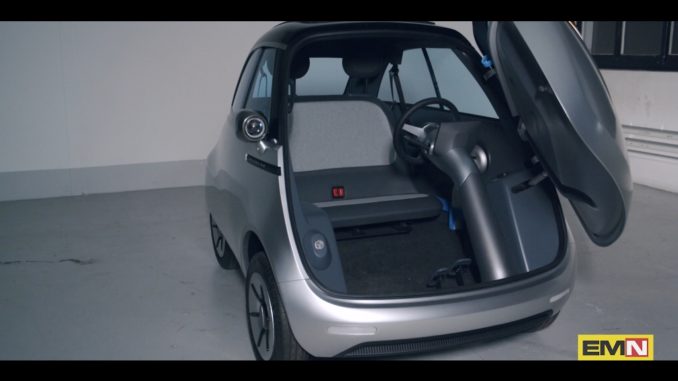 Nella terza puntata del 2021 di Electric Motor News, Mercedes, BMW Group, Jaguar Land Rover, Nissan, DS Automobiles e Microlino.
Di seguito i servizi…
Sbarca nel mercato italiano il SUV elettrico Mercedes Benz EQA
Il primo SUV elettrico del brand Mercedes Benz-EQ che sbarcherà nel mercato italiano è EQA, che sarà disponibile in concessionaria dalla primavera 2021. EQA viene prodotto a Rastatt in Germania e a Pechino in Cina. Debutta con la versione EQA 250, da 140 kW di potenza, autonomia di 486 km nel ciclo NEDC e batterie agli ioni di litio da un contenuto di energia di 66,5 kWh con valori di consumo di corrente combinato di 15,7 kWh per 100 km.
Servizio con la voce di Aurora Bovone
Evoluzione del reparto acquisti di BMW Group
Il reparto acquisti di BMW Group viene adeguato all'evoluzione della mobilità elettrica, stabilendo nuovi standard di sostenibilità. L'espansione della mobilità elettrica rende la creazione di valore nella rete fornitori importante come mai prima d'ora, sia per quanto riguarda le emissioni di CO2 sia per l'approvvigionamento delle cosiddette materie prime essenziali, come quelle necessarie per la produzione di celle per batterie.
Servizio con la voce di Marco Cereda
Reinterpreting the future of luxury with design, from Jaguar Land Rover
Under the leadership of Thierry Bolloré, Chief Executive Officer of Jaguar Land Rover, the new global Reimagine strategy was presented under the banner of new design. This presentation is the beginning of the journey that will lead Jaguar Land Rover to become a zero-carbon company by 2039, through the highly sustainable reinterpretation of modern luxury, unique customer experiences and a positive social impact.
In Italiano – Reinterpretare il futuro del lusso con il design, da Jaguar Land Rover
Sotto la guida di Thierry Bolloré, Chief Executive Officer di Jaguar Land Rover, è stata presentata la nuova strategia globale Reimagine all'insegna del nuovo design.
Questa presentazione è l'inizio del viaggio che porterà Jaguar Land Rover a diventare entro il 2039 un'azienda a zero emissioni di carbonio, attraverso la rivisitazione altamente sostenibile del lusso moderno, di esclusive esperienze per il cliente e di un positivo impatto sociale.
Nissan Ariya and the secret to be an aerodynamic crossover
In the video, Sarwar Ahmed, aerodynamics and aeroacoustics engineer from Nissan Technical Center Europe and Helen Perry, Chief Marketing Manager Electric Passenger Cars and Infrastructure Nissan Europe, talk about Nissan Ariya's aerodynamic optimization work leveraging ten years of Nissan know-how in electric vehicles.
In Italiano – Nissan Ariya e il segreto di essere un crossover aerodinamico
Nel video, Sarwar Ahmed, ing. aerodinamico e aeroacustico del Nissan Technical Centre Europe ed Helen Perry, Chief Marketing Manager Electric Passenger Cars and Infrastructure Nissan Europe, parlano del lavoro di ottimizzazione aerodinamica di Nissan Ariya sfruttando dieci anni di know-how Nissan nei veicoli elettrici.
L'identikit dell'elettrica DS 3 Crossback E-Tense
La prima sensazione di chi guarda lo stile scultoreo di DS 3 Crossback, il SUV compatto di segmento B di DS Automobiles, è l'eleganza. La catena di trazione elettrica di DS 3 Crossback E-Tense è composta da un motore elettrico da 100 kW (136 CV) e 260 Nm, abbinato a una batteria agli ioni di litio da 50 kWh e da un sistema di recupero di energia alla decelerazione e in frenata. L'autonomia è di 320 km (ciclo WLTP) e le prestazioni rivoluzionano anche la guida, con accelerazioni da 0 a 50 km/h in soli 3,3 secondi.
Il prototipo del Microlino 2.0
Il primo prototipo del Microlino 2.0 è stato completato e ora è in fase di test, con una maneggevolezza notevolmente migliorata rispetto la versione 1.0. Rispetto al telaio tubolare del Microlino 1.0, questa nuova struttura della scocca integrale realizzata in acciaio stampato e parti in alluminio consente una maggiore rigidità e sicurezza senza aumentare il peso. La nuova struttura ha già mostrato grandi miglioramenti nella sicurezza rispetto la prima versione ed è il primo prodotto della sua categoria ad utilizzare questa struttura.
Di seguito potete vedere le anteprime fotografiche dei video…