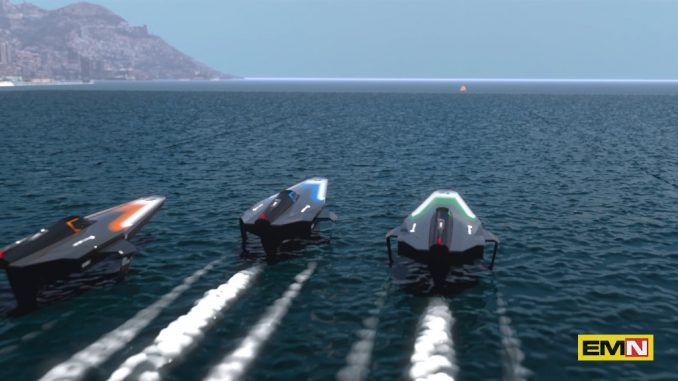 Nella puntata 28 di Electric Motor News, il motore DeepSpeed, il lancio della Serie E1, la bici elettrica di VR46 e Hyundai e la sua Hydrogen Vision 2040.
Ecco tutti i servizi della puntata…
Rivoluzione Jet con DeepSpeed al Salone Nautico di Genova
Sealence si è presentata al 61° Salone Nautico di Genova non solo con il motore Jet elettrico DeepSpeed in fase finale di sperimentazione, ma ha anche presentato al grande pubblico i due scafi laboratorio su cui la startup sta testando quella che promette di essere la propulsione del futuro. Al Salone infatti faceva bella mostra di se allo stand la SEALab #3, mentre in acqua si poteva veder sfrecciare a tutta velocità la SEALab #2.
La mountain bike elettrica di Valentino Rossi
VR|46 Racing Apparel, azienda che fa capo a Valentino Rossi e MT Distribution hanno presentato a Rimini la nuova linea di mountain bike elettriche VR46 E-MTB. La gamma 2022 prevede una Premium Edition ed una Limited Edition di 46 esemplari, che verranno presentate ufficialmente all'EICMA di Milano il prossimo mese di novembre.
Servizio con la voce di Alice Bovone.
E1 Electric Powerboat series launch
A J. Odudu presents the official launch of the E1 Electric Powerboat series, where Alejandro Agag, Co-Founder and CEO of E1 and his partner Rodi Basso unveiled the new series in the digital world speaking about the new platform for electric boats; inizially as sport… but not only.
In italiano – Lancio della serie E1 Electric Powerboat
A J. Odudu presenta il lancio ufficiale della serie E1 Electric Powerboat, dove Alejandro Agag, co-fondatore e CEO di E1 e il suo partner Rody Basso hanno presentato la nuova serie nel mondo digitale parlando della nuova piattaforma per barche elettriche; inizialmente come sport… ma non solo.
Video in lingua inglese.
About design and target of E1 Series
Alejandro Agag speaks about the starting of the project and the forced stop for the pandemic trouble, but now he conferms that with all team that they are ready to beginning with the races and unveils the project is a big step. Agag speaks also about the design of the boat and said that it's a justly design that allow to the people dream with electric boat to project into the future. Rodi Basso, Co-founder and CEO of E1 explains that one of the targets it's to accelerate the electrification of the boats and to contribute with the marine industrie and with the better water conditions.
In italiano – Riguardo il design e gli obiettivi della Serie E1
Alejandro Agag parla dell'avvio del progetto e dello stop forzato per il problema della pandemia, ma ora conferma che insieme a tutta la squadra sono pronti a partire con le gare e svelare ufficialmente il progetto è un grande passo. Agag parla anche del design della barca e ha detto che è un design giusto che permette alle persone di sognare con la barca elettrica e di proiettarsi nel futuro. Rodi Basso, co-fondatore e amministratore delegato di E1 spiega che uno degli obiettivi è accelerare l'elettrificazione delle barche e contribuire con l'industria nautica e a migliorare le condizioni dell'acqua.
Video in lingua inglese.
Race, spectacle… and sustainability
Alejandro Agag explains that they want to leave some charging points to charge the electric boats in every place where they will go to race, converting in fact in "electrified areas". Rodi Basso said that they will invite the scientific comunity in a way to facilitate the research, Will be a show and spectacle, but also the way to study and monitoring the water and the state of the water.
In italiano – Corsa e spettacolo… ma con un occhio alla sostenibilità
Alejandro Agag spiega di voler lasciare alcune colonnine di ricarica per ricaricare le barche elettriche in ogni luogo dove andranno a regatare, convertendosi di fatto in "aree elettrificate". Rodi Basso ha detto che inviterà la comunità scientifica in modo da facilitare la ricerca, sarà una corsa e uno spettacolo, ma anche il modo per studiare e monitorare l'acqua e lo stato dell'acqua.
Video in lingua inglese.
Digital unveiled of the E1 Series boat
The electric boat of E1 Series is unveiled and Sophi Horne, founder of SeaBird Technologies that designed the boat and explains that they started from the scratch and with specifics of the UIM, including the foils that will allow to the boat to be 40cm outside the water.
In italiano – Presentata in digitale la barca della Serie E1
Svelata la barca elettrica della serie E1 e Sophi Horne, fondatrice di SeaBird Technologies che ha progettato la barca, spiega che sono partiti da zero e con le specifiche dell'UIM, comprese i foil che consentiranno alla barca di essere 40 cm fuori dall'acqua.
Video in lingua inglese.
Innovative, amazing, efficient, safe and sustainable boat
Brunello Acampora, Founder and CEO of Victory Marine, speaks about the design and this that is a vessel really sustainable, with the choice of use the foils that is very innovative, amazing, efficient, safe and sustainable. He speaks also about the materials used to build the boat.
In italiano – Barca innovativa, sorprendente, efficiente, sicura e sostenibile
Brunello Acampora, Fondatore e CEO di Victory Marine, parla del design e di questa che è un'imbarcazione realmente sostenibile, con la scelta di utilizzare i foils che è molto innovativa, sorprendente, efficiente, sicura e sostenibile. Parla anche dei materiali utilizzati per costruire la barca.
Servizio in lingua inglese.
The first electric powerboat racing series
Raffaele Chiulli, Presidente of UIM, said that this is the first electric power boat racing series that will be organized under the rules of the UIM. He said that the E1 Series it's a combination of technologies from electric cars and marine boats and the series will be very important for more correct environmental behavior.
In italiano – La prima serie di gare di barche elettriche
Raffaele Chiulli, Presidente dell'UIM, ha affermato che questa è la prima serie di gare di barche a motore elettrico che sarà organizzata secondo le regole dell'UIM. Ha detto che la serie E1 è una combinazione di tecnologie di auto elettriche e barche marine e la serie sarà molto importante per comportamenti ambientali più corretti.
Servizio in lingua inglese.
Hyundai e il futuro sulla basa idrogeno
Nel forum online Hydrogen Wave, Hyundai ha presentato la sua Hydrogen Vision 2040 che punta a rendere disponibile l'idrogeno per "Tutti, Tutto e Ovunque". Il Gruppo coreano intende diffondere l'idrogeno entro il 2040 attraverso l'introduzione di nuove tecnologie e soluzioni di mobilità nei trasporti e in altri settori industriali. L'impegno Hyundai prevede l'elettrificazione di tutti i nuovi modelli di veicoli commerciali, con propulsori elettrici a celle a combustibile o a batteria, nonché l'applicazione di sistemi fuel cell a tutti i modelli entro il 2028.
Servizio con la voce di Aurora Bovone.
Ecco le anteprime fotografiche dei video…