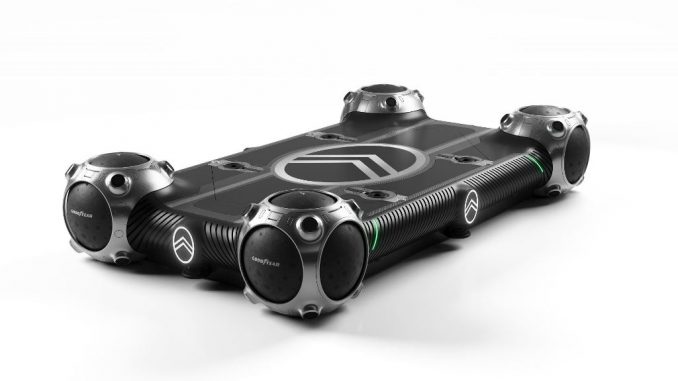 Un prototipo del famoso pneumatico sferico Eagle 360 da Goodyear è progettato su misura per la nuova Citroën Autonomous Mobility Vision.
La Citroën Autonomous Mobility Vision rappresenta la visione dell'iconica casa costruttrice francese per il futuro della mobilità urbana e si basa su una piattaforma elettrica multidirezionale autonoma, chiamata "The Citroën Skate", che può ospitare una serie di diversi "Pod" (letteralmente capsule) per fornire varie esperienze o servizi di mobilità.
Goodyear ha collaborato con Citroën per contribuire alla realizzazione di questa visione, sviluppando un prototipo su misura dello pneumatico sferico concept Eagle 360.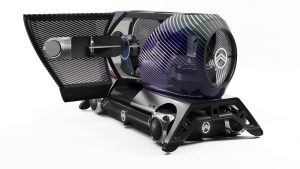 The Citroën Skate e i suoi concept "Pod" sono stati ispirati da The Urban Collëctif, un progetto realizzato da Citroën, insieme al gruppo alberghiero internazionale Accor e alla società media JCDecaux.
Siamo orgogliosi di presentare il prototipo del nostro pneumatico concept sferico come parte integrante del concetto Citroën Autonomous Mobility Vision – spiega Hans Vrijsen, Managing Director Original Equipment di Goodyear. La sua forma rende il prototipo dello Eagle 360 compatto, agile e maneggevole, ideale per le future soluzioni di mobilità urbana e autonoma.
Goodyear ha introdotto per la prima volta il pneumatico concept Eagle 360 al Salone Internazionale dell'Automobile di Ginevra nel 2016 e nel 2017 ha presentato una seconda interpretazione, il concept Eagle 360 Urban. La rivista Time ha dichiarato il concept Eagle 360 una delle 25 migliori innovazioni del 2016.
Il prototipo Eagle 360 incorpora alcune caratteristiche uniche:
Elevata manovrabilità: con la sua forma sferica, questo pneumatico a orientamento multiplo si muove in tutte le direzioni e in questo modo favorisce la mobilità del veicolo, specialmente negli spazi ristretti delle città, e al comfort dei passeggeri. ll prototipo Eagle 360 offre una guida omogenea creando un movimento laterale fluido, aiutando così la piattaforma The Citroën Skate a superare facilmente un ostacolo.
Niente forature: Il prototipo Eagle 360 è un pneumatico senz'aria. Non richiede il monitoraggio della pressione e non presenta rischi di foratura, quindi riduce al minimo i tempi di inattività della Citroën Autonomous Mobility Vision.
Lunga durata: Con una superficie del battistrada quattro volte superiore a quella di un pneumatico standard, il prototipo Eagle 360 si usura quattro volte più lentamente di un pneumatico convenzionale, aumentano di conseguenza la durata.
Maggiore autonomia: Dotato di una struttura interna rigida e di una mescola a bassa resistenza al rotolamento, il prototipo Eagle 360 è progettato per una bassa deflessione nel punto di contatto con la strada per contribuire a ridurre la perdita di energia e i consumi, permettendo di estendere l'autonomia della batteria di un veicolo elettrico.
Aderenza costante: Grazie all'impiego di lamelle esagonali, il prototipo Eagle 360 è progettato per fornire un'aderenza costante, indipendentemente dalla direzione di marcia.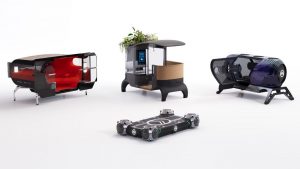 Nella visione di Citroën, i prototipi di Eagle 360 sono alloggiati all'interno di strutture in alluminio collegate con la piattaforma "skate". Ognuna di queste strutture contiene una serie di piccoli motori elettrici che forniscono propulsione alle sfere.
Durante tutto il progetto, il team dell'Advanced Design Studio di Goodyear ha collaborato a stretto contatto con il team di design Citroën per progettare e realizzare un prototipo Eagle 360 su misura, in totale armonia con la visione e gli obiettivi della Citroën Autonomous Mobility Vision.
Questa è l'ultima di una serie di partnership tra Goodyear e il team di progettazione di Citroën, dopo la loro recente collaborazione per realizzare il Citroën 19_19 Concept, una concept car autonoma, connessa ed elettrica, svelata per festeggiare il centenario di Citroen nel 2019.
Per un'azienda innovativa come Goodyear, i pneumatici concept sono la base per affrontare le sfide future della mobilità e sviluppare prodotti e servizi nuovi e rivoluzionari. È entusiasmante aver collaborato con Citroën in questo progetto unico e avere compiuto un ulteriore passo in avanti nello sviluppo di uno dei nostri concept più innovativi – ha concluso Vrijsen.
Fonte: Goodyear Italia