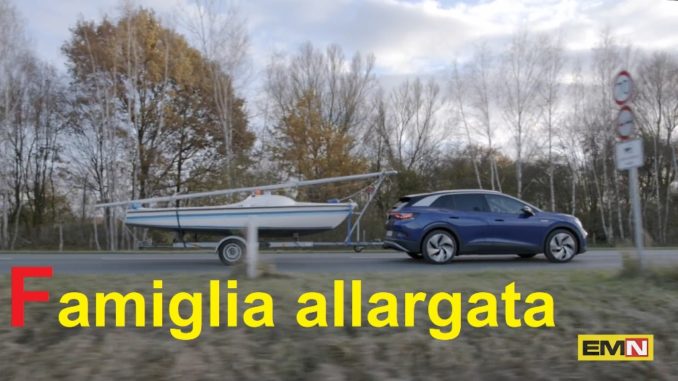 Nella seconda puntata di EMN in TV, Lexus UX 300e, Volkswagen Group Components e ID.4, Škoda Enyaq iV e BMW che si adegua alla sostenibilità.
Di seguito i servizi video…
Arriva nel mercato italiano Lexus UX 300e
Arriva nel mercato italiano il primo veicolo full electric del gruppo Toyota in Europa, il Lexus UX 300e.Il nuovo motore elettrico ad alte prestazioni da 150 kW di UX 300e fornisce un'accelerazione lineare e istantanea coprendo lo 0-100 km/h in 7,5 secondi ed una velocità massima di 160 km/h, è alimentato da un pacco batterie da 54,3 kWh di nuova concezione composto da 288 celle agli ioni di lito ad alta capacità installato sotto il pavimento dell'abitacolo e dei sedili posteriori.
Servizio con la voce di Aurora Bovone
Impianto riciclaggio batterie di Volkswagen Group Components
Volkswagen Group Components ha attivato a Salzgitter il primo impianto del Gruppo per il riciclo delle batterie delle auto elettriche. La peculiarità dell'impianto è che ricicla solamente batterie che non possono più essere destinate ad altri scopi. Di fatto, prima di procedere con il riciclo, un'analisi stabilisce se l'accumulatore è ancora sufficientemente potente per avere una seconda vita in un sistema mobile di stoccaggio di energia, come per esempio la stazione flessibile di ricarica rapida o il robot mobile per la ricarica.
Servizio con la voce di Marco Cereda
Volkswagen Group Components new recycling plant
Volkswagen Group Components has activated the Group's first plant for electric car batteries recycling in Salzgitter. The system allows recycles only batteries that can no longer be used for other purposes. In fact, before proceeding with recycling, an analysis establishes whether the accumulator is still powerful enough to have a second life in a mobile energy storage system, such as the flexible fast charging station or the mobile robot for the recharge.
Video in German language.
Inizia in Italia la prevendita di Škoda Enyaq iV
Lunedì 25 gennaio è la data di avvio della commercializzazione del nuovo Škoda Enyaq iV in tutte le Concessionarie italiane. Questo passo è per Škoda un nuovo e fondamentale capitolo della propria storia.
In Italia il primo SUV elettrico della casa boema verrà inizialmente proposto nelle varianti 60 iV con batteria da 62 kWh e 80 iV con batteria da 82 kWh, a partire da 39.500 euro.
Servizio con la voce di Lilia Marcucci.
BMW adegua gli acquisti in funzione dei nuovi standard di sostenibilità
Il BMW Group sta adeguando il proprio reparto acquisti alla futura evoluzione dell'elettro-mobilità, stabilendo nuovi standard di sostenibilità. L'espansione della mobilità elettrica rende la creazione di valore nella rete fornitori importante come mai prima d'ora, sia per quanto riguarda le emissioni di CO2 sia per l'approvvigionamento delle cosiddette materie prime essenziali, come quelle necessarie per la produzione di celle per batterie.
Aperte le ordinazioni in Italia del SUV Volkswagen ID.4
Si aprono gli ordini per la gamma di serie del SUV Volkswagen ID.4 a pochi mesi dalla prevendita delle versioni speciali di lancio ID.4 1ST e ID.4 1ST Max. Volkswagen ID.4 di serie può essere scelta in Italia con due capacità della batteria e in quattro versioni, nella Pro Performance, la ID.4 ha fino a 520 km di autonomia nel ciclo WLTP e accelera da 0 a 100 km/h in 8,5 secondi, mentre nelle versioni ID.4 City, Life, Business e Tech, i prezzi di listino partono da 43.150 Euro.
Di seguito, le anteprime fotografiche dei video…