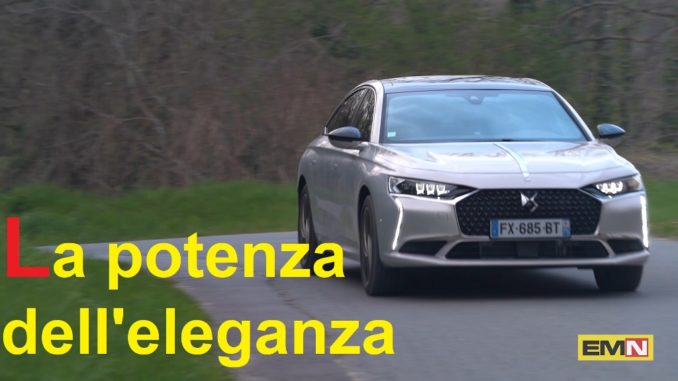 Nella puntata 16 del 2021 di Electric Motor News offriamo diversi servizi riguardo la strategia Michelin per raggiungere il "carbon neutral" entro il 2050.
Nella puntata, anche la nuova Cupra Born, Nuova Citroën ë-C4-100% ëlectric, Sèbastien Buemi racconta la sua vita tra la Formula E e la Nissan Leaf e il lancio della berlina ibrida DS 9 E-Tense.
Di seguito tutti i video…
Come sarà il design della nuova Cupra Born
Il prossimo martedì 25 maggio, l'anteprima mondiale di Cupra Born darà inizio una nuova era per il marchio, che si pone l'obiettivo di essere l'impulso verso la trasformazione elettrica. Nel servizio, Jorge Diez, Direttore del Design Cupra, svela come serà il desing della prima elettrica del brand di Martorell.
Servizio in lingua inglese con sottotitoli in italiano.
Michelin estivi e CO2 neutral
Michelin lancia sul mercato due nuovi pneumatici estivi CO2 neutrali, il Michelin e-Primacy e il Michelin Pilot Sport EV. Patrizio di Blasi, Responsabile Prodotto B2C Michelin illustra questo lancio e le caratteristiche degli pneumatici de dell'essere CO2 neutral.
Michelin e.Primacy, lo pneumatico eco-responsabile
Nel 2021 Michelin lancia la sua gamma di pneumatici più eco-responsabile, tra cui lo pneumatico Michelin e.Primacy. Nel servizio illustrano questi nuovi prodotti Cyrille Roget, Direttore Comunicazione Tecnico-Scientifica Michelin; Joan Puig, Product Manager Applus IDIADA sviluppo pneumatici e Stéphane Parrini, Responsabile dei test di convalida DEKRA.
Servizio in lingua francese e inglese con sottotitoli in italiano.
Sostenibilità entro il 2050 è la strategia di Michelin
Marco Do, Responsabile Comunicazione Michelin Italia, parla della strategia di Michelin, che prevede una completa sostenibilità entro il 2050, indicando che ci sono due aspetti sui quali si sono concentrati: da una parte il prodotto e dall'altra i processi produttivi.
A parco eolico con Nuova Citroën ë-C4-100% ëlectric
Nuova Citroën ë-C4-100% ëlectric è una vettura compatta che offre una grande libertà di movimento potendo contare su un'autonomia dichiarata fino a 350 Km. Così decidiamo di fare un tuffo nella natura sui monti al confine tra l'Umbria e le Marche alla scoperta di luoghi selvaggi e incontaminati e percorriamo la strada che porta al parco eolico di Fossato di Vico, un luogo da dove si ammira un incredibile panorama e dove due generatori eolici producono energia elettrica di circa 3 milioni di kW l'anno con un risparmio di 1800 tonnellate di CO2.
A life with the Nissan Leaf
Sébastien Buemi, Nissan official Formula E driver, drives the electric cars not only in the races, but also in his normal life using the Nissan Leaf. Sébastien talks about the efficiency and ease of charging of his Leaf, as part of the "My life with a Nissan Leaf" series.
In italiano – Una vita con la Nissan Leaf
Sébastien Buemi, pilota ufficiale Nissan di Formula E, guida le auto elettriche non solo nelle gare, ma anche nella sua vita normale usando la Nissan Leaf. Sébastien parla dell'efficienza e della facilità di ricarica della sua Leaf, nell'ambito della serie "La mia vita con una Nissan Leaf".
Lanciata in Italia la DS 9 E-Tense
DS Automobiles Italia lancia l'ammiraglio DS 9 E-Tense, equipaggiata da propulsione ibrida plug-in. Nel servizio, Giorgio Contu, Responsabile Comunicazione DS Automobiles Italia, illustra alcuni dei particolari della vettura, dal comfort di marcia alle funzioni, dalla tecnologia di bordo alla sicurezza attiva e passiva che protegge gli occupanti.
Di seguito le anteprime fotografiche dei servizi video…