Hyundai accoglie l'apertura della nuova stazione di rifornimento di idrogeno ultra-verde, nel nord dell'Inghilterra
• I conducenti di Hyundai ix35 Fuel Cell ora possono riempire il serbatoio in una stazione di rifornimento di idrogeno ultra-verde appena fuori la M1 vicino a Sheffield
• La nuova stazione è autosufficiente producendo idrogeno in proprio con l'energia da una turbina a vento sul posto e con la propria fornitura di acqua
• La stazione di servizio è stata sviluppata dagli esperti di celle a combustibile ad idrogeno ITM Power
• L'apertura del nuovo sito è un altro balzo in avanti nel settore delle infrastrutture nazionali dell'idrogeno nel Regno Unito
• Hyundai ix35 Fuel Cell è il primo veicolo elettrico a celle a combustibile al mondo prodotto in serie e l'unica a celle a combustibile in vendita nel Regno Unito e già sulle strade del Regno Unito!
Fonte: Hyundai UK
High Wycombe, Gran Bretagna. 17 Settembre, 2015. I conducenti di Hyundai ix35 Fuel Cell, l'unica vettura a celle a combustibile in vendita nel Regno Unito, ora possono fare il pieno di idrogeno in una delle stazioni di rifornimento più verdi del mondo, che si trova appena fuori l'autostrada M1 nei pressi di Sheffield.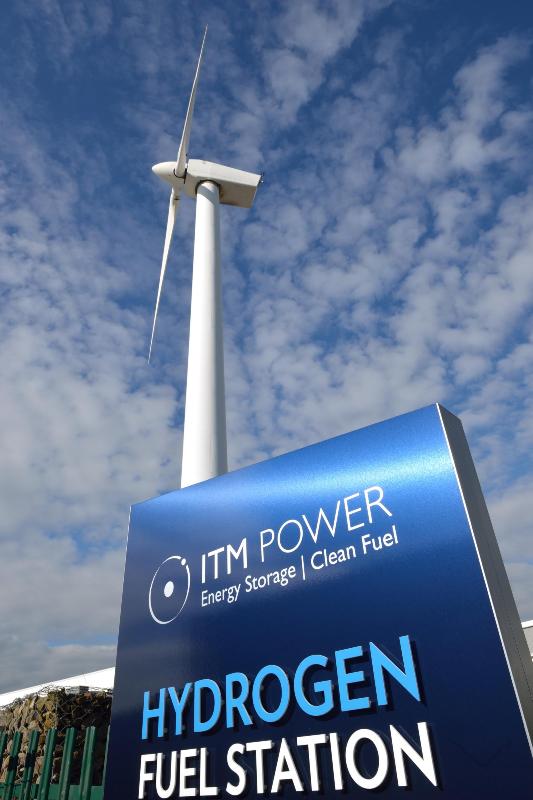 Caratterizzata da una turbina eolica e dell'approvvigionamento idrico, la nuova location è completamente autosufficiente. Non sono necessarie le consegne né il trasporto dell'idrogeno poichè la stazione di rifornimento utilizza l'energia eolica combinata con l'acqua per produrre idrogeno.
Situata nel Advanced Manufacturing Park a due miglia dalla M1 ed a breve distanza di Sheffield, Rotherham, Barnsley e Doncaster, il sito è costituito da una turbina eolica da 225kW accoppiata direttamente ad un elettrolizzatore, 220 kg di stoccaggio di idrogeno, un gruppo di erogazione idrogeno e anche una cella a combustibile da 30kW che è capace di fornire energia di riserva per gli edifici vicini. Il sito è aperto al pubblico ed è in grado di produrre 80 kg di idrogeno al giorno, sufficienti per rifornire 16 auto a celle a combustibile in un periodo di 24 ore.
Questa si unisce altre strutture ad alta tecnologia di Hendon, Heathrow e Swindon ed è l'ultima nuova stazione di rifornimento ad essere aperta come parte della strategia di investimenti di £ 6.600.000 in infrastrutture a idrogeno dal governo britannico, che vedrà anche due nuove stazioni nella zona di Greater London, una nuova stazione di rifornimento mobile per il sud dell'Inghilterra e aggiornamenti per le stazioni esistenti a Swindon, Galles e Londra.
L'apertura del nuovo sito arriva solo pochi mesi dopo che Hyundai ha annunciato il prezzo pieno per la sua ix35 Fuel Cell, che costa £ 53,105 OTR (tra cui parte finanziate dal progetto HyFive a livello europeo). E' l'unica vettura a celle a combustibile in vendita nel Regno Unito ed i clienti attuali includono Transport for London, la compagnia di estrazione mineraria Anglo American ed Air Products.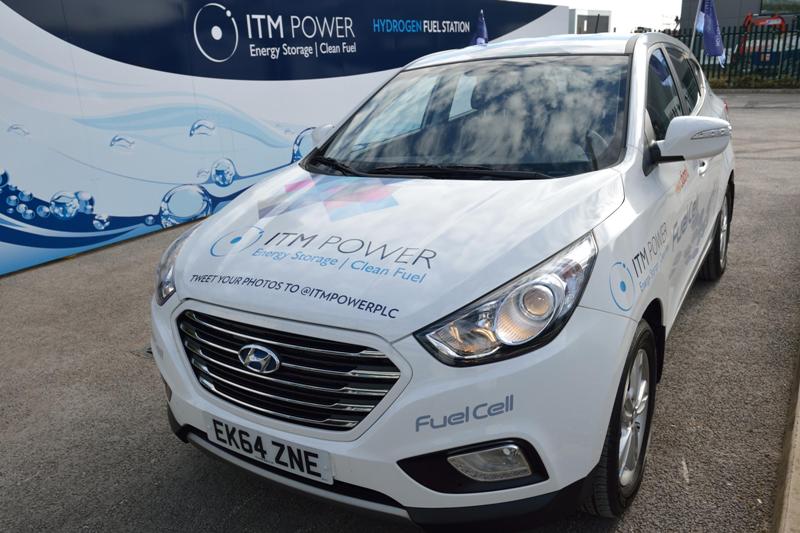 Primo prodotto in produzione di serie al mondo e disponibile in commercio il veicolo elettrico a fuel cell è stato venduto attraverso i canali centrali Hyundai ai partner di prova selezionati dal 2013. Già sulla strada in 15 paesi in tutto il mondo, di cui 11 in Europa, la ix35 Fuel Cell dimostra la competenza tecnica del marchio e l'impegno nell'automobilismo ad ultra-basse emissioni. Hyundai ha venduto 359 auto ix35 a celle a combustibile in tutto il mondo, che è in linea con il tasso di sviluppo delle infrastrucure.
Tony Whitehorn, CEO Hyundai Motor UK, ha commentato:
"È molto incoraggiante, infatti, che le infrastrutture di stazioni di rifornimento dell'idrogeno nel Regno Unito sia in continuo sviluppo. Diamo il benvenuto a questo nuovo sito ultra-verde, nel nord dell'Inghilterra, che serve una zona molto grande ed è chiaramente uno dei siti più avanzati mai costruiti. Le auto a idrogeno sono il futuro e la Hyundai è leader nel settore. Questa nuova stazione di rifornimento è autosufficiente ed è esattamente quello che è necessario".
Il dottor Graham Cooley, Amministratore Delegato di ITM, ha dichiarato:
"Siamo estremamente lieti di lanciare la prima delle stazioni di rifornimento di idrogeno della società, in questa posizione molto accessibile al largo della M1 nel South Yorkshire, e per fornire combustibile pulito alle auto elettriche a celle a combustibile che sono ora disponibili".

"In seguito all'accordo strategico con la Shell raggiunto la settimana scorsa per la location del piazzale, questa stazione fornirà un importante riferimento per demistificare la capacità di utilizzare la fornitura di energia rinnovabile per la conversione efficiente di combustibile per i trasporti puliti."
La Hyundai ix35 Fuel Cell è disponibile per l'ordine immediato direttamente da Hyundai Motor UK.
In English
Hyundai welcomes opening of new ultra-green hydrogen filling station in north of England
Drivers of Hyundai's ix35 Fuel Cell can now fill up at an ultra-green hydrogen filling station just off the M1 near Sheffield
New station is self-sufficient teaming an on-site wind turbine with its own water supply allowing it to produce its own hydrogen
Filling station has been developed by hydrogen fuel cell experts ITM Power
Opening of new site is another leap forward in the UK's national hydrogen infrastructure
Hyundai's ix35 Fuel Cell is the world's first mass-produced fuel cell electric vehicle and the only fuel cell on sale in the UK – and already on UK roads!
Source: Hyundai UK
High Wycombe, United Kingdom. 17 September 2015 – Drivers of Hyundai's ix35 Fuel Cell, the only fuel cell car on sale in the UK, can now fill up with hydrogen at one of the world's greenest filling stations, located just off the M1 motorway near Sheffield.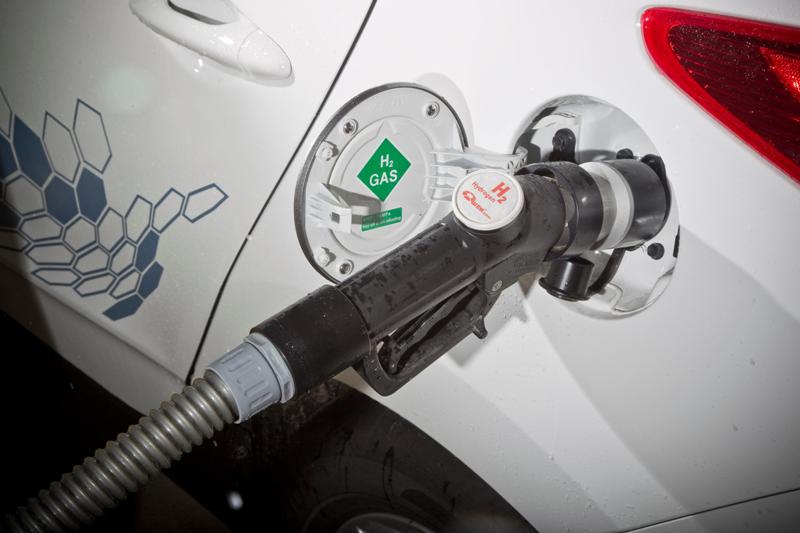 Featuring a wind turbine and water supply, the all-new site is completely self-sufficient. No hydrogen deliveries are needed as the filling station uses wind power combined with water to produce hydrogen.
Situated on The Advanced Manufacturing Park just two miles from the M1 and within easy reach of Sheffield, Rotherham, Barnsley and Doncaster, the site consists of a 225kW wind turbine coupled directly to an electrolyser, 220kg of hydrogen storage, a hydrogen dispensing unit and even a 30kW fuel cell which is capable of providing backup power for nearby buildings. The site is open to the public and is capable of producing 80kg of hydrogen a day, enough for 16 fuel cell cars in one 24-hour period.
It joins other high-tech facilities in Hendon, Heathrow and Swindon and is the latest new filling station to be opened as part of the British Government's £6.6 million hydrogen infrastructure investment strategy, which will also see two new stations in the Greater London area, a new mobile refueling station for the south of England and upgrades to existing stations in Swindon, Wales and London.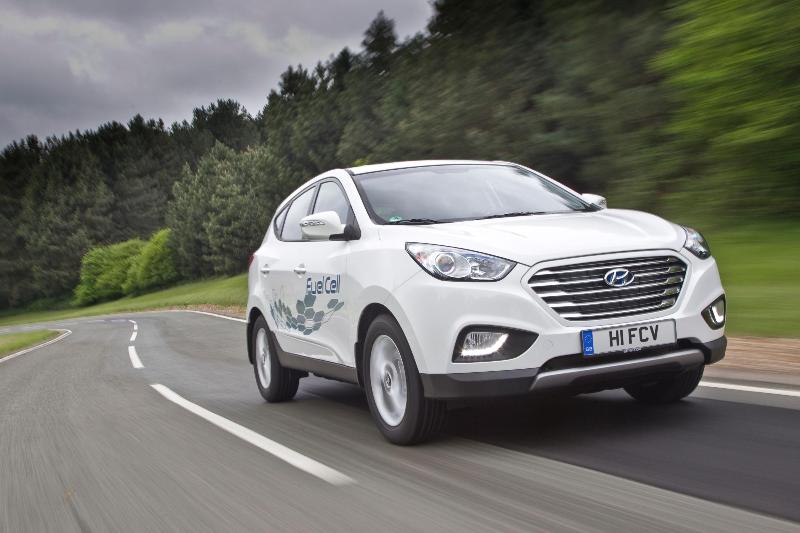 The opening of the new site comes only a few months after Hyundai announced full pricing for its ix35 Fuel Cell, which costs £53,105 OTR (including part-funding from the Europe-wide HyFive project). It is the only fuel cell car on sale in the UK and existing customers include Transport for London, mining company Anglo American and chemical company, Air Products.
The world's first mass-produced and commercially available fuel cell electric vehicle, it has been sold through central Hyundai channels to selected trial partners since 2013. Already on the road in 15 countries around the world, including 11 in Europe, ix35 Fuel Cell demonstrates the brand's technical expertise and commitment to ultra-low emission motoring. Hyundai has sold 359 ix35 Fuel Cells worldwide which is in line with the rate of infrastrucure development.
Tony Whitehorn, Hyundai Motor UK CEO, commented,
"It is very encouraging indeed that the UK's hydrogen filling station infrastructure is continually developing. We welcome this ultra-green new site in the north of England, which will serve a very large area and is clearly one of the most advanced sites ever constructed.  Hydrogen-powered cars are the future and Hyundai is the leader in the field. This new self-sufficient filling station is exactly what's needed."
Dr Graham Cooley, ITM's chief executive, said:
"We are extremely pleased to be launching the first of the company's hydrogen refuelling stations today, at this very accessible location off the M1 in South Yorkshire, and to provide clean fuel for the fuel cell electric vehicles that are now available from the auto OEMs."

"Following the strategic forecourt siting agreement last week with Shell, this station will provide important reference for demystifying the ability to utilise renewable energy supply for its efficient conversion to clean fuel for clean transport emissions."
The ix35 Fuel Cell is available for immediate order directly from Hyundai Motor UK.
no images were found