Formula E & DHL suonano il campanello alla chiusura del NASDAQ
Fonte: Formula E
New York, USA. 11 Marzo 2015. Formula E, insieme al suo socio fondatore e sponsor ufficiale della logistica DHL, ha partecipato alla cerimonia di chiusura del NASDAQ bell di questa settimana al NASDAQ MarketSite a Times Square.
Come parte del build-up per il prossimo Miami ePrix, la cerimonia ha visto il pilota Audi Sport Abt Lucas di Grassi presente insieme a Chris Remund, CEO di DHL Global Forwarding US, Jaume Sallares, Direttore Marketing e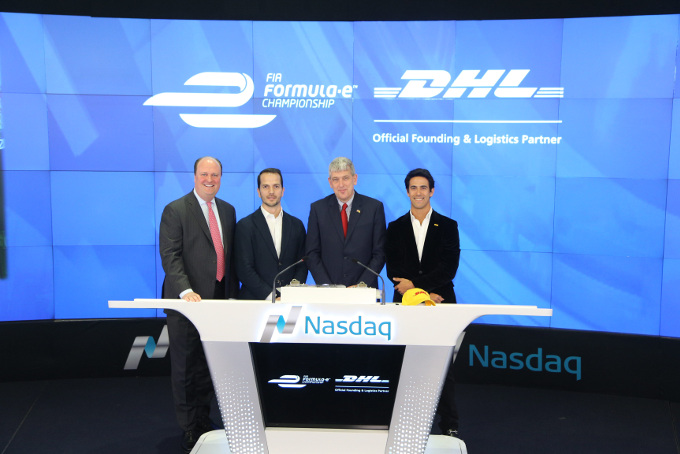 Comunicazione della Formula E insieme a membri delle squadre di gestione Global Forwarding USA e Americhe.
"Siamo tutti felici di aver potuto suonare il campanello nella chiusura del NASDAQ, che segna la fine di una giornata piena di opportunità di business, commercio e scambi. Siamo DHL ed usiamo la nostra esperienza nel commercio, nei trasporti e nella logistica per fornire al FIA Formula E Championship di una vasta gamma di servizi di logistica, che incorporano le tecnologie e processi green più efficienti disponibili oggi ", ha detto Remund.
La quinta gara di Formula E si svolgerà questo Sabato 14 marzo
In vista della manifestazione Di Grassi ha detto:
"Crediamo che questa gara sarà un evento fantastico per gli appassionati di corse di auto negli Stati Uniti e in tutto il mondo. E 'un'esperienza molto emozionante per me essere parte del campionato inaugurale di questo anno della Formula E".
In English
Formula E & DHL ring closing bell at NASDAQ
Source: Formula E
New York, USA. March 11, 2015. Formula E, together with its founding partner and official logistics sponsor DHL, attended the NASDAQ closing bell ceremony this week at NASDAQ MarketSite in Times Square.
As part of the build-up to the forthcoming Miami ePrix, the ceremony saw Audi Sport Abt driver Lucas di Grassi in attendance along with Chris Remund, CEO for DHL Global Forwarding U.S., Jaume Sallares, Director of Marketing and Communications for Formula E together with members of the Global Forwarding U.S. and Americas management teams.
"We're all delighted to have been able to ring the Nasdaq closing bell, which signals the end of a day filled with business opportunities, trade and commerce. We are DHL are using our expertise in trade, transportation and logistics to provide the FIA Formula E Championship with an extensive range of logistics services, incorporating the most efficient, green technology and processes available today," said Remund.
The next Formula E race (Rd 5) takes place this Saturday March 14. Looking ahead to the event di Grassi said:
"We believe this race will be a fantastic event for auto racing fans in the U.S. and around the world. It's extremely exciting experience for me to me part of this inaugural year for Formula E."
no images were found